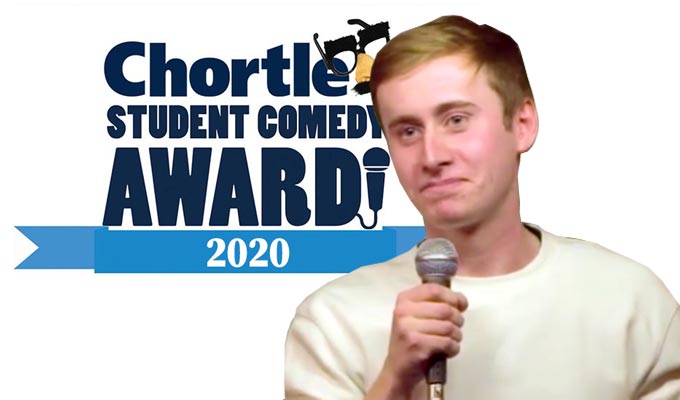 Student Comedy Awards: Last semi-finalists announced
George Totill has won the People's Choice place in the semi-finals of the Chortle student comedy award.
The result is announced as we also reveal the winners of wildcard places in the two semi-finals, including three each from the Warwick and St Andrew's heats.
The semis are scheduled to take place at the Bill Murray pub in London on the evenings of May 11 and 18.
Totill is a third-year University College London law student who took part in the Goldsmiths heat who says his comedy is 'about being a gay guy who grew up in quite overly-masculine environments'.
And the wildcard winners are:
From the Warwick heat: Indigo Douglas, an English literature and creative writing student at Warwick
From the Warwick heat: Bella Walters, who is on the same course
From the Warwick heat: Niclas Want, a maths student at Wawick
From the Durham heat: Rez Bhatt, a philosophy student at Newcastle
From the York heat: Matt Wemyss, who is studying social and political sciences at York
From the York heat: Grace Sanders, a psychology student at York
From the Salford heat: Joe Brady, who is studying comedy writing and performance there
From the Salford heat: Charlotte Cropper, who is studying media and performance there
From the St Andrews heat: Jospeh Ickowski, doing a medieval English masters at St Andrews
From the St Andrews heat: Christoph Von Münchow an international relations student from St Andrews
From the St Andrews heat: Hamish Duff, studying history at St Andrews
From the virtual QMUL gig: Isaac Keen, studying for a doctorate in history and philosophy of science at Cambridge
Scroll down for their videos.
They join the following 14 heat winners.
Reading: Sam Williams
Warwick: Calum Walker
Southampton: Sharon Wanjohi
Salford: Oli Willett
York: Benjy Waldman
Durham: Joe-Kent Walters
Lincoln: Jessica Williams
Bristol: Jack Butler
Cardiff: Alfred Taylor
Glasgow: Rory Fell
St Andrews: Joint winners - Scott Redmond and Li Jin Hao
London Goldsmiths: Omar Badawy
East London: Andy Bucks
This turned out to be a virtual heat because of the coronavirus, and this is an extract from the video Andy submitted.
Here are the videos from the wildcard contestants (except for Isaac Keen, who came through a 'virtual' heat)
Indigo Douglas
Niclas Want
Bella Walters
Rez Bhatt
Matt Wemyss
Grace Sanders
Joe Brady
Charlotte Cropper
Jospeh Ickowski
Christoph Von Münchow
Hamish Duff
Published: 26 Mar 2020
What do you think?