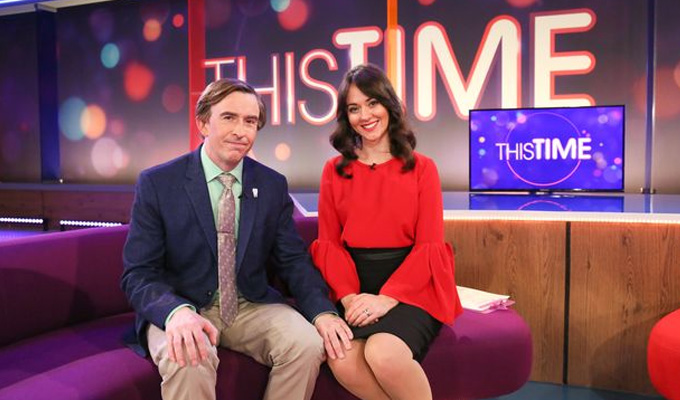 This Time With Alan Partridge gets a second series
Alan Partridge is returning for a second series of his BBC One show This Time… as well as a new podcast.
Steve Coogan broke the news on the Radio 2 breakfast show this morning, when he told Zoe Ball: 'There'll be another series of This Time in the next 12 months, but there's a podcast starting next month, so…'
He also revealed that the podcast will be called From The Oast House.
In a subsequent interview with Absolute Radio he explained that the new podcast would comprise 18 20-minute episodes
'They're very sort of one-on-one. If anyone wants Alan up close and personal in their own space then the podcast is an opportunity,' he told Dave Berry.
Coogan also said that he had other plans for the character, explaining: 'There might be a documentary series with Alan roving around Britain.'
Chortle previously reported that filming on that Simon Schama-style historical documentary, provisionally titled And Did Those Feet, With Alan Partridge, was tentatively scheduled for May this year.
The first series of This Time With Alan Partridge, with the hapless presenter taking over as co-host of a One Show-style magazine programme, ran from February to April this year.
In the final episode, Partridge had been summoned to see BBC executives over his behaviour towards his co-host Jennie, played by Susannah Fielding. The series also featured Tim Key as his sidekick, Simon, and Felicity Montagu as the long-suffering PA, Lynn.
Made by Coogan's production company Baby Cow, the show launched with 3.3million viewers overnight, rising to 5.86million when catch-up viewing over the next seven days was taken into consideration.
Reviews of that first episode were largely positive, with The Guardian saying the show had brought 'Alan back, in all his glory and his tragedy, at just the right time'; The Independent calling it 'exquisitely painful' and The Daily Telegraph describing it as a 'sublimely excruciating return'
But in the Daily Mail Jim Shelley felt the Partridge – written by Coogan alongside Neil and Rob Gibbons – 'really was a shadow of his former self'.
Read Chortle's review here.
Published: 14 Feb 2020
What do you think?