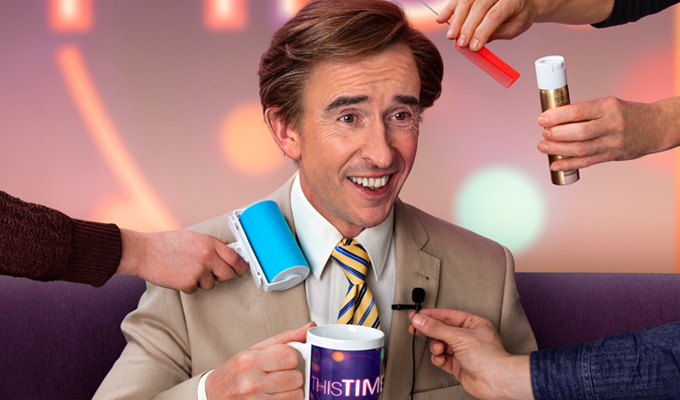 This Time With Alan Partridge
With a couple of notable exceptions, BBC One has tended to look backwards for its sitcoms, from the revival of Open All Hours to the retro feel of Mrs Brown's Boys or Citizen Khan.
Well, with Alan Partridge they get the best of both worlds. An instantly recognisable figure to reassure a mainstream audience, but one whose constant evolution keeps him contemporary.
Similar thinking in regards to reviving a face people will recognise, surely also applies to the fictional Corporation bosses who brought back Partridge as a last-minute emergency guest host for This Time, an early-evening TV magazine show akin to The One Show, after its regular anchor had a heart attack. As has been widely written, the justification is that he represents a part of Middle England that the out-of-touch powers that be in London (a very Partridgesque phrase) realised they had overlooked when the Brexit referendum didn't go the way they expected.
The comedy programme here goes out in real time, harking back to the days of Knowing Me, Knowing You, with the on-screen awkwardness captured in every cringing glory: the vainglorious host full of an importance the frothy show he fronts does not warrant. There's an interview with a hacktivist in the first episode that's worthy of KMKY in its prime.
Like any magazine programmes This Time features video inserts. Some of these we see: the opening episodes features a report on germs that becomes weirdly fetishistic, while later Partridge re-enacts an historic battle, relishing in the brutal bloodshed that lends him a phoney machismo.
But many we don't see. Instead the screen cuts to what's going on in the studio, via often misplaced or still-focussing cameras that give a feel of the show actually being produced on the fly. It's a trick the writers – Coogan plus Neil and Rob Gibbons – first used on Mid Morning Matters, the supposed webcam feed for Coogan's North Norfolk Radio programme. However since that aired on Sky Atlantic and online, most of the BBC One audience will have missed it.
In these candid moments we get to see the real tensions in the studio. His co-host Jennie Gresham, played by Susannah Fielding, may be all perky sunshine on screen, but off-camera she's smart and fiercely ambitious, running rings around hapless Partridge.
Felicity Montagu only gets a short look-in, sadly, as his assistant Lynn. And while Partridge still treats her a little like a doormat, her protective streak is definitely sharpened as she puts Jennie in her place.
Also making a welcome return is Tim Key as Simon Denton, formerly known as 'Sidekick Simon' from Mid Morning Matters. Here he's been given a high-tech screen wall to monitor tweets and the rest… even though his clearly out of his depth when it comes to operating it. It's a scene that goes on uncomfortably too long, which of course is the joke – with the peculiar timing being just one of those aspects that makes This Time With Alan Partridge an intriguing beat away from the normal rhythms of mainstream sitcom.
Add a timeless comedy character at the helm, and a savvy, funny script and you have a triumphant return for Norfolk's most enduring broadcaster/
• This Time With Alan Partridge launches on BBC One on February 25 at 9.30pm
Review date: 14 Feb 2019
Reviewed by: Steve Bennett
Recent Reviews
What do you think?