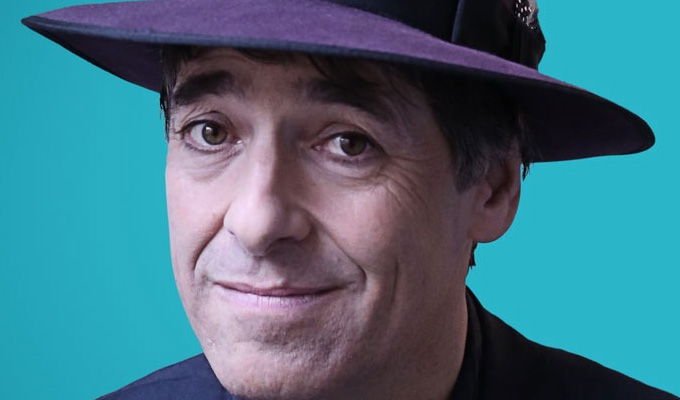 BBC comedy awards nominate virtually no women
Mark Steel, Phil Wang and Alexei Sayle are among the comedians shortlisted for the 2020 BBC Audio Drama awards.
But the comedy categories of the annual accolades are an overwhelmingly male-dominated affair – with 11 of the 12 shows fronted by men.
Only the ensemble effort of Dead Ringers offers any sort of gender balance; while Wang is the only non-white star on the lists.
The shortlists do not look good at a time when the BBC is embroiled in disputes over the gender pay gap – although the drama categories are more evenly balanced.
All the comedy producers are male, as are the overwhelming majority of writers. For example, there is just one woman among Dead Ringers' nine writers, Sarah Campbell.
In other sections, Rebecca Front has been nominated as best actress for her performance in the comedy-drama Love In Recovery, set in an Alcoholics' Anonymous meeting.
And Jon Holmes's The Halloween Skewer has been nominated for best use of the sound.
Finalists will be announced on Tuesday January 7 and the winners on Sunday February 2.
The new comedy shortlists are:
Best Scripted Comedy (Longform)
Charles Paris: Star Trap by Jeremy Front, producer Mary Peate, BBC Radio Drama London
Giles Wemmbley-Hogg Goes off… Article 50 by Marcus Brigstocke and Jeremy Salsby, producer David Tyler, Pozzitive
Mark Steel's in Town – the Forest of Dean by Mark Steel and Pete Sinclair, producer Carl Cooper, BBC Studios
Phil Ellis Is Trying by Phil Ellis and Fraser Steele, producer Sam Michell, BBC Studios
Phil Wang: Wangsplaining by Phil Wang, producer Matt Stronge, BBC Studios
Suggs: Love Letters to London by Suggs and Owen Lewis, producer Richard Melvin, Dabster Productions
Best Scripted Comedy (Sketch Show)
Alexei Sayle's Imaginary Sandwich Bar by Alexei Sayle, producer Joe Nunnery, BBC Studios
The Damien Slash Mixtape by Damien Slash/Daniel Barker, producer Matt Stronge, BBC Studios
Dead Ringers by Nev Fountain, Tom Jamieson, Laurence Howarth, Ed Amsden, Tom Coles, Sarah Campbell, James Bugg, Max Davis, Simon Alcock, producer Bill Dare, BBC Studios
The Halloween Skewer by Jon Holmes with Paul Kearney, Davian Dent, Dan Rayner, Alex Rees, 'Mark', Dave Wol, Tony Churnside, Phil Lindsey, Stretchy's Studio, Mike Gilyatt, Beth Granville, producer Jon Holmes, Unusual Productions
Kevin Eldon Will See You Now by Kevin Eldon with Jason Hazeley and Joel Morris, producer David Tyler, Pozzitive
Terry Alderton's Whole Half Hour by Terry Alderton and Richard Melvin with Julia Sutherland, Paul Tonkinson, Steven Dick and Bobby Davro, producers Al Lorraine and Richard Melvin, Dabster Productions
This year, the comedy categories were won by Rob Newman's Total Eclipse of Descartes and John Finnemore's Souvenir Programme
Published: 19 Nov 2019
What do you think?