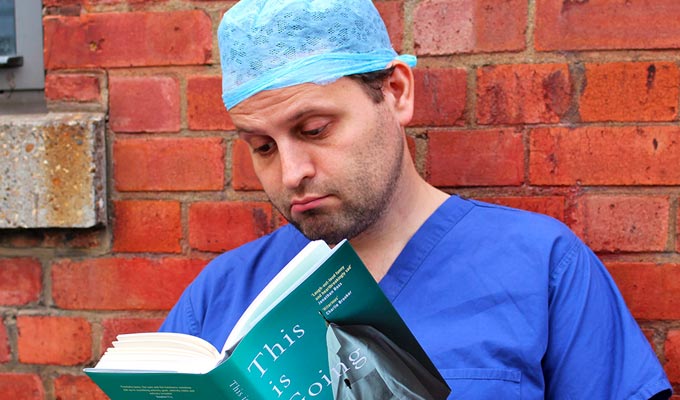 Adam Kay goes on tour with his surgical stocking filler
The best of the week's live comedy.
Sunday November 17
LONDON: A couple of fine, contrasting comics - the permanently furious Michael Legge and ever-cheery Tom Parry - are recording their specials for stand-up-on-demand platform NextUp at the Bill Murray in Islington tonight. It's free - and there's even free pizza.
Monday November 18
LONDON: Still in Islington, the Union Chapel hosts the Matt and Co Comedy Show in aid of the National Autistic Society. Matt is Matt Richardson and he's joined by an impressive line-up, including, Greg Davies, Nish Kumar, Sara Pascoe, Seann Walsh and many, many more.
LONDON: Meanwhile at The Star of Kings in Kings Cross a more intimate gig is raising £££s for Alliance for Choice, which campaigns for abortion rights in Northern Ireland. A packed bill includes three Edinburgh Comedy Award nominees, Janine Harouni, Sara Barron and Sindhu Vee; plus former BBC New Comedy Award winner Yuriko Kotani and others.
Tuesday November 19
LONDON: The Comedy Store's weekly topical night The Cutting Edge has been renamed simply The Edge. This week you can see Alistair Barrie, Laura Lexx, Rob Deering, Roger Monkhouse, Sean Meo and Tiff Stevenson - and maybe some confused tourists expecting U2's guitarist.
Thursday 21 November
LONDON: More fundraising, this time in aid of domestic violence charity Refuge, with a fine selection of stand-ups at the Clapham Picturehouse: Josie Long, Rose Matafeo, Sara Pascoe and Suzi Ruffell.
LONDON: Sketch duo Henry Perryment and Joe Barnes landed an Edinburgh Comedy Award nomination for their show Dougal, which comes to the Soho Theatre for the weekend. The premise is that when the billed act fails to materialise, front-of-house staff fill in, mucking about to entertain the audience with a series of what turn out to be highly acclaimed sketches.
Friday 22 November
LONDON: The Boulevard Theatre has a crucial role in the history of comedy in the UK. It used to be the Raymond Revue Bar, home of the Comic Strip where the likes of Rik Mayall, Adrian Edmondson and French and Saunders learned their craft at the birth of alternative comedy. Not that they would recognise the place now it's been completely rebuilt. But it is staying true true to its cabaret and comedy roots with a season of late-night gigs, and tonight's line-up is particularly delightful, featuring Desiree Burch, Ivo Graham, Kiri Pritchard-McLean, Olga Koch, Rachel Fairburn and Rhys James.
MANCHESTER: American comedians Karen Kilgariff and Georgia Hardstark start a UK tour… not doing stand-up, that's so passé, but hosting a true crime podcast. The darkly humorous My Favorite Murder kicks off at the Manchester Apollo tonight, followed by the Glasgow Theatre Royal tomorrow, two nights at Dublin's Bord Gais Energy Theatre then at the Eventim Apollo in Hammersmith, West London, on Wednesday and Thursday next week.
MANCHESTER: There's another strong line-up at the Comedy Store this weekend. It's slightly different each show but always based around the contrasting styles of improv livewires The Noise Next Door and the precision-engineered drollery of John Moloney. Ever-skilful MC Laura Lexx holds it all together.
DUDLEY: A homecoming gig for Lenny Henry as he continues his book tour for Who Am I Again?, recalling his time growing up as the son of a West Indian immigrants in the 1970s, his break on New Faces, and the strange years of working with the Black And White Minstrel Show. All dates
Saturday 23 November
KINGSTON: Doctor turned comedian turned million-selling author Adam Kay has a short follow-up to his hit memoirs This Is Going To Hurt out for this primary gifting season And there's a tour to go with the release of Twas The Night Shift Before Christmas, kicking off in Surrey tonight. Other dates are here
EPSOM: A very entertaining mixed bill at the Playhouse tonight, with Catherine Bohart, James Redmond, Larry Dean and Micky P Kerr bringing the LOLs.
Published: 17 Nov 2019
What do you think?