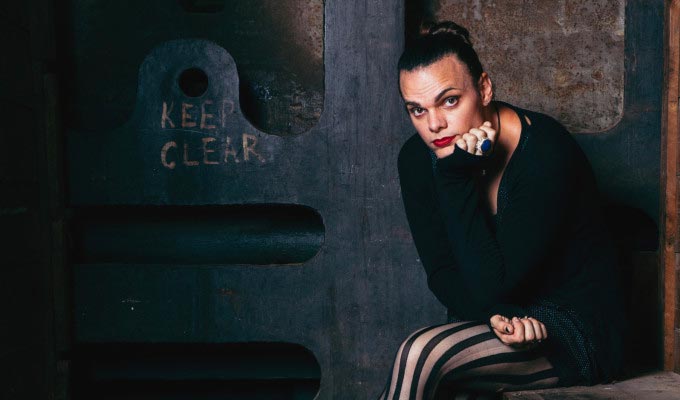 UK debut for trans stand-up show
The week's best live comedy.
Sunday October 20
HALIFAX: Husband and wife comics Jon Richardson and Lucy Beaumont host an afternoon charity gig (kick-off 3pm) as part of the town's ongoing comedy festival. On the bill are magician Pete Firman, satirist Tez Ilyas, stupidly playful Barbara Nice and Britain's Got Talent finalist Micky P Kerr. It's all in aid of Mothershare, which helps families in need.
BIRMINGHAM: A close to home-town gig for Sir Lenny Henry as he embarks on a book tour to promote his memoirs Who Am I Again at the Hippodrome. He will be interviewed by friend and author Jon Canter, about his life and career, followed by questions from the audience. 'I'm looking forward to travelling around and telling these stories,' he has said. 'Writing the book was a huge feat and I'm very proud of it – I can't wait to share more stories and fun about growing up in the Midlands, my early days in the clubs, pubs and discotheques and of course working on Tiswas, Three of a Kind and The Lenny Henry Show.' Full schedule.
Monday October 21
LONDON: With its arty remit, Resonance FM is Daniel Kitson's favourite radio station - and he even sometimes hosts a show on it. Tonight he stars in its annual fundraiser, Resofit, at the Bloomsbury Theatre alongside the Mash Report's Nish Kumar, comedy veteran Arnold Brown blistering comedy performer Jen Brister and several more.
LONDON: It's the second Dave's Edinburgh Comedy Award showcase at the Duchess Theatre with Chris Washington, Ivo Graham, Jessica Fostekew, Goodbear and The Delightful Sausage.
Tuesday October 22
LONDON: Another benefit at the Bloomsbury, and another with Nish Kumar in it. He'll be appearing alongside John Fothergill, Kae Kurd, Lloyd Langford, Matt Forde, Rhys James, Tania Edwards and Francis Boulle in aid of MacMillan Cancer Support..
Thursday October 24
LONDON: At the Soho Theatre, Cassie Workman performs the UK debut of her powerful, revelatory and charming story about coming to terms with a gender identity that doesn't match her body. Giantess runs until November 2. Read our review here
Friday October 25
LIVERPOOL: There's a notably strong bill at Hot Water comedy club this weekend with the provocatively filthy TanyaLee Davis, dryly sarcastic Carey Marx and compere extraordinaire Mick Ferry.
Published: 20 Oct 2019
What do you think?