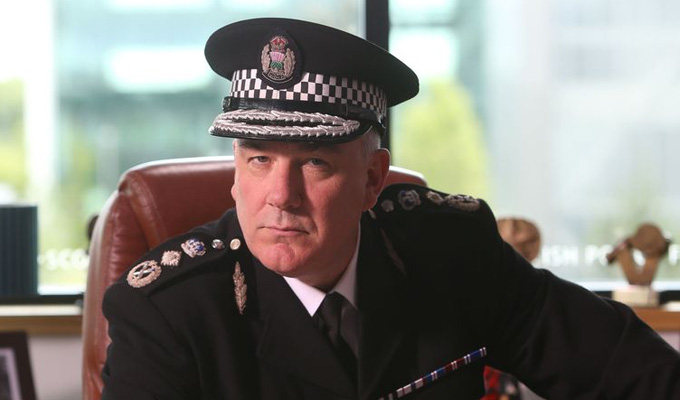 BBC announces Scot Squad spin-off
BBC Scotland has ordered four series of comedy shorts for the iPlayer – including a Scot Squad spin-off.
In The Chief Does Edinburgh, Jack Docherty's alter-ego, chief constable Cameron Miekelson will give viewers his take on the history, geography and literature of the capital, including a 'heated discussion' with acclaimed author Ian Rankin.
Three ten-minute episodes will drop on iPlayer at 10.30pm on Thursday May 9 – immediately after the final episode of Scot Squad airs on BBC Scotland.
Scot Squad creator Joe Hullait has also revealed another spin-off is in the works, entitled Scotland Unsolved, in which the detectives played by Julie Wilson Nimmo and Louise McCarthy examine paranormal events such as ghost and UFO sightings, mysterious disappearances and the Loch Ness Monster..
'It is real mythology that people will recognise,' Hullait told the Glasgow Herald. 'We see them talk about the crime and then investigate it mockumentary-style, chatting it through and coming up with theories. I would love to do spin-off ideas with the other Scot Squad characters. There is scope in all of them.'
Also released on the same evening as The Chief Does Edinburgh will be three short-form comedy series featuring farmer-turned-comedian Jim Smith and Mike Keat and Archie Easton – the performers best known as the Cuban brothers– among others.
Those programmes are:
Bridge & Allen: A mockmentary over three ten-minute episodes about Scottish music legends Bridge & Allen returning to tape a comeback album after unexpectedly retiring in 1978 at the height of their fame. It stars Keat and Easton and features appearances from The Proclaimers, KT Tunstall and Mel C.
Hings: An adaptation of some of the tales in the book of short stories of the same name by Scottish author Chris McQueer. The three five-minute episodes are described as 'darkly comic and surrealist short films… equal parts grotesque, funny, poignant and proudly Scottish.' Stars include David Hayman, Paul McCole, Mark Dallas and Ellie Laird.
The Farm: Following a successful debut on iPlayer last year, Jim Smith returns with a mockumentary based on his life as a Perthshire farmer. In the three five-minute episodes he plays Jim MacDonald, with Ann Louise Ross as his temperamental mother, co-writer Chris Forbes as loyal farmhand Donnie and Lisa Livingstone as local vet and potential love interest Annette.
BBC Scotland commissioner Louise Thornton said: 'We're delighted to deliver this extra helping of Scot Squad as we know how much the audience enjoys it. We hope they also enjoy discovering the characters in these new comedy series which will be published on the same night.
'Audience consumption habits continue to change and our iPlayer-exclusive content is designed to reflect this.
'Our comedy shorts give audiences an extra helping of laughs on a digital platform whilst allowing us to develop and nurture the up and coming comedy talent that exists in Scotland.'
Published: 29 Apr 2019
What do you think?