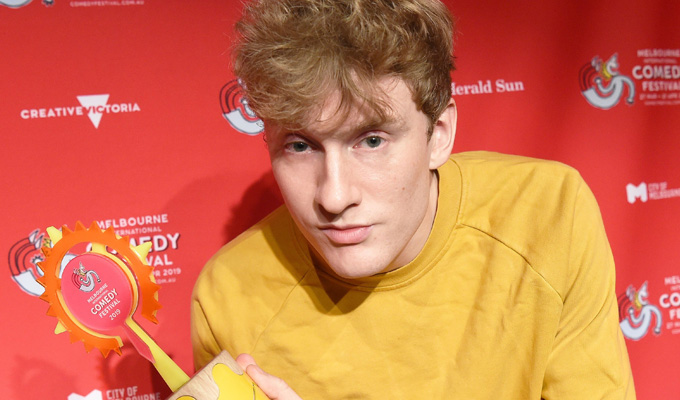 James Acaster wins Melbourne festival award
James Acaster has won the top prize at the Melbourne comedy festival.
His show Cold Lasagne Hate Myself 1999 won the award that was – until days ago – known as the Barry.
However, festival chiefs ditched the name after the row over the Dame Edna creator stoked fury over his comments about transgender people. Among the other nominees this year was transgender comic Cassie Workman (review).
On collecting his award, Acaster said: 'I genuinely don't know what to say. I've been really rude to Melbourne audiences all month, telling them the festival is a piece of shit. I didn't mean it, but I feel like I don't deserve this.'
'I got into comedy to make connections with people, and even if I feel like don't connect with my audience I do connect with my fellow comedians, so thank you.'
Acaster – who has previously been nominated for the Edinburgh Comedy Award a record five times, but never won – is the first British act to scoop the Melbourne prize since Russell Kane in 2010.
Other nominees were Britain's Tom Allen, and Australian stand-ups Anne Edmonds (review), Nath Valvo (review) and Geraldine Hickey (review).
But Hickey did Piece Of Wood Award – an actual piece of wood containing the bite marks of all the previous winners, who also picked her for the accolade this year.
She said: 'This has blindsided me. It means more to me than winning The Barry Award it whatever it's called now. Your fellow comics prop you up and keep you going.'
Best newcomer went to Blake Freeman for his show There's Something There (review), while the People's Choice Award, which goes to the act who sold the most tickets, went to Urzila Carlson.
Aaron Chen won the Director's Choice award and Joshua Ladgrove won the 'Golden Gibbo" award, which celebrates independent comedians (review).
The awards have been overshadowed by the last-minute decision to sever their connections with Humphries, who founded the festival with Peter Cook.
But his reputation has been battered since he referred to transgender women as 'mutilated men' in a 2016 interview, although last month he claimed he had been 'grotesquely interpreted'.
He also called Caitlyn Jenner a 'publicity-seeking ratbag' and claimed her transition was an act of 'self-mutilation' – while he further fanned the flames last year when he called transgenderism a 'fashion', asking: 'How many different kinds of lavatory can you have? It's pretty evil when it's preached to children by crazy teachers.'
Hannah Gadsby, who won the Barry two years ago, has called Humphries 'an irrelevant, inhumane dick biscuit of the highest order' over his comments.
Revealing that the award for most outstanding show would now be called the Melbourne International Comedy Festival Award, festival director Susan Provan said: 'This is one of the world's greatest comedy festivals, and it is time for the award to be in our name to celebrate the city that inspired the growth of our festival and its outstanding artists.'
The festival concludes tomorrow.
Published: 20 Apr 2019
What do you think?