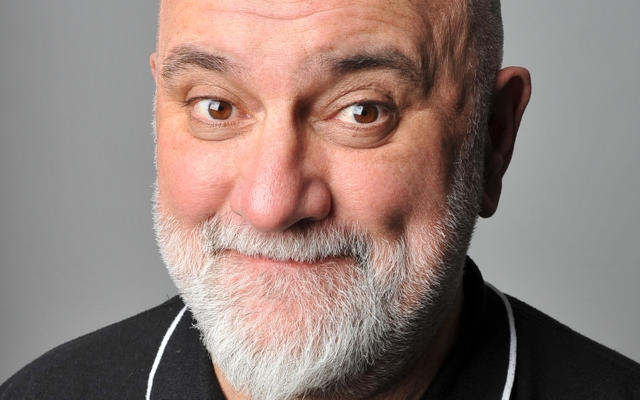 BBC to adapt Alexei Sayle's memoirs for TV
Alexei Sayle's memoirs are being adapted for a BBC TV series, Chortle can reveal.
He has disclosed that the 'deal's been done' to convert his books into hour-long episodes – and his publicist confirmed to Chortle that the project is in pre-production but cautioned that it is still in its early stages and that the series 'won't be made this year'.
The comic has written two volumes of autobiography: Stalin Ate My Homework, which was published in 2010, and 2016's Thatcher Stole My Trousers.
Sayle spoke of the BBC commission to 6 Music's Shaun Keaveny – who asked if the comic had anyone in mind to play himself.
In reply, Sayle joked: 'I haven't cast yet. I think we'll go for someone bold like Judi Dench. Throw convention out the window.'
Stalin Ate My Homework recalls his Jewish, atheist, communist upbringing in 1950s Liverpool, holidaying behind the Iron Curtain and being present during the Paris riots of 1968, ending with Sayle leaving for Chelsea School of Art.
Thatcher Stole My Trousers picks up the story in 1971 as he forms an unlikely friendship with his art school tutor Anne Rees-Mogg, mother of Conservative MP Jacob and wife of ultra-establishment Times editor William.
The book then tracks his deepening participation in left-wing politics and seminal role in the rise of the UK's alternative comedy scene compering at The Comedy Store, as well as his work on The Comic Strip and The Young Ones.
This commission follows a similar deal that the BBC had with Danny Baker to adapt his autobiography, Going To Sea In A Sieve, which became the acclaimed sitcom Cradle To Grave in 2015. A second series of the BBC Two comedy has been commissioned, but production is on hiatus after star Peter Kay, who plays the father of the teenage Baker, cancelled all his work citing family issues.
Sayle has something of a love-hate relationship with the BBC. His autobiographies were bought by publisher Sceptre after the success of his 2008 BBC Two docu-series Alexei Sayle's Liverpool. And he is a semi-regular fixture on Radio 4, where Alexei Sayle's Absence Of Normal, a series of plays adapted from his short stories, is currently airing.
Narrated by the comic, the plays feature Peter Capaldi, Peter Serafinowicz, Lewis McCloud, Lazy Susan's Freya Parker, Daphne's George Fouracres and Game of Thrones star and stand-up Ben Crompton.
Meanwhile, Sayle has been developing a podcast with BBC Studios based on his plan to dine in every restaurant featured in Time Out's 100 Best Cheap Eats, where he plans to chat 'with a comedian, a world leader or a Premier League Footballer and record what happens.'
But in July, writing on his blog, Sayle criticised the de-politicisation of BBC procedural dramas like Casualty, adding that the corporation's 'drama and comedy has somehow too become cautious and dull'. And he pointed to his 1988-1991 BBC Two sketch show Alexei Sayle's Stuff as 'a reminder of how playful and innovative the BBC could be once upon a time'.
Bemoaning the fact that he's never been asked on Desert Island Discs, he pondered that 'there must be some kind of big black book in a secret vault at the BBC saying who can never be allowed on Desert Island Discs and I'm in it but the thing is I don't know what I did to get on the blacklist.
'Did I blacken the name of the sacred [Desert Island Discs creator] Roy Plombley, did I go on a date with Michael Parkinson then never call him the next day? I don't know but if I ever do get on the show my first disc is going to be "Fuk Da Police" by NWA.'
- by Jay Richardson
Published: 15 Mar 2019
What do you think?