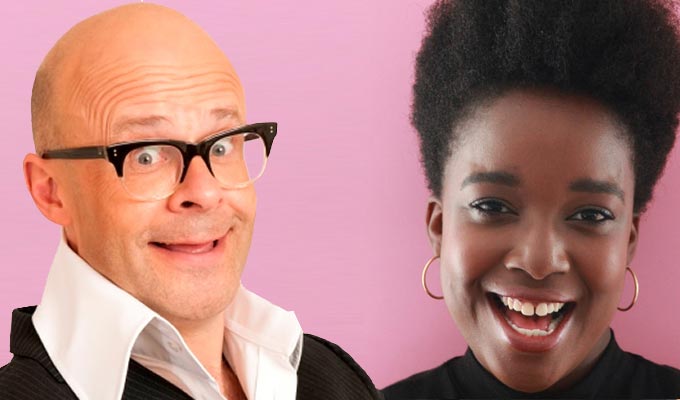 'Someone's dreaming of a white Christmas'
Organisers of a massive comedy gig have apologised after finding themselves at the heart of diversity storm because they advertised an all-white line-up.
Harry Hill put together a line-up of 22 fellow comedians – including some of the biggest names in the business - for his charity fundraiser Comedians Sing The Christmas Hits.
But fellow comic Lolly Adefope took to Twitter to complain that the massive bill contained no comedians of colour.
'Someone's dreaming of a white Christmas,' she noted sardonically in a tweet that attracted almost 600 retweets and more than 5,000 likes
someone's dreaming of a white christmas pic.twitter.com/we7U1Docfx

— lolly (@lollyadefope) November 14, 2018
The gig at the Bloomsbury Theatre in London on December will be raising money for Action Duchenne, which helps those with Duchenne muscular dystrophy, a rare and complex genetic muscle wasting condition.
But Adefope addressed concerns about attacking a charity event by adding: 'I think a gig can be diverse and can support a charity and have a great line-up, it's called multitasking. And if diversity isn't important to you that's fine, that's your prerogative. But I'm still going to call it out when I see it. Good intentions shouldn't close you off to a conversation.
'I would never want a charity's support to be affected, and so I've donated to Action Duchenne and anyone who has retweeted or liked my post is welcome to as well.'
Her comments attracted a lot of support, as well as comments from those defending the organisers. In a series of tweets that now appear to be deleted, Jason Manford, one of those on the bill, said Hill had tried to secure some ethnic comedians, including Omid Djalili.
Manford said it was 'harsh' to call out the all-white line up, saying : 'In fairness to Harry I know for a fact that he asked a lot of his pals of all different heritage but people said no and these are the folks who said yes and didn't cancel.'
When another twitter user spoke about all the comedians on the bill 'signing off' on the line-up, he added: 'Simply not true. Got a text from a mate, "will you do this charity gig?" No other info. Said yes. Now I'm a racist.'
Writer Otegha Uwagba subsequently added: 'To those who've implied that it just happened to end up being all-white, and it wasn't through design (hi @JasonManford).. that is bullshit. Programming an all-white lineup of this scale is 100% an indicator of your unconscious bias, whether you admit it or not.'
In a statement this morning issued through Hill's publicist, organisers vower to 'address the issue' and apologised 'for any offence caused'.
They said: 'The event is being organised by Harry Hill in aid of a charity he has supported for a number of years as patron. Harry has enlisted comedians who are giving up their time for free to support the cause at Christmas - acts who weren't aware of the full line-up.
'Harry asked a diverse range of comedians if they were available, with conversations with others still ongoing, and the line-up reflects who could perform on the day at the time of the event going on sale.
'We fully acknowledge in hindsight that the line up and marketing doesn't represent the diversity of the comedy industry and should have been addressed prior to being released.
'We apologise for any offence caused; it was never the intention of the organisers to present a non-diverse line-up and we're sorry that Action Duchenne have found themselves in the middle of the discussion around it.
'We are looking at how best to address the issue and we remain hopeful that the event raises money and awareness for an important cause. We welcome contact from any acts that would like to take part on what we're sure will be a brilliant night, and once again apologise for any offence caused.'
The line-up unveiled yesterday comprises: John Bishop, Jo Brand, Alex Brooker, Rob Brydon, Alan Carr, Jimmy Carr, Roisin Conaty, Nina Conti, Tom Davis, Jack Dee, Nick Helm, Harry Hill, Stewart Lee, Sean Lock, Matt Lucas, Joe Lycett, Jason Manford, Al Murray, Sara Pascoe, Vic Reeves, Liza Tarbuck, Paul Whitehouse and Josh Widdicombe.
Hill became patron of Action Duchenne when the son of the graphic designer who worked on all of his TV shows, including TV Burp, was diagnosed with the condition.Many of those with Duchenne lose the ability to walk in early adolescence and typically live into their late twenties.
Tickets for the show go on sale at 10am tomorrow, and you can donate directly to the charity here.
Published: 15 Nov 2018
What do you think?