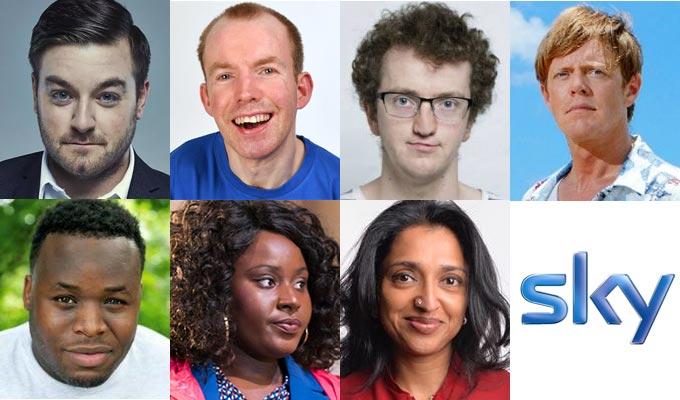 Revealed: The next batch of Sky comedy shorts
Chortle can today reveal the full details of the next batch of Sky's comedy shorts.
The headline stars of the new series are Alex Brooker, Lost Voice Guy Lee Ridley, Jonny Pelham, Kris Marshall, Samson Kayo, Susan Wokoma and Sindhu Vee
While he supporting casts include Miles Jupp, Beattie Edmondson, Paul Kaye, Jane Horrocks and The Country's Daisy May Cooper.
The storylines include The Last Laugh's Brookes considering whether have an operation on his hands; Death In Paradise actor Marshall parodying another detective series, Midsomer Murders; and Britain's Got Talent winner Ridley pranking the people he meets on his commute.
The shorts will be released on demand tomorrow, as part of National Inclusion Week, and the broadcaster says 'These shorts will tell hilarious tales of life, love and friendship whilst celebrating diversity in real life scenarios.'
And they will air on Sky One at 10pm on October 10.
Previous comedy shorts have featured the lies of Seann Walsh, Katherine Ryan, Spencer Jones, Jason Manford, James Acaster and Ross Noble.
It has also been announced tonight that Sky has ordered the first sitcom starring Mel and Sue – with the couple playing Hapless assassins in Hitmen.
Here are the full details of the new batch of comedy shorts.
Alex Brooker's Comedy Short
Alex Brooker plays a man who's due to have a pioneering double hand transplant operation to give him five-fingered 'normal' hands. Building Dutch courage in the pub he meets a barmaid and a barfly, with whom he contemplates what he stands to gain or lose from the operation. It all culminates in an encounter with his worried girlfriend who knows nothing about his operation.
Written by: Alex Brooker and Aiden Spackman
Produced by: Anthony Caveney (Open Mike Productions)
Directed by: Dan Zeff
Cast: Alex Brooker, Paul Kaye, Kathryn Drysdale, Esther Smith
Lost Voice Guy's Comedy Short
Mark hates getting the train to work, but not for the same reasons most people do. Mark has cerebral palsy, and can't talk, so he uses an iPad to chat with his fellow commuters, this means that every train journey is a trip into the unknown. This often results in so many stupid questions and lots of casual ignorant rudeness he often wants to hit someone over the head with his iPad.
From his mischievous platform encounter with a book-reading commuter, to his onboard sparring with a passenger and the train inspector, it is a knockabout journey from hell for our intrepid traveller.
Written by: Lee Ridley (Lost Voice Guy)
Produced by: Anthony Caveney (Open Mike Productions)
Directed by: Dan Zeff
Cast: Lee Ridley (Lost Voice Guy), Craig Parkinson, Nina Wadia, Mark Davison
Jonny Pelham's Comedy Short
Late Bloomer is the story of Jonny, a man born with more nipples than is necessary, webbed toes, a cleft palate, a cleft lip and hole in the roof of his mouth. At 28 he's still a virgin, but this needs to change. Friends Harriet and Bobby are on hand with advice, all he has to do is ignore them and he just might succeed.
Written by: Jonny Pelham
Produced by: Lucy Lumsden (Yellow Door Productions)
Directed by: Simon Neal
Cast: Jonny Pelham, Miles Jupp, Beattie Edmondson, Harriet Kemsley, Bobby Mair, Ruth Hunter, Jimmy Akingbola
Kris Marshall's Comedy Short
Kris Marshall stars as Max Bartlett, the pampered lead actor in popular TV detective drama, Middle England Murders. When Max is given the wrong pudding at lunchtime, he knows someone must have taken his beloved chocolate fondant. Everyone on set becomes a suspect and Max must turn detective for real to find out whodunnit?
Written by: Joseph May and Sam Callis
Produced by: Seb Barwell (Roughcut TV)
Directed by: Tom Marshall
Cast: Kris Marshall, Rosie Sheehy, Zahra Ahmadi, Phillipa Dunne, Steven O'Donnell. Martin Turner, Joseph May
Samson Kayo's Comedy Short
Samson Kayo stars as Maleek, a maverick London paramedic with a god complex and an unpopular vlog. When his regular partner goes off his sick, he's forced to work with happy-go-lucky northerner Wendy (Jane Horrocks). On their first shift together, Maleek tries to school Wendy in his unorthodox methods.
Written by: Samson Kayo and Nathan Bryon
Produced by: Seb Barwell (Roughcut TV)
Directed by: Tom Marshall
Cast: Samson Kayo, Jane Horrocks, Jonny Freeman
Susan Wokoma's Comedy Short
11-year-old Joanna tries to understand grief for the first time when she witnesses her mother's manic reaction to the death of Princess Diana, whilst trying to use the incident to get out of Sunday School.
Written by: Susan Wokoma
Produced by: Bertie Peek (Roughcut TV)
Directed by: Jennifer Sheridan
Cast: Susan Wokoma, Whitney O'Nicholas, Yvette Boakye, Layo Christina Akinlude, Daisy May Cooper.
Sindhu Vee's Comedy Short
Gita's sister Preeti and brother in Law, Ronnie, are visiting from India. Preeti has become determined to have an affair whilst in the UK, signing up to a dating app, whilst Ronnie has become a newly devout (and celibate) Hindu. Gita attempts to cover for Preeti whilst she prepares to meet a date.
Written by: Sindhu Vee
Produced by: Bertie Peek (Roughcut TV)
Directed by: Jennifer Sheridan
Cast: Shelley Conn, Adam Leese, Sindhu Vee, Jeff Mirza
Published: 24 Sep 2018
What do you think?