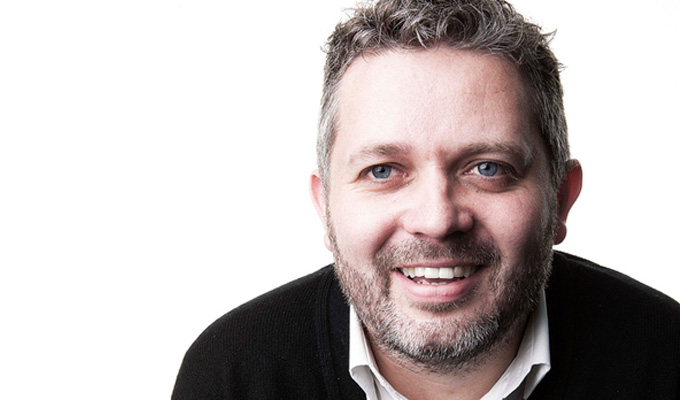 White Oxbridge men, your time is up!
BBC comedy chief Shane Allen says the days of the genre being dominated by white Oxbridge men is over.
Speaking at the launch of a batch of new shows, the executive said his department was on the lookout for more diverse stories which hadn't been told before.
His views are reflected in some of the new commissions he announced, including a look at then 'authentic Muslim experience', a show about a girl with a severe learning disability starring David Tennant and Jessica Hynes and a Welsh-set comedy about a schoolgirl whose mother is sectioned in a mental facility.
'If you're going to assemble a team now it's not going to be six Oxbridge white blokes. It's going to be a diverse range of people who reflect the modern world,' he said.
'We get excited by the stories that haven't been told and the voices we haven't yet heard which is why you'll see more and more diversity of all kinds in the output over the next few years as we break new ground.
'We have heard the metropolitan, educated experience. If a sitcom comes in and it's about three guys move to London and it's a flatshare and the jokes feel quite familiar, then it feels like you're not breaking any new ground and that's not interesting.'
But he insisted there was no 'class war'-style ban on having posh people on TV. 'It's about how original a voice you have rather than what school you went to,' he said.
Allen, the controller of comedy commissioning, said his team was now female-led, which was reflected in the sort of shows now being made, and the fleshing out of characters.
'If somebody writes a script and it says "fit bird" or "girl next door", whatever, it gets called bullshit,' he said.
Allen added that he had come to reappraise the definition of risk in comedy, saying it's not about edgy material but taking risks on backing new talent.
Citing the likes of Fleabag, Young Offenders, People Just Do Nothing and This Country, he said his department was looking for 'fairly novice talent and backing them all the way'.
'More and more we don't go, "Who's going to be in it? Who's the talent? Can it be a vehicle for such-and-such",' he explained. 'Instead it's, "What's the story we haven't told yet What's the talent we haven't put on telly. What's the diversity story to this project. Where can this be set that isn't the London bubble?"
He also said that he wanted to return to sketch comedy, especially given the genre's possibility for success online,
Addressing concerns raised by The Fast Show's Charlie Higson today, he said: 'Sketch comedy has been slightly neglected lately and fallen out of favour, but it's something we really believe in. It's a way for people to come up with characters.'
And he pointed out how the great sitcoms of the 1990s were made by writers who cut their teeth on the sketch shows of the 1970s and 1980s.
Allen also hinted that the new policy of using grassroots comedy has, in part, been driven by rivals such as Netflix snapping up established talent.
'In a world where there's more competition for established talent from an array of competitors we want to broaden and cement our commitment to finding the very best of new wave talent,' he said.
'How we're going to achieve that is through a comprehensive talent ladder to provide opportunity to an array of emerging voices and performers.'
He also warned those making comedies to pay no attention to Twitter – another point raised by Higson – saying the social media platform was 'a playground for bullies, arseholes and cowards' and can be 'stifling' for those wanting to challenge the establishment.
All the news from today's BBC press event:
Published: 19 Jun 2018
What do you think?