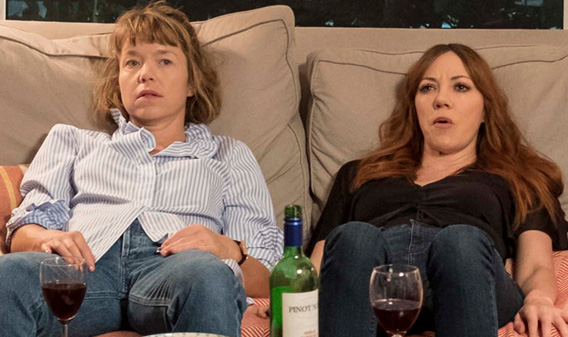 Second series for Motherland
Motherland is to get a second series, the BBC has officially confirmed.
Co-creator Sharon Horgan has previously said that she was writing more scripts with Holly Walsh, Graham Linehan and Helen Linehan.
Now the BBC's head of comedy commissioning, Shane Allen, confirmed that six more episodes will be coming to BBC Two soon.
He made his announcement at a press event in London where it was also revealed that the Horrible Histories team are making a new sitcom, that Inside No 9 is to make a live one-off Halloween episode and that a new batch of female-led pilots had been commissioned for BBC Three.
Motherland started life as a pilot in 2016, while the first series, which aired in November, was one of BBC Two's most watched sitcoms of 2017.
In March, Horgan said she wanted to expand the cast for the second series.
'We definitely want to get a few more mums in there,' she said. 'We represented as many types without them feeling like types as we could, but I think there's more out there to explore and so many great comedy actresses to play those roles as well. It's like being a kid with a bunch of toys, it's the best thing ever.'
Motherland's cast includes stars Anna Maxwell-Martin, Diane Morgan, Paul Ready, Lucy Punch and Philippa Dunne.
Of the new series, the BBC says: 'A collective sigh of relief can be heard across the Motherland as a new school term dawns.
'It's also dawned on Julia (Maxwell-Martin) that she still hasn't sorted her childcare. Her wonderful husband (Oliver Chris) has decided to step up to the mark and train for Iron Man. The alpha mums are back in the cafe, rolling up their blouse sleeves for this year's PTA while Kevin (Ready) looks on from his table next to the toilet. Liz (Morgan) has mastered the art of not giving a f**k, and is going back to bed.'
All the news from today's BBC press event:
Published: 19 Jun 2018
Recent News
What do you think?