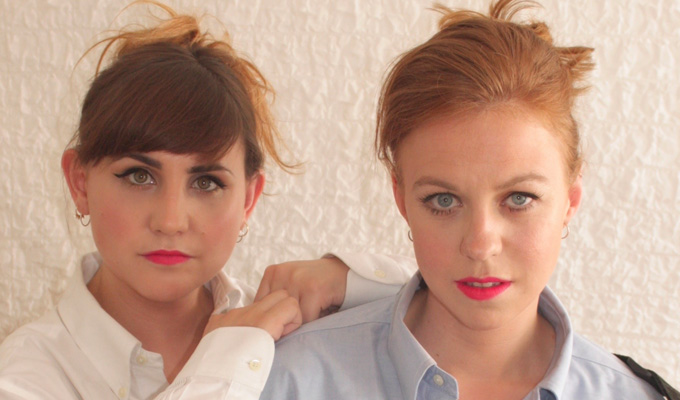 Women get their Slice
The next tranche of BBC Three Comedy Slices have been announced today – with all of them coming from female talent.
Now in their sixth year, the pilot scheme – previously called Comedy Feeds – have launched programmes including People Just Do Nothing and Josh.
The next batch, with their titles still provisional, are:
Tash and Ellie
Writer-performers Natasia Demetriou and Ellie White bring their world of one of a kind and unforgettable characters to BBC Three – in a show overseen by Harry Hill.
The BBC says the double act 'embody the most familiar cultural stereotypes and completely make them their own. With their unique take on modern society, pop culture and, more importantly, the role of women within it, the characters and sketches will be memorable, current, and very funny.'
Ellie plays Princess Beatrice in Channel 4's popular The Windsors and will also star in Holly Walsh's series The Other One on BBC Two alongside Lauren Socha and Siobhan Finneran. Natasia plays the lead role of Sophie in her brother Jamie's series Stath Lets Flat on Channel 4 and will star in the FX series of What We Do In The Shadows with Matt Berry and Kayvan Novak.
The executive producers for CPL Productions are Harry Hill and Mobashir Dar. The commissioning editor for the BBC is Alex Moody.
Here's an old sketch they made for the web:
Diary of a Hounslow Girl
Shaheeda, Tash and Leonie are three West London college students with big dreams, big attitudes, and big plans. From fights on the night bus to yet another 'family' wedding, mosque class to fake IDs, new hijab swags to cooking up schemes on Hounslow High Street, these girls are determined to have the best time - fun first, consequences second. Bouncing between being good, modern Muslim girls and living their best lives, they are three smart, young, Asian women in what is described as 'a bold, provocative, new comedy'.
It is written by and stars Ambreen Razia, based on her play of the same name, and script edited by Holly Walsh.
It is produced by Charlie Coombes and executive produced by Arabella McGuigan & Danielle Lux for CPL Productions. The commissioning editor for the BBC is Alex Moody.
Here is a trailer for the play:
In My Skin
In My Skin is a darkly comic, coming of age story about Bethan Gwyndaf - a 16-year old girl who tells a lot of lies. At school she poses as the perfect student, with a run-of-the-mill family. But her mother is sectioned in a mental facility based only moments away. We follow Bethan as her house of cards slowly begins to collapse.
The BBC says: 'This series gives a raw and accurate portrayal of growing up in Wales today, holding up a mirror to the state of our nation. There's heartache, and laughs, and shame, and sometimes an almost too-hard-to-look quality as we revisit the pain of adolescence.'
In My Skin is written by Kayleigh Llewellyn.
The executive producer is Nerys Evans for Expectation Entertainment and Kate Daughton is the BBC commissioning editor. The producer is Gina Lyons
All the news from today's BBC press event:
Published: 19 Jun 2018
Recent News
What do you think?