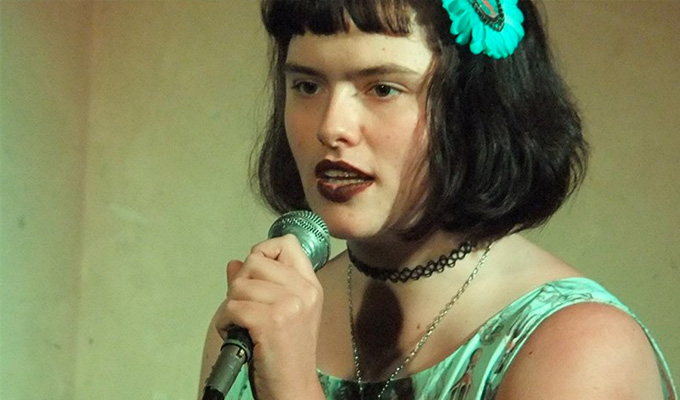 Candlelit vigil honours murdered Eurydice Dixon
Thousands of people gave gathered for a candlelit vigil for the comedian Eurydice Dixon, who was killed walking home from a gig in Melbourne.
The tribute came hours after vandals attacked a makeshift memorial to the 22-year-old in Prince's Park, with offensive graffiti sprayed next to flowers that mourners had left.
Huge crowds gathered in the park as the sun went down on Monday night, ot just in tribute but reflecting the widespread anger at the shocking death, and sparking a debate about safety in the street.
Organisers of the Reclaim Princes Park vigil wrote on Facebook: 'We all should be able to walk home, whenever we want, wherever we want, and assume we will make it home safe. It is not up to us [women] to keep ourselves safe when we know it's up to men to choose not to inflict violence upon us.'
In the wake of her death, a police message that warned women to 'be aware of your surroundings' was widely criticised for being akin to victim-blaming.
Australian Prime Minister Malcolm Turnbull called for a cultural change to make public spaces safe. 'Women must be safe everywhere. On the street, walking though a park, in their homes, at work', he told Parliament
Pictures posted on social media show the size of the crowds reclaiming the park tonight.
Just leaving after the choir wrapped up the vigil. Proud of everyone who braved the cold to reclaim Princes Park. Women deserve to feel safe at all times whether it's day, night, private or public pic.twitter.com/jjGYn01QFf

— Joshua Badge (@joshuabadge) June 18, 2018
Many thousands have gathered at the Reclaim #PrincesPark silent vigil in #Melbourne to remember #EurydiceDixon who was raped and murdered last week on her way home. #euydicedixonRIP. She was a person I knew and saw her grow up. pic.twitter.com/owSvd8c0l7

— John Englart EAM (@takvera) June 18, 2018
This is quite incredible. Impossible to capture. What a gathering of people. #EurydiceDixon pic.twitter.com/kosB4z1YMC

— Sarah Abo (@_SarahAbo) June 18, 2018
Similar vigils are being held in Sydney, Adelaide, Perth and Hobart, while a crowdfunding campaign has raised almost £40,000 for Eurydice Dixon's family.
Somber, powerful scenes. A night to remember all who have experienced gendered violence. We must change. We must do better because we can do better. #change #Adelaide #eurydicedixon #ViolenceAgainstWomen pic.twitter.com/Nm1ytIpsPu

— Kelly Hughes (@KellyHughes96) June 18, 2018
A 19-year-old man has been charged with her rape and murder on Tuesday night, hours after she had performed stand-up at the Highlander Bar in Melbourne's city centre. Jaymes Todd has been remanded to reappear in court in October.
• 'Are you OK to get home?' - a few simple suggestions to make comedians safer.
Published: 18 Jun 2018
What do you think?