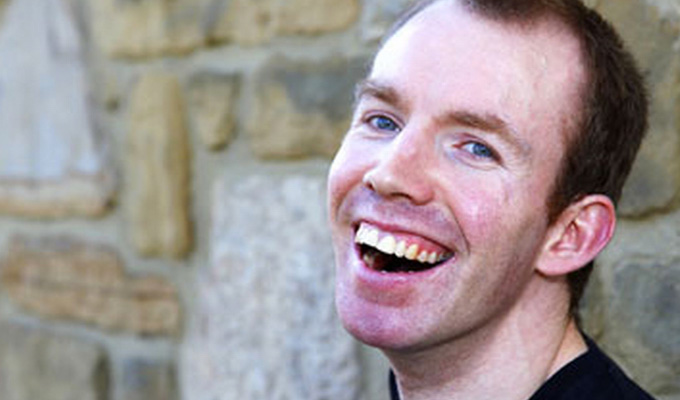 Radio show for Lost Voice Guy
The week's comedy on TV and radio.
Sunday April 29
LUCY PORTER IN THE FAMILY WAY: Radio 4's series of Sunday-night stand-up specials continues with Lucy Porter considering the concept of family, as  a mum of two who has recently become a middle-aged orphan. Radio 4, 7.15pm
RICHARD E GRANT ON EALING COMEDIES: In this three-part series - originally made for Gold and now being shown for the first time on a Freeview channel - Richard E Grant tells the story of the legendary British film studio. Guests in this first episode,  include Jonathan Ross, Al Murray, Michael Palin, Reece Shearsmith and Charlie Higson. Yesterday, 7pm
Monday April 30
RADIO 2's FUNNY FORTNIGHT: The second week of  comedy pilots kicks off at 10pm with The World According To Harry Priest, which stars Bradley Walsh as a stickler for the rules, trying to keep order in a busy house. It co-stars  Kerry Howard, Tom Stourton, Sherrie Hewson and Rebecca Humphries and has been created by Neil Webster, a writer and producer whose credits include SunTrap, Urban Myths and Morgana Robinson's The Agency. Then at 10.30pm it's Am I Normal?, a chat show/panel show hybrid in which Sara Pascoe and Aisling Bea try to figure out whether our quirks are perfectly acceptable, or just plain weird.  The winner is the person deemed to be the 'most normal'.
Tuesday May 1
RADIO 2's FUNNY FORTNIGHT: Tonight's first offering at 10pm is La Maire, a new sitcom written by Johnny Sweet in which expat Harriet (Rosie Cavaliero) looks set to become mayor of Rachelais, the small French village that she and her husband Roy (Tim Key) have settled in. However, her irresponsible and unpredictable brother Ed (Sweet) then comes crashing into their lives… It's followed at 10.30pm by the entertainment format One Night Only in which Brian Conley pits celebrities and comedians against each other to win a role in a spectacular musical finale. Pippa Evans from Showstoppers is their mentor.
Wednesday May 2
TASKMASTER: Greg Davies and loyal lapdog Alex Horne are back for a sixth series, this time setting odd challenges to the stupidly competitive  Alice Levine, Asim Chaudhry, Liza Tarbuck, Russell Howard and Tim Vine. Dave, 9pm
ABILITY: With excellent timing, given that he's just wowed Britain's Got Talent's judges, Lost Voice Guy Lee Ridley's four-part sitcom begins on Radio 4. In Ability, he plays Matt, a disabled guy leaving home for the first time, to the concern of his parents who have always done everything for him. But Matt is determined to find his independence, even though his new carer Bob is a rookie who spends more time dealing weed and flogging knock-off TVs than cooking Matt's tea.Radio 4, 11.30am
DALISO CHAPONDA: CITIZEN OF NOWHERE: Speaking of  Britain's Got Talent, last year's third-placed contestant also stars in his own Radio 4 series starting tonight. In this show, he takes the role of guidance counsellor to examine the relationship between the UK and Africa.Radio 4, 6.30pm
RADIO 2's FUNNY FORTNIGHT: First up at 10pm is Proposal,  a sitcom starring Joe Thomas as a man building up the courage to pop the question to his girlfriend, played by Doctor Who's Pearl Mackie. and the series of disasters that follow. It's written by Ben Ashenden and Alex Owen, otherwise known as sketch duo The Pin. And at 10.30pm, Celebrity Lip Service uses  prank calls and other set-ups to find out just how far people will go to satisfy a star… or at least an impersonator pretending to be a star.
Thursday May 3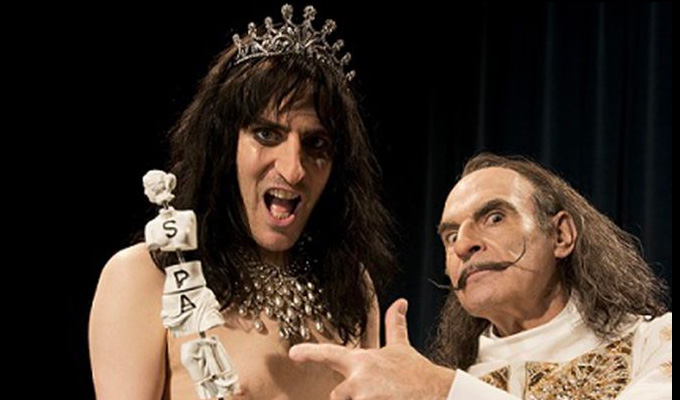 URBAN MYTHS: THE DALI AND THE COOPER He named his new baby Dali… now Noel Fielding starts in a film about the surrealist master. This comedy short takes a look at the bizarre creative collaboration that took place between shock rocker Alice Cooper (Fielding) and the Salvador Dali (David Suchet) one weekend in New York in the 1970s. Paul Kaye pops up as Alice's agent Shep Gordon and Sheila Hancock plays Salvador's wife Gala. Sky Arts, 10pm
Friday May 4
FRIDAY NIGHT DINNER: The award-winning comedy starring Simon Bird and Tom Rosenthal returns for a fifth and likely final series. Channel 4, 10pm HIGH & DRY: The second half of Channel 4's new comedy double bill is  Marc Wootton's new comedy about a group of castaways stranded on a desert island in the Indian Ocean following a plane crash. It co-stars Vicki Pepperdine, Asim Chaudhry and Harry Peacock. Read an interview with Wootton about the show here. Channel 4, 10.30pm
Published: 29 Apr 2018
What do you think?