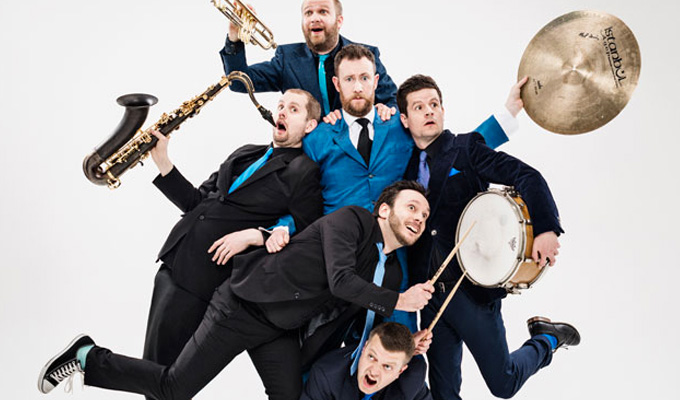 Get the Horne
This week's comedy on demand.
Comedian and Taskmaster creator Alex Horne has got the band back together (not that they ever disbanded) for a new podcast – which has immediately risen to No 2  on the iTunes chart. Each week, Horne and his backing musicians are joined by a special guest. In week one it was James Bond composer, David Arnold,  in week two Pointless co-host Richard Osman, and week three Adam Buxton. Upcoming guests include Lou Sanders, Tiin  Key and Roisin Conaty. Chris Baughe of podcast producers Deezer said: 'Each episode is like listening to a rehearsal session with some incredible musicians and their funny friends. Much of the content is improvised so you never quite know what to expect.'
Listen to the first episodes here
Together
This charming BBC Three comedy by writer/performer Jonny Sweet is now available as an iPlayer box set. First broadcast in 2015, he stars alongside Cara Theobold as two young people in the early, fragile stages of a new relationship. Whenever they are together, things go swimmingly -  it's the intervention of family and friends that brings disaster.  Familiar faces Alex Mcqueen, Vicki Pepperdine, Katy Wix, Nick Mohammed, Sarah Daykin, Tom Davis and Tim Key also make appearances. Watch here. And read more about the show here.
David Brent: Life On The Road
Ricky Gervais's film  lands on Netflix today, catching up with David Brent as the desperate Office character sinks his pension savings into a last-ditch attempt  to break into showbusiness. Is he a delusional loser pissing his future security up the wall, or a hero following his dream, like countless reality shows urge us to do? The conclusion is deliberately  ambivalent…  Watch here.


Cul De Sac
This sitcom pilot has been around for a couple of years, but remains little-seen, with just 5,000 views on Vimeo.  Mike Wozniak, from Man Down, stars as a middle-aged middle-of-the-road private detective who has a routine stakeout ruined by his sister, Edinburgh best newcomer nominee Lucy Pearman, who is  intent on fixing his life. Written and directed by advertising copywriter Nick Flügge, the 12-minute film has previouslt featured in plenty of film festivals:
Fred Armisen: Standup For Drummers
One of the consequences of Netflix's commitment to release a new stand-up special every week is that comedians are getting increasingly creative with the format to stand out. In this one, Portlandia star  Fred Armisen performs for an audience of drummers, with plenty of niche material they will relate to - including impressions of musical genres, a history of drumming, and a chunk about soundchecks. Write what you know, they say, and this quirky special certainly does that – and while drummers will love it, there is also a resonance for music-lovers in general. Watch here.
Laugh Out Loud
This radio oddity features an orchestra of laughter, with actual music made from the sound of human joy set to relevant anecdotes from well-known voices. Paul Merton, Arthur Smith and Mark Steel all feature in the programme, which was first broadcast on Radio 4 in 2004 but is now available on iPlayer thanks to a Radio 4 Extra repeat.
Published: 10 Feb 2018
What do you think?