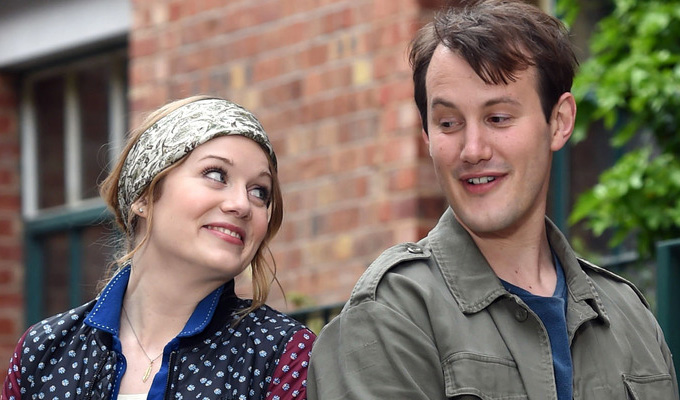 'My parents will be humiliated'
You might recognise Jonny Sweet from being that guy in that thing. He's been around the edges of comedy since breaking through on the live circuit as part of the House Of Windsor sketch troupe alongside future Inbetweeners stars Simon Bird and Joe Thomas back in the day .
Since then he's appeared in Him & Her, When Boris Met Dave (as David Cameron, no less), Babylon and Chickens, catching the eye but never having found the perfect vehicle. With Together, he has.
The show is an hilarious romantic comedy, squeaking in on BBC Three before it disappears to the internet badlands – although Together has got the gags, the characters and the 'will they/won't they intrigue' to be a mainstream, primetime smash.
Sweet, who wrote the witty scripts, stars as a rather feckless young man Tom, embarking on a cringe-filled relationship with Ellen (Cara Theobold). The pair have great chemistry – although tellingly, and despite the show's title, you almost never see them together The comedy comes from how friends, family and their different kinds of clumsiness, conspire to make the whole experience fraught.
'The central idea was that when you start dating someone a lot of the difficulties are when you're not with them,' says Sweet. 'You spend a lot of time worrying and mucking thing up and it's often in their absence. The idea for this was that when they're together, everything is fine. But friends and family and just the general shittiness of life that gets in the way. which is why you don't really see them together.'
Together is based on Sweet's Radio 4 comedy Hard To Tell, which ran for two series from 2011. And he says the transition to screen has improved the script: 'We used a lot of split screen to ensure was an equal half for each of the two stories. In the radio there was more me showing off and it was imbalanced. The director Annie Griffin was very strict – and very combative – about making sure it wasn't just me finding things to show off about.'
That the comedy is shared out between all the characters is echoed by Sarah Daykin – of sketch duo Toby – who plays Ellen's friend, Hermione. 'What's nice as a female in comedy is when the characters don't just feel like they're serving the male arc and the male role, so that's actually quite unusual,' she says.
TV also allows Sweet to show of some nifty physical prowess, most notably in a life-drawing scene, to add to the dextrous verbal humour of the script and some show-stealing pecularities from Alex Macqueen and Vicki Pepperdine as Tom's parents, the peculiar Ashley, a hoarder and font of bizarre advice, and long-suffering wife, Lesley, a pair which executive producer Chris Sussman calls 'the best comedy parents I've seen'.
They seem like exaggerated comic creations – and great ones at that – but Sweet admits the dad is 'close to the reality of my own father… It might as well be a documentary.'
'He'll be humiliated,' the comic admits. 'They heard the radio show and someone rang them and said, "After humiliating you on radio, I hear your son's now going to do the same on television",' but he added: 'This is the tip of the iceberg, honestly.'
Speaking to journalists at a press launch Sweet attempted to backtrack, with limited conviction: 'If you met my Dad… no, I can't say he's normal, but he is very charming and I don't want to slag him off too much.'
When asked what attracted him the the odd role, Macqueen says bluntly, but in jest: 'The offer'
He added: 'When Johnny asked me to take part in the radio series, I was delighted. It was terrific fun. We recorded the radio show not in a studio but in location in a house in Camden. It had a really nice vibe, so I was thrilled when it was commissioned for TV.'
Of his character, he says: 'He's a peculiar cove, but he can't just be a moron, he has to have this streak of warmth. I think you see this over the episodes, because at the start you see him just as a fool.'
However, it wasn't depicting his father on screen that's led to most problems for Sweet – but the creation of the pushy, intense Hermione, a hangover from Ellen's uni days she never quite shook, now giving her lots of ill-judged romantic advice, mainly that she should really accept the marriage proposal of slick, rich Luke (Jaz Deol) and become a kept lady.
'I do know a Hermione and she genuinely seemed quite annoyed when she heard the radio show,' Sweet admits. 'But it's honestly not based on her. It led to a really difficult red-faced conversation. She was my girlfriend's best friend, and in this, the girlfriend's best friend is called Hermione, too. The character's a real bitch and I didn't change the name. I just didn't think. She wasn't in the country so I think I just forgot.'
As to why Ellen is still friends with such a horror, Theobold says: 'It's almost like family that you put up with the madness and circumstance.
'Deep down there is a struggle with all the of the characters trying to work out who they are and trying to manage. She's just down to London and stuck with this crazy person.'
Sweet agrees: 'I'm from Nottingham and coming to London was a thing I empathised with. It is quite disorienting. It is quite difficult you do sometimes find yourself in flats with people you don't know and trying to work things out.
'Ellen exists in the real world that Tom doesn't, in coming from the suburbs, buffered from real actual problems. Ellen's problems are more than your dad being embarrassing.'
Asked whether the tongue-tied, nervous Tom is based on himself, Sweet adds: 'I'm a bit better actually. About ten per cent better. There is the overthinking and the anxiety, that what we have in common.'
He's not the only name from the comedy circuit to appear in the show. Katy Wix plays his sister, Nick Mohammed a useless lawyer, and Tim Key, not only plays a mild-mannered policeman but helped edit the script, alongside the League Of Gentlemen's Jeremy Dyson.
'Tim is a good friend of mine and we have worked together quite a bit,' Sweet says. 'He's an amazing writer and comedian and I respect his sense of humour. His notes were about tone and where the comedy sat and if I was hitting my head against the wall he's very quick with suggestions and ideas. We went to Cornwall for a week and talked about the show.
'Jeremy was very good at precision of plot and character and making the structure work. He was a lot more muscular in the notes he was giving, I think that's how that worked; we never met up in a group.'
However the scrips were put together, they work excellently well, producing a sitcom that's sometimes tender, sometimes strange, sometimes slapstick and always both warm and funny. By all rights it deserves to be a hit.
As Sussman, who commissioned the show for the BBC, says: 'We wrote it so that there could be more series. We have to put it out there and see how it goes down, but certainly I love it and would love to see more.'
• Together starts on BBC Three on Tuesdays from October 6, at 10.30pm.
Published: 1 Oct 2015
What do you think?