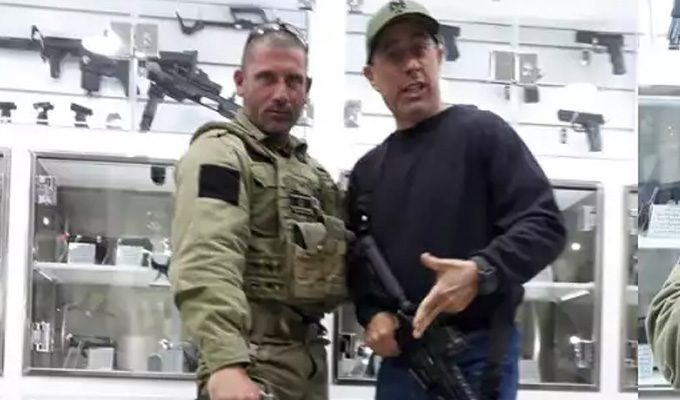 Seinfeld under fire over visit to Zionist military camp
Jerry Seinfeld has come under fire for taking his family on a trip to an Israeli military 'fantasy camp' in occupied territory.
The comedian visited a paramilitary training facility in the disputed West Bank, which boasted of how they had shown him 'lots of Zionism'.
The Caliber 3 training centre, set up by former Israeli Defense Forces Colonel Sharon Gat, offers 'commando tourism' days out, including the chance to shoot at targets of Arab men in terrorist garb. Other packages include a simulated bombing in a Jerusalem marketplace
The camp boasted of Seinfeld's visit on Facebook, posting images of him on site and saying: 'Finally we are allowed to tell you! Jerry Seinfeld and his family were in Caliber 3. During their visit to Israel last week, they came to us for a special and exciting activity with displays of combat, Krav Maga [self-defence trailing], assault dogs and lots of Zionism. It was great.'
But this afternoon the company took down the post following the backlash.
Remi Kanazi, a Palestinian-American artist and poet, wrote: 'Jerry Seinfeld and his family play fascists in the West Bank. Indoctrinating his young children to murder Palestinians and steal land. There is nothing funny about apartheid, occupation, settlement expansion, and executing occupied Palestinians."
On Facebook, activist Donna Nassor wrote: 'Such a lovely way to teach the next generation to hate. I am glad I never got into watching his television show back in the day. Be sure to add him to your Boycott list please!!'
And author Steven Salaita tweeted: 'Jerry Seinfeld photographed his kids with machine guns. If any Arab or Muslim did the same, they'd be savaged as unfit parents and ten million think-pieces would be written about how "those people" indoctrinate their children into violence.'
Caliber 3 is based in Gush Etzion, a cluster of Israeli settlements in Palestine considered illegal under international law, though Israel disputes this.
It was not the only military-themed excursion Seinfeld took during his ten-day trip to Israel, which included two gigs in Tel Aviv. as he also visited the Ramon air force base.
The Seinfelds have three children: 12-year-old Shepherd, 17-year-old Sascha and 14-year-old Julian. It's not clear which came with him.
Here's a Caliber 3 promotional video:
Published: 9 Jan 2018
Recent News
What do you think?