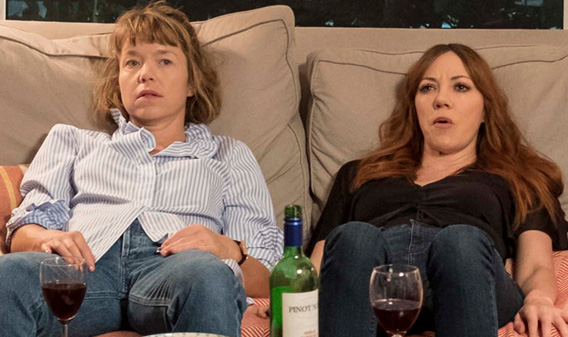 The mother of all comedies
The best of the week's comedy on TV and radio.
Sunday November 5
SIR Ken Dodd: WHAT A BEAUTIFUL DAY! As Sir Ken celebrates his 90th birthday on Wednesday, Radio 4 Extra airs this new documentary featuring archive clips, an extended interview with the man himself along with several other friends and colleagues, including John Martin, who's been writing jokes for him for over 25 years. Presented by r Garry Richardson. Radio 4 Extra, 8pm
IT'S GREAT TO BE YOUNG That's followed by this long-lost programme from the archive, first heard on the BBC Light Programme in 1960. This show was recorded with Dodd, then 33 and calling himself a 'zaniac', jesting and singing his way through Doddyland, a realm of childhood emanating from The Doddybook. Radio 4 Extra 9.20pm
Tuesday November 7
MOTHERLAND: After last year's successful pilot, this new comedy about the stresses of being a parent gets a full series. In episode one, frazzled Julia (Anna Maxwell-Martin) moves out of her comfort zone and reluctantly invites the entire class to her kid's birthday party. It's been written by Graham and Helen Linehan, Sharon Horgan and Holly Walsh and co-stars Diane Morgan, Philippa Dunne and Paul Ready.BBC Two, 10pm
SICK NOTE: Rupert Grint and Nick Frost team up for this dark comedy about a lie that spirals out of control. Loveable loafer Daniel Glass (Grint) is set to lose it all because of his laziness… until he is diagnosed with cancer, when everybody is suddenly nice to him. But although it turns out that the oncologist (Frost) misdiagnosed him, they realise it could be in both their interests to keep the truth hidden… Sky One, 10pm
PASSIONS: Richard Pryor BY Romesh Ranganathan: The comic investigates his hero Richard Pryor, travelling to Los Angeles to speak to those who knew the groundbreaking stand-up both privately and on the comedy scene. Ranganathan compares his comfortable existence in leafy Sussex to the troubled life of Pryor and shares his love for the American comic's uncompromising honesty, on-stage freedom and fierce topicality that so inspire him. Sky Arts, 9pm
Wednesday November 8
THE REBEL: Simon Callow is back as the irascible, hellraising pensioner Henry Palmer as the sitcom returns for a full six-part series. His accomplices are Charles (Bill Paterson) and Margaret (Anita Dobson) along with his long-suffering daughter, Cath (Anna Crilly). Read an interview with series creator Andrew Birch here. Gold, 10pm
REMOTE: This is Mark Watson's first play for Radio 4, about a couple - played by Raquel Cassidy and Richard Lumsden - who had split up 30 years ago and drift to opposite sides of the world, but find each other again via the internet. Radio 4, 2.15pm
Friday November 10
THE CASE OF THE MUKKINESE BATTLE-HORN: An intriguing short film, supposedly filmed in 'Schizophrenoscope', from 1956 starring Peter Sellers, Spike Milligan and Dick Emery. Detectives from Scotland Yard are assigned to look into the disappearance of the Mukkinese Battle-Horn, a ninth-century artefact, from the Metropolitan Museum. It was an attempt to put The Goons on the big screen, but in the event Emery replaced Harry Secombe, who was deemed too expensive for the budget. Talking Pictures TV, 8pm.
Saturday November 11
MURDER ON THE BLACKPOOL EXPRESS: The Gold channel has assembled a galaxy of stars for this one-off comedy murder-mystery about a coach trip where the bodies keep piling up. The cast is headed by Griff Rhys Jones, Sian Gibson and Johnny Vegas - find out more here. Gold, 9pm.
Published: 5 Nov 2017
What do you think?