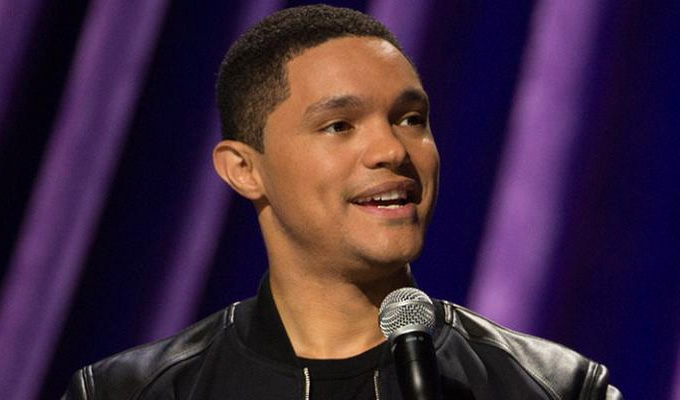 Noah's lark
This week's best comedy shows on demand.
Trevor Noah: Afraid Of The Dark
The Daily Show host's new stand-up special is now available on Netflix. In the 77-minute show, he discusses the rise of nationalism, Barack Obama, and an extended riff on colonialism.
The only topic notable by its virtual absence is Donald Trump, for in a prime example of bad timing the show was recorded in New York on the weekend before the Presidential elections.
Subscribers can watch here. Or here is a preview clip:
Mark Watson Talks A Bit About Life
A new Radio 4 series from Mark Watson follows the format of his previous work – right down to the assistance offered by pals Tim Key and Tom Basden. The modest aim of these four episodes is to answer the big questions and make sense of life
In the first the trio look at success, and how it is best measured through contentment rather that acquiring possessions. Listen on iPlayer here
Difficult Second Coming
This has been around for a while, but it's got such a great premise it deserves further notice. It revolves around JC, a typically broke twentysomething stuck in a flatshare… but he also happens to be the second coming of Jesus Christ It stars some faces you might recognise: Dylan Edwards and Natasha O'Keeffe (who wrote it together) alsongside Joel Frym Fiona O'Shaughnessy and Emer Kenn.
Episode one is embedded below and the other two are here
The Last First Comic
This documentary, new to Amazon Prime, is about Irving Benson, who died last year at the age of 102. He was one of the last survivors of the vaudeville era, having started on the burlesque circuit.
He was the contemporary of the likes of Abbott & Costello, Red Skelton, Phil Silvers, and Jackie Gleason and he gained national exposure during the 1960s, when Milton Berle hired him to play a phoney heckler named Sidney Spritzer, the prototype of the Muppets' Statler and Waldorf.
In this film, Benson joins theatre historians as they uncover the roots of American comedy. It's available to view here
And here's a trailer:
Published: 25 Feb 2017
What do you think?