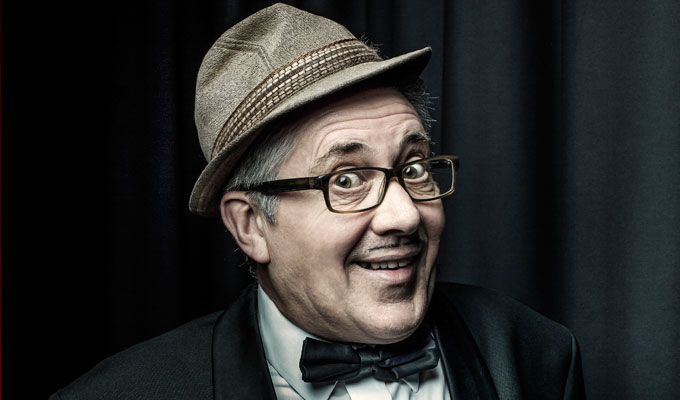 Count Arthur's back!
The comedy week ahead.
Sunday December 18
RADIO: Count Arthur Strong - one-time variety star, now sole proprietor of Doncaster's Academy of Performance - is back for a Christmas special of his radio series, ahead of the return of the BBC One version next year. Alastair Kerr, David Mounfield and Mel Giedroyc co-star in this typically chaotic tale. Radio 4, 7.15pm
LIVE IN LONDON: Provocateur Brendon Burns concludes his run of Black Comedian - examining race, especially in comedy - at the Museum of Comedy. It's essentially the same as the Dumb White Guy show he took to the Edinburgh Fringe earlier in the year, challenging patronising political correctness.
Monday December 19
TV: Comedians David Baddiel, Jessica Hynes, Ellie Taylor, Matt Richardson, London Hughes and Roisin Conaty are among those dishing out life tips on Celebrity Advice Bureau, a new series running on the W channel at 9pm tonight, tomorrow and Wednesday.
TV: Alan Carr hosts a new quiz show, the 12 Stars Of Christmas, which airs on Channel 4. In this episode, the guest panellists are Alesha Dixon, Rob Beckett and Alexander Armstrong. 10pm
Tuesday December 20
RADIO: Radio 1 aired this selection of Victor Lewis-Smith's more controversial items for the first - and last – time in 1992. Now it's getting a rerun, courtesy of Radio 4 Extra. It includes prank calls to Jesus College, Cambridge, and the CIA; a new Frank Sinatra box set of working class clichéd songs; a parody of improv game Whose Line Is It Anyway? and a new version of the classic film Genevieve. Radio 4 Extra, 11pm.
LIVE IN LONDON: Scott Gibson may have been a surprise winner of best newcomer at the Edinburgh Comedy Awards this summer, but not to those who saw his compelling storytelling show. It now arrives at the Soho Theatre, so Londoners who missed him at the Fringe can play catch-up, and for a nice long run spanning into mid-January.
LIVE IN MOLD: How many Christmas crackers have Tommy Cooper jokes found their way into? So it's perhaps apt that top Cooper impersonator Daniel Taylor recreates the fez-wearing comic's act for a festive run at Theatr Clwyd until New Year's Eve.
Wednesday December 21
RADIO: Kenny Everett's friendship with The Beatles is examined in the documentary When Kenny Met The Fab Four. The comedian and broadcaster struck up a friendship with the Beatles when he was a pirate radio DJ, and accompanied them on their August 1966 tour of America, sending back daily reports for Radio London. He also produced their 1968 and 1969 Christmas records, collages of odd noises, musical snippets, and individual messages. This documentary is fronted by Paul Gambaccini. Radio 2, 10pm
TV Meanwhile, ITV pays tribute to Les Dawson with the first of two hour-long documentaries (the next is on tomorrow) using previously unseen footage to tell the story of one of British TV's greatest comedians. In this opener, his daughter Charlotte listens to a recently discovered tape recording from 1967, believed to be the oldest surviving audio footage of his act. 9pm
TV: BBC Scotland's police sitcom Scot Squad returns for a Christmas special. It's on BBC One at 10.40pm north of the border, while everyone else has to suffer a Mrs Brown's Boys rerun and catch it on iPlayer afterwards. Here Chief Commissioner Cameron Miekelson, played by Jack Docherty, tries to come up with a new name for what the force used to call Black Friday…

LIVE IN BATH: Enjoy a pre-Christmas party with your comedy as Luisa Omielan brings her celebratory What Would Beyonce Do? to the Komedia.
Friday December 23
TV: It's the Windsors' Christmas special at Sandringham. Kate has put herself in charge of Christmas lunch, but will her festive feast meet host Princess Anne's expectations? Channel 4, 10pm
LIVE IN GLASGOW: Head into the festive weekend with a great line-up at the Stand, headlined by Tom Stade - who'd charge more than the £12 admission tonight to see him tour alone - with a strong supporting bill, including Michael Legge, proof that a Grouch is not just for Christmas…
Saturday December 24
TV: In the 8 Out Of 10 Cats Does Countdown Christmas special, Sean Lock and Kathy Burke take on Jon Richardson and Russell Howard, with Joe Lycett in Dictionary Corner. Channel 4, 9pm
TV: Trigger Happy is back for a Christmas Special, with some of the on-demand sketches released earlier this year as well as some new stunts from creator Dom Joly. Channel 4, 11pm
RADIO: Alistair McGowan stars as Baron Munchausen and all the other 43 characters in David Spicer's comic drama which update the exploits of the legendary Lord of Lies, originally fictionalised by Rudolf Raspe. Radio 4, 2pm
LIVE IN LONDON: There's a Jewish Christmas Eve show at the Cafe Rouge in Hampstead, headlined by the man who made Cuprinol skin a thing way before Trump, the light entertainment king, Lenny Beige. There's stand-up from Bennett Arron and Josh Howie too. Howie doubles up with Ivor Dembina's traditional December 24 show - now in its 23rd year – at the Camden Comedy Club. On that bill he's joined by Aaron Levene, Daniel Cainer, and Jo Bor's upper-class adventurer alter-ego, Jasper Cromwell-Jones
• For full live comedy listings, use the pull-down menus at the top of the page to see what's on near you on any given day.
Published: 18 Dec 2016
What do you think?