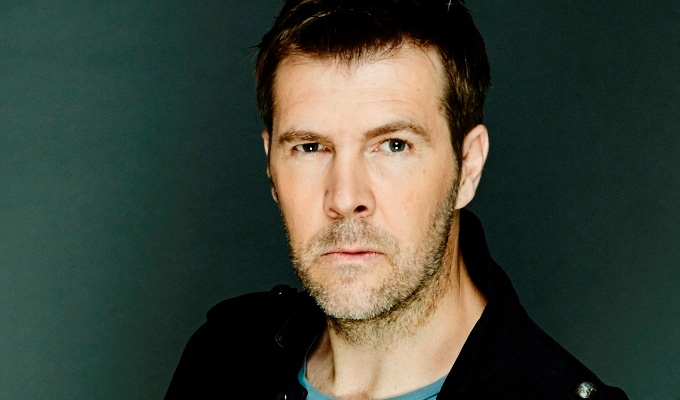 Rhod Gilbert working on Llanbobl sitcom
Rhod Gilbert is working on a sitcom based in his fictional Welsh hometown.
Back To Llanbobl is being developed by Steve Coogan and Henry Normal's production company Baby Cow, which hopes to shoot a pilot episode this autumn.
Lloyd Langford is also expected to appear in the comedy, which is co-written by Gilbert's wife and fellow comic Sian Harries.
No broadcaster has yet been linked to the sitcom but a readthrough was performed at the Comedy Store in London this week.
Llanbobl was a recurrent setting in Gilbert's early stand-up and the scene of his 2008 Radio 2 pilot Rhod Gilbert's Leaving Llanbobl, in which he returned to the quiet, backward town after his mother ran off with the milkman.
In a 2014 interview, Gilbert described the long-gestating television adaptation as 'imaginative, slightly surreal, slightly dark, sort of very naive, slightly League Of Gentlemen, slightly Father Ted, silly sitcom'.
He added: 'It's perhaps too silly to be a comedy drama, but there's too much drama to be a sitcom. If it ever happens, it will be one of these newfangled sitcoms with a slight derivation of the past.'
Speaking in June, Harries added: 'Other than the fact it's been like trying to piece together a huge floor Jigsaw while your mum hoovers around you blindfolded, I think we're finally in a good place now.
'We've got episode one done and we've learned to be very honest when it comes to critiquing each other's contributions. If one of us comes up with something shit, the other will say as much.'
The Radio 2 pilot, written by Gilbert, Harries and Greg Davies also co-starred the latter, with Langford playing Gilbert's amiable, not-so-bright brother Emrys.
Speaking to the Skinny magazine last week, Langford said: 'I'd love to do it again. I think him and Sian wrote the character with me in mind. Which is good and bad if you're familiar with him.'
Here is a short film of Gilbert talking about returning to Llanbobl from his 2008 Award-Winning Mince Pie show:
- by Jay Richardson
Published: 11 Mar 2016
What do you think?