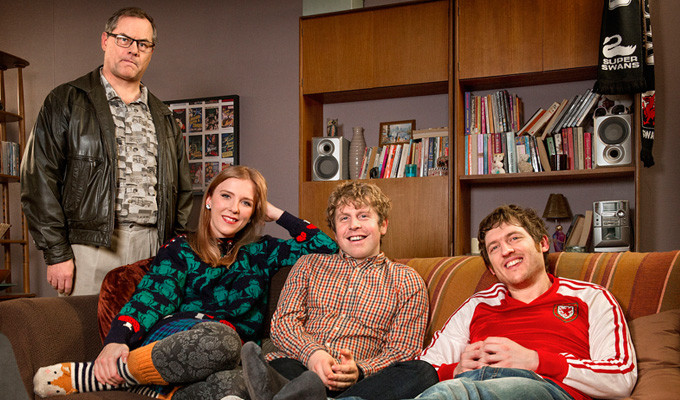 Josh renewed for a second series
The BBC has commissioned a second series of Josh Widdicombe's self-titled sitcom.
The news comes as the first run finishes tonight.
Six more episodes of Josh have been ordered for BBC Three after its move online early next year.
Co-written with Tom Craine, the series co-stars Elis James and Beattie Edmondson as his flatmates Owen and Kate, and Jack Dee as his landlord Geoff.
Widdicombe said: 'Writing and making Josh was the best job I have ever had so I am absolutely delighted that the BBC have given us the chance to make six more episodes.
'I look forward to subjecting the characters of Josh, Kate, Owen and Geoff to further misfortune and adding more fuel to the social media love-in about Elis James's legs.'
BBC Three controller Damian Kavanagh added: 'We love Josh and it's a hit with audiences which is why it's coming back to BBC Three. Who doesn't want more Geoff in their life?'
The series has attracted 400,000 to 480,000 viewers on overnight figures, but it hhad a mixed critical reaction.
The Arts Desk called it 'horribly bland', making the inaccurate prediction: 'It's difficult to see how Josh can avoid suffering the ignominy of lasting only one series.'
The Daily Telegraph callled it 'witty' and 'promising', while The Independent said there was "nothing original or remarkable about the set-up - or much of the script - but there's promising chemistry between its stars.'
And Chortle said: the show was 'watchable… and unlikely to go down as a classic, and faring poorly when watched back-to-back with the superlative Peep Show.'
Josh is directed by David Schneider, produced by Simon Mayhew-Archer, executive produced by Stephen McCrum, and commissioned by Shane Allen.
Published: 16 Dec 2015
What do you think?