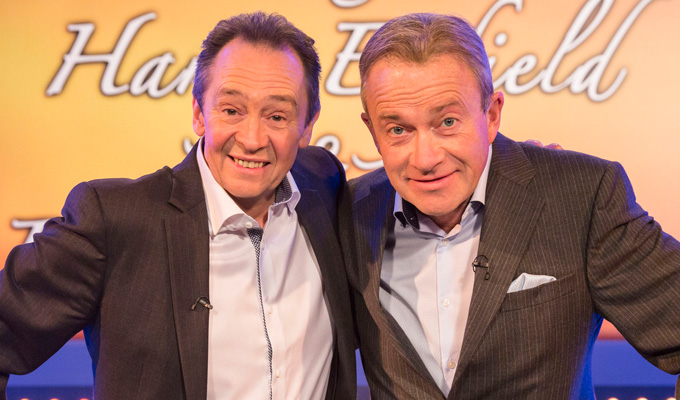 An evening with Harry and Paul
The comedy week ahead...
Sunday August 30
LIVE IN OXFORDSHIRE: The Towersey Fringe raises money to improve the village, just outside Thame, and today hosts a comedy show with an impressive line-up of Richard Herring, Dominic Holland, Carly Smallman and Marcel Lucont.
Monday August 31
TV: BBC Two pays tribute to Harry Enfield and Paul Whitehouse as they celebrate 25 years of working together. And rather than hire in celebrities for the talking head sections, the pair will do it themselves, playing the likes of Rob Brydon, Ricky Gervais, Prince Charles, Miranda Hart, Stephen Hawking, Boris Johnson, Melvyn Bragg and Jimmy Carr. An Evening With Harry Enfield and Paul Whitehouse, at 9pm is followed by a repeat airing for the 1994 special Smashie And Nicey: The End Of An Era.
TV:  Danny and the Human Zoo is a fictionalised account of Lenny Henry's life as a teenager in 1970s Dudley. The story centres on Danny Fearon, a talented impressionist, and his working-class Jamaican family, as he rises to fame as a stand-up comedian after winning a local talent competition.  BBC One, 9pm
Tuesday September 1
LIVE IN LONDON: Direct from Sydney's Laugh Hole, it's Dave! Zoe-Coombs Marr's drag parody mocks laddish stand-ups in a two-week run at Soho Theatre off the back of the Edinburgh Fringe. Review
LIVE IN LONDON: It's the 17th annual Gut Week – I hope you've brought your Merry Gut Week card –  and to mark the digestive health campaign, Mark Watson is performing an intimate set in the toilets at London Wonderground at the Southbank Centre at 11am, to 'highlight the importance of breaking the poo taboo'. Email toiletbreaktickets@housepr.com to apply for any tickets that might still be available..
Wednesday September 2
LIVE IN BRISTOL: Relive fiendish early computer adventure games with The Dark Room, overseen by the devilish John Robinson, at the Cube Theatre tonight.
LIVE IN DUBLIN: How much introspective angst can you take? Marc Maron, stand-up, WTF podcaster and star of his own American TV series, comes to Vicar Street, before gigs at the South Bank's Queen Elizabeth Hall in London tomorrow and Friday.
FILM: Chortle is hosting an exclusive screening of the new documentary Misery Loves Comedy in a central London location ahead of its wider release on Friday. In the film, 50 comedy heroes including Tom Hanks, Judd Apatow, Jimmy Fallon, Whoopi Goldberg, Steve Coogan, Stephen Merchant and Larry David speak about their earliest comic experiences, most epic fails and best anecdotes in a bid to explore the idea of whether you need to be unhappy to be funny… Click here to find out how you could attend the screening, at 6pm for 6.30pm.
Thursday September 3
TV: Cradle To Grave, the  comedy-drama based on Danny Baker's memoir Going to Sea In A Sieve, starts its  eight-part BBC Two run, featuring Peter Kay as Baker's dad, a London docker.
LIVE IN DUBLIN: Dara O Briain seems to spend more time at Vicar Street than his own house these days. Another six-night run of superlative stand-up kicks off tonight.
RADIO: Johnny Vegas writes and directs the semi-autobiographical coming-of-age tale The Toffee Tip. In the story, money is tighter than ever in the Pennington household  and things seem desperate until  young Johnny learns of the existence of the toffee tip – a local dumping ground for spoiled confectionary. The boys therefore plan a daring expedition to find it. Radio 4, 2.15pm
Published: 30 Aug 2015
What do you think?