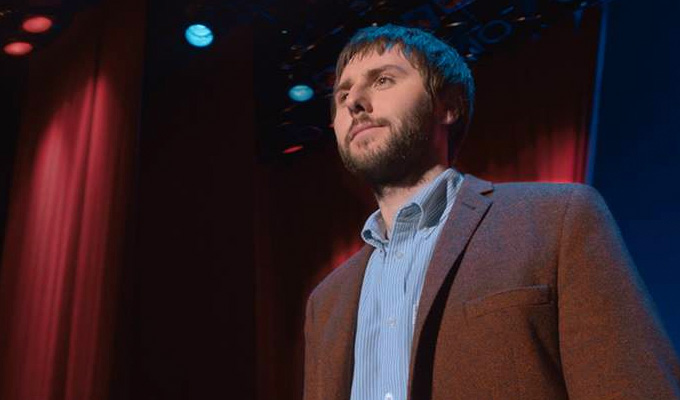 Inbetweeners' James Buckley turns stand-up
Inbetweeners star James Buckley is to play an embittered journalist hoping to become a top stand-up comedian in a new movie based on a true story.
The Comedian's Guide To Survival is based on the life of former GQ picture editor turned stand-up James Mullinger – which is also the name of the lead character.
Filming started on the £3million British comedy at last month's Just For Laughs festival in Montreal – with comics such as Jimmy Carr, Gilbert Gottfried, Omid Djalili, Brendon Burns, Mike Wilmot and Gina Yashere making cameo appearances as themselves.
The script, by director Mark Murphy, is described as offering 'a unique insight into the comedy scene at the lowest level of motorway service stations and open mic gigs to the highs of Hollywood'.
Buckley plays Mullinger, a men's magazine writer who dreams of stand-up stardom rather than interviewing successful comedians, even though his family implore him to leave the comedy behind and concentrate on his day job. Ignoring them, he encounters numerous A-list comedians who inspire him, denigrate him and occasionally abuse him.
The film also stars Paul Kaye (as Mullinger's editor), Neil Stuke, Kevin Eldon and Natalie Stone, with Mullinger himself taking a separate role. It also features stand-ups from the British circuit, including Carly Smallman as a picture editor and Luisa Omielan, Richard Sandling and Maff Brown comedians who travel with James to horrible gigs.
Mullinger, who now lives in Canada, told Chortle: 'Everything is down to the director Mark Murphy who I worked with on Movie Kingdom [a show on digital TV channel DMAX] and various Comedy Central web series.
'He always thought it was hilarious how I spent my days interviewing my comedy heroes then nights travelling to empty pubs hundreds of miles away to die on stage. Leaving my wife home while I slept on train stations.
'He wrote the script and I contributed stories and anecdotes of real terrible things that happened to me at gigs. We worked on it together in Saint John, New Brunswick where I live now over a number of months.'
The Comedian's Guide To Survival will be Buckley's first leading role after playing Jay in the blockbuster Inbetweeners movies.
He is about to co-star in the new film featuring Andy Samburg's comedy band The Lonely Island, in which he the Brooklyn Nine-Nine star's friend Sponge. The movie is being produced by Judd Apatow.
Mullinger said: 'We are extremely lucky to have James playing the lead. He is on fire right now and is making us all laugh hysterically every day.
'It's been a dream working with comedians like Gilbert Gottfried, Jimmy Carr, Omid Djalili and Brendon Burns – and also rather surreal watching James interviewing them, playing me, often in the same place I interviewed them for real four years ago.'
The Comedian's Guide To Survival is being produced by Alan Latham, who put together the budget.
Published: 17 Aug 2015
What do you think?