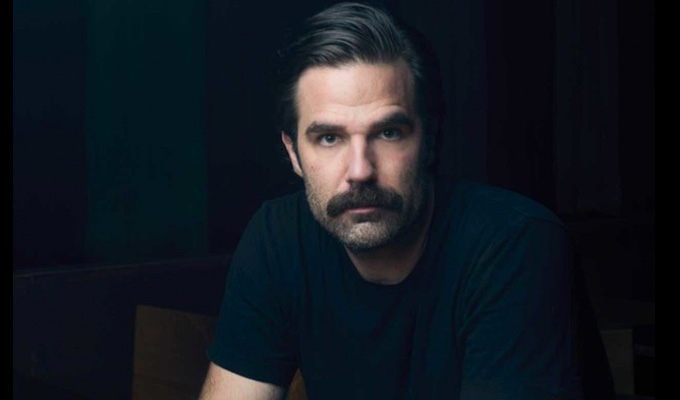 Catastrophe's Rob Delaney hits the road
The comedy week ahead.
Sunday May 31
LIVE IN LONDON: Right said Fred! Comedy historian Robert Ross interviews the evergreen Bernard Cribbins at the Museum Of Comedy about a career that's spanned films with Peter Sellers, being a particularly obnoxious guest of Fawlty Towers, and starring in everything from Carry On films to Doctor Who. 4pm, £20
LIVE IN SALFORD: Fresh from the huge critical success of Channel 4's Catastrophe, Rob Delaney kicks off his UK tour at the Lowry, with an evening of stand-up that typically mixes the confessional with the scatalogical. Full schedule.
Monday June 1
/p>
LIVE IN LONDON: Richard Herring's Leicester Square Theatre Podcast starts a seven-week run at … well, take a guess. Guests in episode one are Bob Mortimer and Lou Sanders, with Louis Theroux, Johnny Vegas and Robert Webb among those popping up over the next couple of months.
LIVE IN LONDON: Those Weirdos misfits are taking on JK Rowling with an improvised play, Harry Potter and the Unavoidable Adventure, at the Old Queen's Head in Islington. Expect it to be messy but inventive as it features some of the best new alternative comedians including Adam Larter, Marny Godden, Matt Tedford, Eleanor Morton and more…
Tuesday June 2
TV: Comedy Central's latest home-grown (but very US-inspired) sitcom Brotherhood starts tonight – and it's got something of the Two and Half Men about it. The script revolves around sarcastic twentysomething Dan (Ben Ashenden) and his naive ladies' man brother Toby (Johnny Flynn) who become surrogate parents to little brother Jamie (Scott Folan) after their mum passes away. It surely can't be any worse than the channel's last attempt, the execrable I Live With Models, can it? 9.30pm

Wednesday June 3
TV: Doll and Em, starring and written by real-life best buds Dolly Wells and Emily Mortimer, returns for a second series, in which they try to crack Broadway by writing and producing a play for them to star in. Meta. Sky Atlantic, 10.10pm

LIVE IN LONDON: Paul Merton talks about his life and career at the National Theatre, in an event marking the paperback publication of his memoirs Only When I Laugh. 6pm. £4 (£3 concs)
Thursday June 4
LIVE IN MANCHESTER: Pete Johansson, the stand-up reviewer Kate Copstick last week called 'the best fuck in comedy' because of the accuracy of his sexual material, plays the Comedy Store all weekend, along with super-energetic Jarred Christmas spreading the silliness.
Friday June 5
RADIO: The 99p Challenge, the silly Sue Perkins-hosted panel show that's like a pre-pensionable I'm Sorry I Haven't A Clue, starts a repeat run on Radio 4 Extra. Today's episode, from 2004, features Armando Iannucci, Peter Baynham, Simon Pegg and Jon Holmes. 4pm
LIVE IN BIRMINGHAM: A strong bill at Birmingham's Glee Club this weekend with local charmer Joe Lycett, stand-up powerhouse Brendon Burns, daft Rob Rouse and affable Kai Humphries supplying the guffaws.
LIVE IN OXFORD: Andrew Watts brings his acclaimed, and zeitgeisty, Edinburgh show Feminism for Chaps to the Old Fire Station tonight.
Saturday June 6
LIVE IN LONDON: Probably couldn't get more diverse than the silly, high-powered audience participation of Jason Bryne and the cerebral, dry wit of Simon Munnery – yet they share a bill with the impressively smart Liam Williams at the Union Chapel tonight.
Published: 31 May 2015
What do you think?