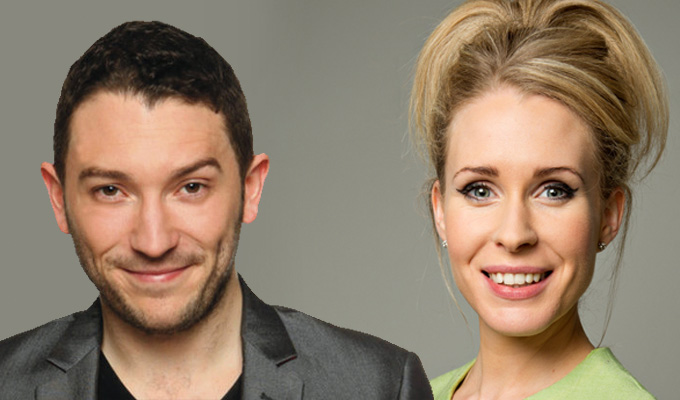 Jon Richardson gets engaged
Comedians Jon Richardson and Lucy Beaumont have announced their engagement – on television.
A title displayed at the end of the first episode of Jon Richardson Grows Up, broadcast last night on Channel 4, confirmed the news, after the comic had suggested he would pop the question.
The show follows Richardson and his friend, fellow stand-up Matt Forde, travelling around the UK in a camper van interviewing people about what it means to be grown up.
In the course of the first episode, which explored relationships, the pair met couples in various unconventional marriages, with Richardson admitting that 'I can't picture marriage without picturing divorce.'
He added: 'I think I love Lucy as much as I could love anyone but if that goes badly how can you trust in love for the rest of your life?'
Before the show Richardson said: 'I've got good friends, a good family and a job that I adore, that pays me enough to live comfortably. And I've now met someone who I love. [But] I struggle with the guilt of that, and force this long-term doom on it, almost like saying "Well, you're happy now, but it might all end." What I've learned is that while those are your circumstances, you should be grateful.'
Beaumont – who won the BBC Radio New Comedy Award in 2012 and was nominated for best newcomer at this year's Fosters Edinburgh Comedy Awards, – tweeted this morning: 'If you tweeted me about "you know what" thank you very much, very sweet and I'm very lucky.'
Richardson, who previously made the 2012 Channel 4 documentary, A Little Bit OCD, in which he met sufferers of the condition and explored his own fastidious behaviour, acknowledged that the 'major hurdle' to his relationship with Beaumont is 'how difficult I am to live with'.
He joked that when she raised the question of marriage after their year-long courtship, he would respond 'if we get married'.
But he suggested that meeting the couples for Jon Richardson Grows Up , who included swingers from Hertfordshire and couple another from Port Talbot with six marriages between them, had been 'life-changing' and had persuaded him to take the plunge.
- by Jay Richardson
Published: 16 Sep 2014
What do you think?