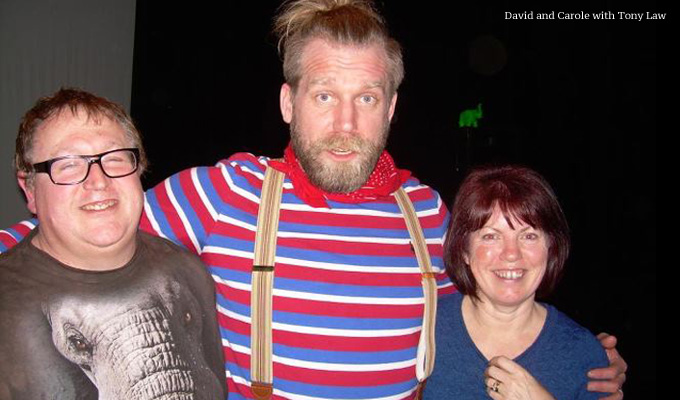 Obsessive Comedy Disorder
A hardcore comedy fan is poised to set a record at the Edinburgh Fringe – by seeing a total of 287 full shows.
The gruelling schedule demands that David Chapple dedicates more than 10 hours a day for 27 days to the task. His wife Carole is also coming along, but she has a different schedule – seeing 'just' 230 shows.A total of 213 of David's shows will be at the Pleasance, which gave him a free pass as part of their 30th anniversary celebrations. He said the venue have been 'simply fantastic in supporting us'; while the Gilded Balloon, Just The Tonic, and Underbelly have also donated tickets.David, from Plymouth, old Chortle: 'I have always planned seeing as much as possible at festivals. Always at least eight shows a day. Living in the South West we get a dearth of decent gigs and most of the ones that are decent we have to travel to Bristol for, which is a 250 mile round trip.'Nevertheless the couple – who cite
Tony Law
as their favourite comic – rack up an impressive number of comedy gigs, which they catalogue on their
blog
. Already this year they have been to 66 comedy shows – which they bolster with festival visits, catching 20 performances at this year's Machynlleth Festival, for example.'Last year we managed a total of 259 shows seeing more than 500 different acts in the process,' David said. 'The most we have done in a day at Edinburgh before was 12.'I don't worry about the fatigue aspect at all of the record as our 15 days last year saw us not only doing more shows a day, but also having to get an early bus in and night bus home. This year we should get more sleep.'While we are principally comedy fans, the record covers all performances so I will be doing around 200 comedy gigs and then a combo of theatre, children's shows, cabaret and music. It should be quite a Fringe as a result.'The official Fringe record was set in 1994 and stands at an easily surpassable 169, which no one has thought to challenge until now.When asked why he decided to take on the challenge, David said: 'It's really down to the fact that we have OCD: Obsessive Comedy Disorder. We both love comedy, especially when we find a new act that we love. 'I have always been into stand-up but like most punters just going to the big'gigs with acts from the telly. When we first discovered club comedy it changed our lives.
Sarah Kendall
has a lot to answer for in that respect as it was her
Midnight Show
at the Soho Theatre about three years ago that got us hooked. She had Max & Ivan,
Cariad Lloyd
and
Tony Law
on the same bill. That was it. 'Since then we have become well known to the acts coming down our way and we also give the odd act a room for the night.'Such is the couple's dedication to comedy that they even name the rescue chickens they keep after comedians, with names including
Jessica Fostekew
,
Diane Spencer
, and
Katie Mulgrew
.The Chapple have planned their Edinburgh visit with military precision, and their epic quest starts at 10am on July 30 with Shakespeare For Breakfast.
Published: 18 Jun 2014
What do you think?