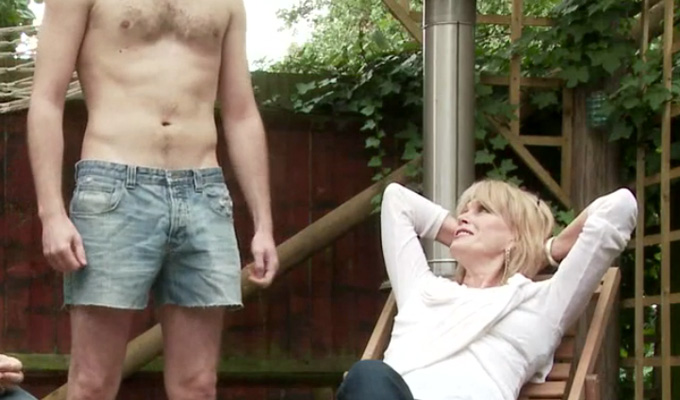 Joanna Lumley's low-budget romcom
Reece Shearsmith and Adam Hills have made a rom-com with Joanna Lumley.
The trio appear in the film The Man You're Not, which has just finished shooting in London.
Along with television presenter Matthew Wright, they play heightened versions of themselves – celebrities who employ landscape gardeners Charlie (James Wren) and Mitch (Marny Godden).
Shearsmith's self-portrayal, as he struggles to kill a squirrel, is described as 'mental' by Wren, who co-wrote and produced the ultra low-budget film. Such were the cost and time constraints on filming that Shearsmith's scenes were shot in the League of Gentlemen star's own garden.
Hills appears as 'this drunken and abusive man, the complete opposite to what he is in real life' adds Wren. 'Lecherous and slimy, he really got into it and was great fun.'
Lumley is shown enjoying an iced tea while members of sketch group Late Night Gimp Fight and Tom Turner, Godden's co-performer in sketch group The Grandees, cavort semi-naked through her sprinkler.
The Absolutely Fabulous star agreed to be in the film for nothing after watching Wren's first feature, Peacock Season, about an advertising executive who quits to become a stand-up, which was shot at the 2008 Edinburgh Fringe on a budget of just £58. 'She absolutely threw herself into it' says Wren. 'She was charming and I was a little bit starstruck.'
Sightseers' star Steve Oram also appears as a tramp.
The film - also written and produced by Fergus March and director Alan Freestone - focusses on unlucky-in-love Charlie as he's encouraged to join a series of dating websites by his friends, pretending to be different people so he can learn to 'man up'. Enjoying a new world of one-night stands, he can't see that his colleague Mitch has feelings for him.
The Man You're Not is the last part of a low budget trilogy of films that Wren, March and Freestone pledged to make over six years through their company FMW Films, and will be released on the festival circuit later this year. They previously performed together as the sketch group Greedy, while Wren is also known as host of Edinburgh's late-night showcase Spank!
Peacock Season, which is out as a DVD on Go Faster Stripe, featured Shearsmith and Hills alongside a host of comedians, including Nina Conti, Brendon Burns, Scott Capurro, Rhys Darby, Paul Foot, Richard Herring, Phil Nichol, Lucy Porter, Richard Glover and Isy Suttie.
Pros from Dover and Sightseers star Glover also appears in FMW Films' second film, The Trap, a 'tongue-in-cheek' horror-comedy that's currently screening on the film festival circuit.
- by Jay Richardson
Published: 16 May 2014
Recent News
What do you think?