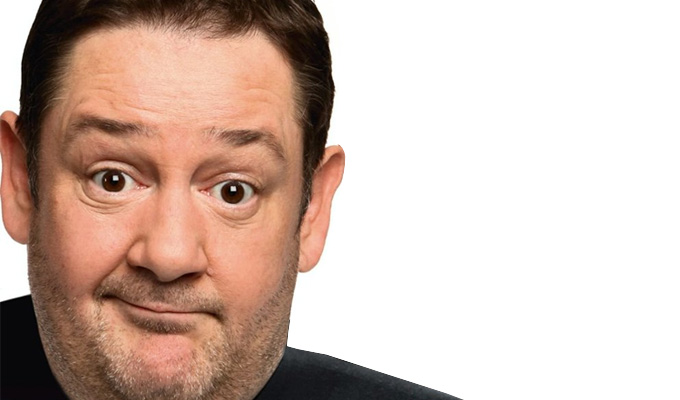 Book now!
The comedy week ahead...
Today
LIVE IN MANCHESTER: All-female comedy night Laughing Cows – which started in Manchester but has since spread its wings to regular events around the country – celebrates its 15th birthday with a line-up that includes Janey Godley, Susan Murray and Kerry Leigh as MC. The Frog and Bucket, 8pm.
CHORTLE COMEDY BOOK FESTIVAL: Al Murray talks about his obsession with WWII in Watching War Films With My Dad; then the 5-star-rated Austentatious improvise an entire Jane Austen story from a single audience suggestion. Ealing Town Hall from 7pm.
LIVE IN LONDON:Richard Herring hosts the final of the Leicester Square Theatre's new comedian of the year competition tonight.
Monday November 25
DVD: Another batch of stand-up titles today, with shows from Andy Parsons, Milton Jones and Russell Brand. Simon Pegg and Nick Frost's movie The World's End is also out; as is Matt Berry's bonkers TV series Toast and ITV sitcom Vicious. Details
CHORTLE COMEDY BOOK FESTIVAL: Deep breath: Jack and Michael Whitehall, the cross-generational double-act that have just started their BBC Three series Backchat, talk about their new book Him & Me; QI creator and producer of Blackadder, Spitting Image and Not The Nine O'Clock News John Lloyd shares anecdotes galore in his brilliantly enter show Liff Of QI ; Mark Watson gives a sneak preview of his new book Hotel Alpha, along with other shenanigans; Eric Morecambe's driver and confident Mike Fountain reveals what it was like Driving Mr Morecambe; regular Chortle contributor Dave Cohen gives tips to those wanting an 'averagely successful' career in comedy; and the anarchic Bob Slayer launches his book The Happy Drunk. Website
LIVE IN NEWCASTLE: Political comedy nights seem to be on the rise, although they are still relatively rare. Sod The Tories (And Have A Nice Week) is John Scott's monthly show in Newcastle, and this time around features Vladimir McTavish and an 'ask the activist' slot, this week with Matthew Giles from The People's Assembly, the group established to fight against 'austerity measures'.
Tuesday November 26
LIVE IN COVENTRY: Just announced as the star of his own US sitcom, smart and funny stand-up Trevor Noah kicks off the UK tour of his show The Racist – largely but not exclusively about being brought up mixed-race in apartheid-era South Africa– at the Warwick Arts Centre in Coventry. Dates.
CHORTLE COMEDY BOOK FESTIVAL: Robin Ince revives his Dirty Book Club, exposing bad writing about sex; and Viv Groskop talks about taking to stand-up when pushing 40, with kids and a demanding job, in I Laughed, I Cried: How One Woman Took on Stand-Up and (Almost) Ruined Her Life. Ealing Town Hall from 7.30pm.
LIVE IN BIRMINGHAM: Patrick Kielty hosts the second semi-final of the BBC Radio New Comedy Award at the Glee club.
Wednesday November 27
RADIO: Stephen K Amos's sitcom, What Does The K Stand For?, starts its six-week run on Radio 4. Written by Jonathan Harvey, it's about Amos's teenage years growing up in 1980s South London. Radio 4, 6.30pm
CHORTLE COMEDY BOOK FESTIVAL: Canada's major exporter of puns, Stewart Francis, performs some of the jokes from his new book Pun Direction; while for fans of classic comedy, John Fisher shares some great stories from his book Funny Way To Be A Hero with stand-up Andre Vincent. That's followed by a talk about Peter Cook and Dudley Moore from biographer William Cook and featuring John Bassett – the man that put the pair together in the first place. Finally, Freddy Syborn talks taste in comedy with A Good Bullet. Website
Thursday November 28
CHORTLE COMEDY BOOK FESTIVAL: Simon Singh exposes the hidden maths in The Simpsons at the University of West London; while there's a Gallic-flavoured double-bill in the New Inn across the road as Marcel Lucont denigrates the British; before Ian Moore describes his efforts to settle in France.Website
Friday November 29
LIVE IN LONDON: Bill Bailey winds up his long-running Qualmpeddler tour with a date at Wembley Arena.
CHORTLE COMEDY BOOK FESTIVAL: A fantastic double-bill to end the season. First BBC Two sitcom star Count Arthur Strong recounts what he can remember from his showbiz career; then Johnny Vegas talks about his incisive and personal autobiography about the creation of his on-stage alter ego ( Review. Ealing Town Hall from 7.30pm
Saturday November 30
SABOTAGE: Developed from the live comedy night of the same name, Sabotage aims to offer comics slightly outside of the mainstream; while its hour-long running time allows the scope for longer sets that TV would normally allow. The opening show features So You Think You Are Funny winner Aisling Bea, Edinburgh Comedy Award nominees Mike Wozniak and James Acaster, and Edinburgh best Newcomer Award nominee Liam Williams, among others. Radio 4 Extra. 10pm
Published: 24 Nov 2013
Recent News
What do you think?