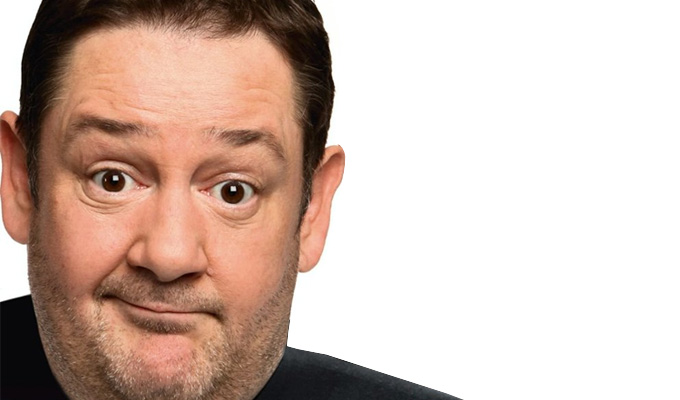 Becoming Johnny Vegas
We've not seen anything quite like him, before or since. When Johnny Vegas drunkenly crashed on to the comedy scene in the late Nineties, an aggressive inadequate trying to plaster over his abject self-pity with a fragile veneer of Guinness-fuelled showbusiness chutzpah, he occupied a separate universe from the overwhelming majority of chatty observational comics who projected themselves as just one of the lads. And that was even before he got his potter's wheel out.
Vegas was not like other stand-ups, nor was he an obvious comedy character; he WAS this unpredictable tragi-comic big beast, defiantly giving entertainment his all, acting only on anarchic instinct, without care for any consequences.
His opening line captured it perfectly. 'I'm not a comedian, I'm an entertainer,. I don't do jokes; I don't do gags. I don't say, "Do you know what it's like when this happens, or do you know what it's like when that happens?" Because you've no fucking idea what it's like to be me!'
It felt like this powerful creation came from something more primal than a fertile comic mind, and in Becoming Johnny Vegas, the man behind the monster, Michael Pennington, reveals that it did, indeed come from an integral part of his psyche that he would otherwise keep suppressed. A powerful, rambunctious Mr Hyde released when a mild-mannered imbibes a certain serum.
It's clear Pennington has undergone a lot of soul-searching to try to explain the genesis of this creature which, you feel, he never quite understood himself. Vegas took over Pennington's body like an unwelcome guest, but it resulted in the attention, the adulation and the social confidence he would never otherwise have had, so he never dared to question it much, until it came time for this revealing and honest autobiography.
It comes as little surprise that the young Pennington was something of a social misfit. He seemed old beyond his years, feeling like an outsider and finding it impossible to make female company. That wasn't helped by him going to a Catholic seminary at the age of 11, learning far too much about guilt and hypocrisy as he 'trained' to be a priest... a process which sounds rather too much like a cult wiping out your personality.
Pennington's experiences there are certainly formative, and reading his account is like being a witness to a psychiatrist's session. 'Had I not gone to that place I might not now be viewed as anything special, any kind of success,' he concludes in a typically revealing passage. 'But – and this is a huge "but" – I have no doubt whatsoever that I would be a far happier, far more emotionally balanced adult. It can't be proven, but it's what I believe and it makes me so very sad some days.'
His life was made a misery by the fathers there, and an already mixed-up attitude to sex was further confused with the creepy attention of an older boy in the dormitories – although Pennington's experience is less horrific than many.
His main experience of sex, of course, was self-love, and he's as frank and funny about that as he is every other aspect of his life. 'One night, I threw my penis what can best be described as a wild going-away party, and beat the poor thing half to death,' he wrote. 'I actually thought I'd broken it. I had a panic attack, convinced that I'd done some permanent damage.'
That was, perhaps, and example of another voice in his crowded head: that of the hypochondriac who convinced him he was living under the constant shadow of death.
Pennington seems to surprise himself with some of the memories he has uncovered in writing these memoirs. 'God, this book's a real head-wrecker when trying to make sense of all this stuff'. For example, he was convinced he was a 'happy-go-lucky kind of soul' when younger - but a lot of the anecdotes here would tend to disagree.
Feeling hopeless about his chances of ever connecting with a woman actually gave the teenage Pennington some sort of confidence. He would chat to girls in nightclubs, entertaining them but feeling no sexual pressure as he was certain in his own mind that he would never stand a chance. And indeed, go home sad and alone at the end of the nights as his mates moved in after he had broken the ice. The seeds of Johnny – whose voice in the book is given an appropriately messy and bold typeface – are therefore sown.
Vegas really came to life when, while studying ceramics at Middlesex Poly, Pennington compered a karaoke night, and the beast that had lain mostly dormant within him was unleashed. Pennington later tried to embark on his own comedy career, signing up to an open mic night with prepared material at the ready. But pissed off with all the smug, wanky, unfunny drama students he was forced to share the bill with, he got increasingly sizzled, until Johnny was again unleashed. In vino Vegas.
Vegas was offered a gig at the Comedy Store on the strength of that gig, but bottled out – a career in Argos beckoning instead. Though in the end the call of comedy was too great, and with the support of Malcolm Hardee forged a name for himself on the circuit. The circuit excluding Jongleurs, that is. On his only appearance there, at Camden Lock, he was so incensed by a 'pen-pusher' dictating 'the parameters of our craft' that he over-ran his slot with an unnecessarily long rendition of The Love Boat – and walked out never to be seen there again.
In 1997, he stormed the Edinburgh Fringe, but lost out on the Perrier award to The League Of Gentlemen. Of course he lost, Vegas could never be a winner, and the lines between the two sides of the Vegas/Pennington personality began to blur. Which of them was it who woke up in the middle of an Edinburgh street after one of the far too-frequent all-nighters, and started to bark angrily at the young boy who had stumbled across his stinking husk?
The book ends at this point at which Vegas appears to have overwhelmed his host, and his diary filled with comedy bookings... leaving open the opportunity for a follow-up. It would be welcome, because rare is the celebrity memoir that's as honest, insightful, revelatory and compelling as Being Johnny Vegas.
• Becoming Johnny Vegas is out now, published by HarperCollins. Click here to buy. Johnny/Michael will also be discussing the book at the Chortle Comedy Book festival on November 29. Click here for details.
Published: 5 Nov 2013
Recent Books
What do you think?