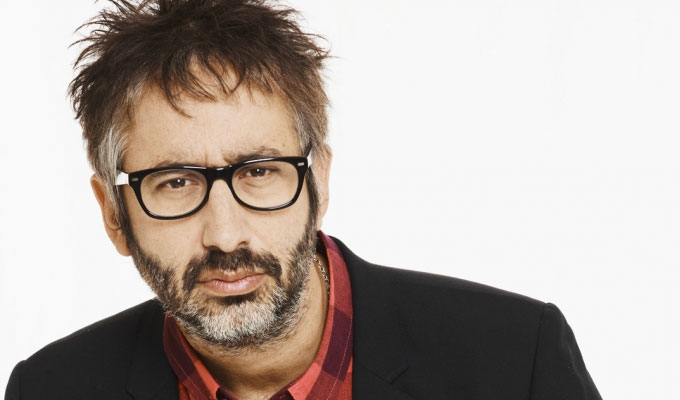 It's The Infidel: The Musical
Never one to stay still, comedian, author, screenwriter and presenterDavid Baddiel has a raft of new projects up his sleeve.
He's writing a children's book, developing a sitcom, penning couple of film scripts and turning his first feature, the religious identity comedy The Infidel, into a bona fide 'all singing, all dancing' stage musical.
The comic reiterates that the 2010 film about a Muslim man discovering that he was adopted from a Jewish family was 'primarily just entertainment, a body swap movie with a bit of an edge basically' but that the musical - which is set to open at The Theatre Royal Stratford East late next year - is 'absolutely something we should try to do at this time.'
'At the premiere of the movie at Hammersmith Apollo, I saw Muslims, Christians, Jews, Hindus and who-knows-what all laughing together,' he said. 'Seems to me that laughter, as a communal response, is a good way of reaffirming our common humanity.'
Baddiel is writing the book and lyrics, with the score supplied by the film's composer, Erran Baron Cohen, Sacha's brother. And he is getting helped in giving the show 'a strong Muslim identity as well as a Jewish one' by the theatre's writer-in-residence, actor and playwright Cosh Omar, who was briefly affiliated to the militant Islam group Hizb-ut-Tahrir but later rejected extremism.
'It is pretty Jewish but there's maybe a bit more Muslim-based comedy as well than in the film, even though that had a fair amount...' Baddiel explains. 'There's a song called Sexy Burka for example…".
'Some might think that will get us into trouble but it's not disrespectful - it's actually a pro-burka song, sung by a woman who's very proud of wearing hers. But I remember reading somewhere when The Book of Mormon came out, a critic saying, as they endlessly did, "yes, this is all very well but would they do something like this about Muslims?" And they mentioned how such a musical could never have a song called something like My Itsby-Bitsy Burka. And I thought, "Well, we've basically written that already."'
The film opened without major controversy. But Baddiel knows that a musical's irreverence might provoke 'some kind of reaction. A musical is by its nature bigger and more cartoony than a movie, so you never know'.
Essentially though, the musical and film share 'the same ideas, which are very unblasphemous', he says.
'One of the things about The Infidel that became clear to me was that you only really get into trouble with religious people if you do something blasphemous, if you attack the actual things that they worship. The film and the musical take the piss, not out of Gods but out of people.'
No decision has been made on casting, so it's unknown if Omid Djalli will reprise his role in the musical. The Anglo-Iranian comic and actor previously played Fagin in the West End production of Oliver!
The Infidel performed well internationally, including becoming the top independent movie in Germany, 'though that's guilt money of course!' Baddiel smiles. But an attempt to remake it in America as a sitcom with Djalili two years ago, proved a 'terrible, depressing experience'.
As executive producer, Baddiel found himself at loggerheads with Bruce Almighty writer Mark O'Keefe, who'd been brought in to adapt the script. 'I'd be sending him emails asking why he'd re-written my jokes despite the fact that I'd heard them get laughs in their original form at film festivals all over the world, which was perhaps not a helpful thing to do...'
Regardless, the success of The Infidel has led to him writing a romantic comedy for Paramount, influenced by the sexually forthright attitude and dialogue of contemporary Hollywood rom-coms like Friends With Benefits, No Strings Attached and Easy A. The Friend Zone was originally conceived as a modern take on When Harry Met Sally for Adam Sandler but Baddiel feels it's evolved beyond that now.
In a soon-to-be married couple, 'the woman has a couple of really close male friends and the guy is jealous about it, so she tells him to find a female friend, which he's never had before. So it's about whether he's going to fall in love with her or whether she's just meant to be a platonic friend.'
'When Harry Met Sally is a brilliant film but it doesn't take in one aspect of cross-gender friendship, which is "are you allowed to have friends of the opposite sex when you're in a relationship?'
At the same time, he's returned to the subject of fame for a British film he's working on for Bwark Productions, the company of Inbetweeners' creators Damon Beesley and Iain Morris, who was a runner on Baddiel and Frank Skinner's Fantasy Football League. Focusing on love, sex and celebrity culture, The List is 'somewhere between The Hangover and Notting Hill'.
In between these, the novelist is writing his first children's book for HarperCollins, based on an idea he had with his eight-year-old son Ezra, reneging on his claim that he 'was never going to write a children's book because it seems to be the preserve of celebrities.'
Plus he is preparing to tour his acclaimed stand-up show Fame: Not The Musical in 2014 with a four-night run at the Southbank Centre in London from tomorrow night.
And finally, there's his first sitcom since 2001's Sky1 series Baddiel's Syndrome. Developed with Barnaby Slater for Channel 4, Sit.Com centres on 'a normal family interacting with the internet'. Although they aren't celebrities, as with Fame: Not The Musical, the show muses on the perils of social networking, featuring a remarried father and a stepmother 'who the kids don't really like, so when she tries to befriend them on Facebook, they don't want to accept her friend request'.
Pointing to how he works at home, communicating with his writer-performer partner Morwenna Banks by email, even though she's in a study only a floor above, he suggest that 'whenever the internet is represented in film and television it tends to be very grandiose, like in The Social Network or Black Mirror'.
'Often that stuff is very good. But it seems to miss how we live now, how it's just a very mundane background to all of our lives. So it's a family sitcom in which everyone uses the internet all the time, like we really do. It's in the background to everything they do, like television was in The Royle Family.'
• David Baddiel is on at the Southbank Centre from tomorrow until Friday. Details
- by Jay Richardson
Published: 28 Oct 2013
What do you think?