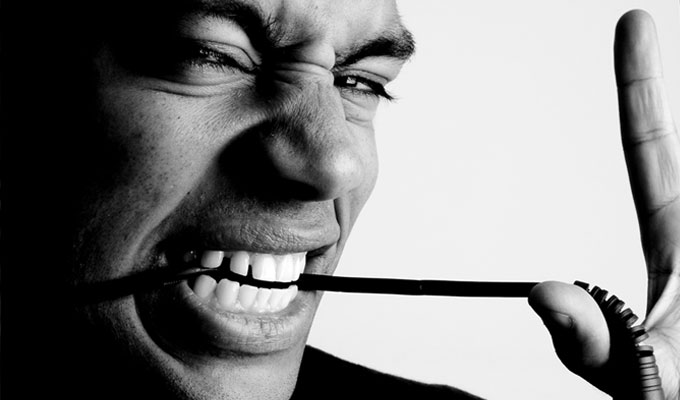 Doc Brown to star in Law & Order
The comedian and rapper, who is currently touring his Of Mic and Men show, also revealed that he's going to take 'serious time off' from stand-up when the run finishes.
But he's revealed that he's '100 per cent involved' in Ricky Gervais's upcoming live shows as David Brent. As 'urban solo artist' Dom Johnson, Brown appeared with Brent on the Comic Relief song Equality Street earlier this year.
In the eighth series of Law And Order, Brown plays Detective Superintendent Joe Hawkins, a new partner for fellow comedian Bradley Walsh's DS Ronnie Brooks. After initial wariness, the pair bond over a shared love of West Ham football club and develop 'a father and son type relationship'. Filming resumes in a fortnight, and the series will air next year.
Hawkins is 'a guy who basically grew up on the wrong side of the tracks, he's been through foster care' Brown says. 'He retains a lot of friends from that world and understands the street as well as he does law enforcement. He's young, inventive and quick.'
Brown, whose real name is Ben Smith, isn't the first stand-up to be cast in a television crime drama. Richard Belzer starredin the original US Law and Order, Alan Davies returns to screens as Jonathan Creek next year, Liz Carr is a pathologist in Silent Witness and Michael Smiley has enjoyed recurring roles in both Luther and Ripper Street. Sean Hughes co-starred in ITV's The Last Detective for four years, while Hale and Pace were the original screen incarnation of Dalziel and Pascoe.
Nor is this Brown's only dabble in the genre. His earliest dramatic role was as a serial killer in last year's BBC/HBO series Hunted and he plays a suspect in a forthcoming episode of Midsomer Murders, previously much criticised for its lack of black and Asian characters. 'You don't often see someone like me in it,' he chuckles.
In Gervais's Derek, he was a petty criminal doing his community service in the care home. But his character won't return for the second series. And Brown maintains that henceforth, he will only 'dip in and out' of stand-up, seeing his future 'very much in acting'.
But he will return for 'unique performances', including some alongside Gervais.
He originally 'fell into' stand-up through working with Danny Robins on Radio 4's sitcom Rudy's Rare Records, starring Lenny Henry. But he's become 'troubled' by audiences recording his material.
'Now, you do your thing and people put it online before it's even ready, so by the time you've perfected it, everyone's seen it a million times on YouTube' he laments. 'I just think it's an impossible situation, I don't see how I can progress when there's no chance of me writing quick enough to feed the demand. Therefore, I want to step away. I will return but it will be on my own terms. When I appear on stage again, it will be an event.'
Brown is also appearing in Sky Living's forthcoming 'promo girls' sitcom Give Out Girls, alongside Kerry Howard, Cariad Lloyd, Miranda Hennessy and the X-Factor singer Diane Vickers, as an underachieving co-worker who has a 'tryst' with one of the girls. Meanwhile, he will also continue starring in his BBC teen comedy-drama 4 O'Clock Club and voicing the CBBC animated series Strange Hill High alongside Richard Ayoade, Caroline Aherne and John Thomson.
Meanwhile, his production company, Bust-A-Gut Ltd, is composing music for film and television, with credits including Joe Cornish's Attack The Block and Dustin Hoffman's Quartet, starring Billy Connolly.
The younger brother of novelist Zadie Smith, Brown also wants the company to publish children's books and was sufficiently outraged when visiting a newsagents with his daughters recently to pen a song in support for the No More Page 3 campaign.
Attracting more than 12,000 views on YouTube since it was uploaded a week ago, Brown says of the video that while he's not a feminist or 'against nudity or pornography … come on, I'm a man, I've used pornography … for me, it's not just about the boobs, it's the boneheaded idiocy, the contempt that newspaper has for our intelligence. It's an embarrassing stain on our intelligent and interesting culture.
'There's been excitement in feminist circles and anger from people who think it's just a bit of fun. But that's fine, better that than indifference. I'm not being an activist, it's a selfish thing. I don't want to have to deal with this around my kids. I love boobs but let's keep them out of the eyes of small children.'
Here is that video:
- by Jay Richardson
Published: 27 Sep 2013
Doc Brown is to play a streetwise cop in ITV crime drama Law and Order.
What do you think?