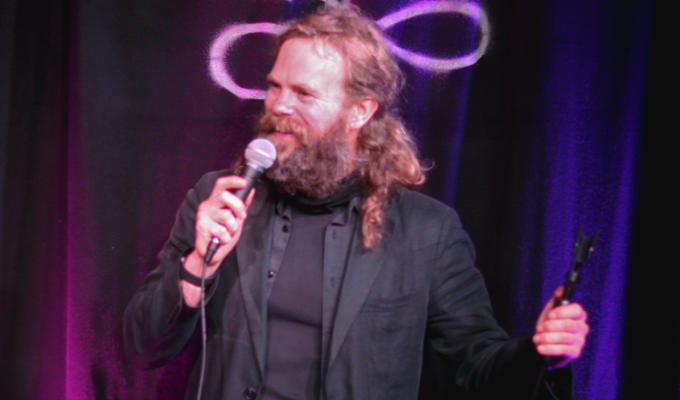 When live comedy was illegal...
Twelve months ago it seemed uncertain whether it would be possible to produce this annual list of my ten most memorable gigs.
But lockdown eventually eased, and the resilience and sprightliness of the comedy world meant live gigs sprung back instantly. Even the Edinburgh Fringe took place – albeit in a slimmed-down version, more chilled and friendlier than normal, barely recognisable without its usual intensity.
Practically speaking, holding the event was entirely unviable – but since when has that been an insurmountable obstacle for the Fringe? And while the sheer magnitude of the usual event is what makes it unique, those who attended in 2021 will remember its special atmosphere.
Anyway, here is my entirely subjective list of the comedy shows from this year that I'll remember most:
1. Angel Comedy
The Bill Murray, London, May
Absence makes the heart grow fonder, so the first gig after six months when live comedy was literally illegal was sure to be something special.
Angel Comedy's brilliant idea of starting a show at one minute past midnight, the very second restrictions lifted, added an illicit, late-night speakeasy feel to an event that came, if not with celebration, a huge amount of relief the at normality might finally be restored. It was still weird, of course: plastic screens dividing the room in two, and the performer from their audience. But comedy was back!
Regular compere Barry Ferns wasn't the only one who couldn't conceal his delight to be back, as he introduced fellow night owls Sikisa, Erik Pohl, Helen Bauer, Dinesh Nathan and Jason Patterson as the gig blasted into the early hours.
2. Liz Kingsman: One Woman Show
Soho Theatre, London, October
Had there been a full Edinburgh Fringe this year, Liz Kingsman would surely have been a shoo-in for best newcomer, if not a contender for the main prize with her exquisite parody of Fleabag… and all those who hoped to follow in Phoebe Waller-Bridge's footsteps.
Full of affectionately mocking attitude, the show was elevated by the sheer number of gags, verbal and physical, and knowing use of all the clichés of the genre. A riot from start to finish, this will surely propel Kingsman, formerly of the Massive Dad sketch outfit, to greater things.
3. Mark Watson: This Can't Be It
Pleasance Courtyard, Edinburgh, August
Always a contender for king of Edinburgh, Mark Watson launched several projects at this year's festival – including unveiling his new stand-up show, his most confessional yet.
Plagued by anxieties that were exacerbated by the pandemic, Watson alchemised his neurosis into comedy – inviting us to laugh at failings both relatable and unique to him, while ultimately sounding an upbeat life-affirming note.
The honesty was potent enough, but emphasised by Watson's compulsion to work in the moment, forever commentating on the weirdness of a gig. And this year there was no shortage of weirdness.
He's on tour with the show next year – while delving deeper into his personal and professional 'deaths' in a new Audible audiobook.
4. Nina Conti
Latitude, Suffolk, July
It initially seemed surreal to be at a festival with 40,000 other people just days after 'Freedom Day', when all Covid restrictions were lifted. But Latitude quickly seemed as normal as it had in the past.
And the clear highlight of the comedy arena was Nina Conti's hilariously chaotic performance. She's made deconstructing the art of ventriloquism her own, but her revelations her about the fate of previous Monkey puppets took it to new levels; while her wrestling with a camping stool were pure slapstick, hitting that primal instinct to laugh at anyone engaged in a physical struggle. A most brilliantly stupid set, forever at apparent risk of coming off the rails, with Conti in expertly casual control of the runaway madness she unleashed. I laughed like a drain.
5. Jonathan Pie: Fake News (The Corona Remix)
Bloomsbury Theatre, London
While Conti was loose and instinctual, Tom Walker's political commentator Jonathan Pie was a masterclass of precision; tightly written diatribes delivered with passion and intensity.
In a counter to the 'you can't say anything any more' brigade, he unleashed a hard-hitting polemic against zealots on both the right and the left, full of venom and acerbic, blunt wit. It was a powerhouse performance that offered an astute snapshot of the state of the nation and made for a wonderfully intolerant call for tolerance. A harsh and refreshing wake-up call akin to an ice-cold shower.
6. Paul Currie: Teet
The Hive, Edinburgh, August
This wild, absurd ride though Currie's manic mind proved the perfect Fringe experience – pandemic or no pandemic. Ambitiously inventive without being weird for weird's sake, this was a freewheeling celebration of stupidity from an idiot who knows he's an idiot. Exhillerating
7. British Comedian of The Year Final
Comedy Store, London, November
The comedy world's focus is always on solo tours more than club nights - mine included. Those reviews, after all, can give an idea of what that show will be like in your town… whereas one of the joys of a club line-up is in the fact that precise combination of comedians is unlikely to be seen again.
This competition celebrated the best of club comedy and offered plenty of treats – winner Jeff Innocent storming the show with his carefully constructed routine about his appearance, the giddy joy of Lindsey Santoro and the mesmerising control of Mike Gunn. And mainly a reminder that brilliance does not necessarily lead to a TV profile, and vice-versa.
7. Simon Amstell: Spirit Hole
London Palladium, November
Amstell's first solo show in five years was full of all the existential angst that has hallmarked his career to date, mixing the wry navel-gazing with insightful thoughts about human folly. And with jokes as smart, sharp and funny as the soul-baring philosophising. He goes back on the road with this show in May. Simon Amstell tour dates.
9: Alan Carr: Regional Trinket
Waterside Theatre, Aylesbury, October
No such intellectualising required with Alan Carr's show, an irrepressibly lively, good-humoured – and, yes, camp, romp through his celebrity life. Adele officiated his wedding, he honeymooned in Mexico and he's rubbed shoulders with the best of them. Cheeky, lightweight, but always good fun, this show was a real tonic – and again continues its tour in the new year. Alan Carr tour dates.
10: Isabelle Farah: Ellipsis
Assembly Roxy, Edinburgh, August
In any normal year, it would be unlikely a newcomer would have played such a major venue. But with a thinned-out field, Isabelle Farah not only got promoted, but made the most of that opportunity - making her mark with this touching comedy-drama about trying to perform stand-up through grief. Straddling genres meant Ellipsis wasn't laughs all the way, but a candid script and moving performance left a lasting impression.
Published: 29 Dec 2021
What do you think?