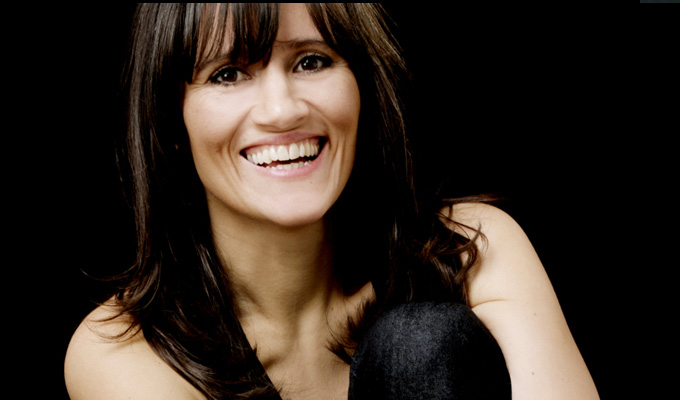 Nina Conti at Latitude 2021
Having the wrong audio track play at a crucial moment might have derailed some comedy sets, but today's snafu at Latitude's comedy arena seems perfectly in keeping with Nina Conti's well-managed chaos.
She's become the Tommy Cooper of ventriloquism, technically accomplished but with an act that forever seems to be teetering on the brink of falling apart completely. And that tipping point is a thrilling place to be.
Much of the hilarious instability comes from her own mental state. The running joke is that the Monkey doll is a weird part of her id 'leaking out' – and the fact that she needs to express herself through him, or through arguing with him, a symptom of a restless mind. Just who is controlling whom is another running joke.
Today's set also included some brilliant slapstick moments, such as when Monkey got trapped in a camping chair Conti was trying to set up for a song (itself another excellent gag). Whether the entanglement was genuine or staged, it's impossible to say – Conti's made a career of seeming to be surprised by what's she's engineered. It matters not, it was a perfect bit of physical clowning.
That sense of spontaneity enlivens the already witty, often meta conversations she has with Monkey, much of it offering a new twist on the faithful old 'hand up the bum' gag. This afternoon, she revealed that she was 'breaking in' a new doll, adding an extra level to their knowing badinage and cueing up quite possibly the funniest single moment of this year's festival: revealing the battered, mutated past incarnations of her simian sidekick, like a modern-day Doctor Moreau.
The cornerstone of her performance was a trick you might have seen her do on TV: giving two willing audience members a fake jaw so she can put words in their mouths. The technical and improvisation skill she needs to pull this off is incredible, but it never feels forced. Even more remarkable is how joyously silly the whole exchange proved, with her targets delighted to be embarrassed in such a ridiculous way.
For her final trick, Conti tried that troublesome audio cue again… with success not just from the sound desk but in an another impressive demonstration of her talents.
At the end of most comedy sets here, huge chunks of the audience rise to leave in search of alternative entertainment. At the end of Conti's time they rose in ovation… which I can't recall happening in the super-chill comedy arena in the past 15 years. Quite right: Conti's charming disarray was an hilarious triumph.
Review date: 25 Jul 2021
Reviewed by: Steve Bennett
Reviewed at: Latitude
Recent Reviews
What do you think?