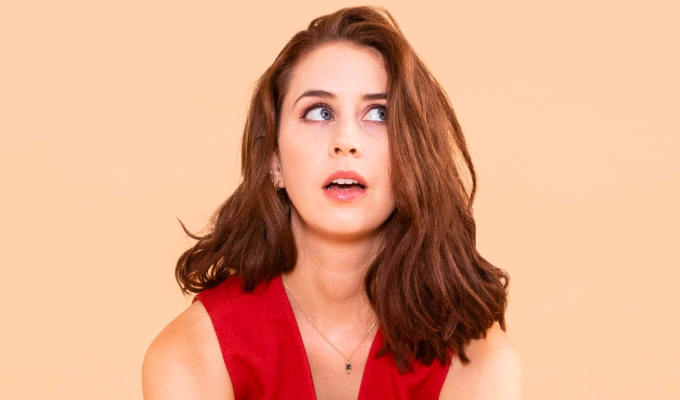 Liz Kingsman: One Woman Show
One-Woman Show is an exquisite parody of the phenomenon that is Fleabag. But to put it so simply does scant justice to the ingenuity, complexity and sheer giddy wit that defines Liz Kingsman's hilarious solo debut.
It is a glorious, meta bonfire of all the tropes of female-led performance and writing that have sprung up around Phoebe Waller-Bridge's remarkable creation.
Kingsman – of on-hiatus sketch trio Massive Dad – introduces her offering with a theatrical word salad about inspirational stories and women's voices not being heard and the bravery of revealing your flaws on stage in the name of empowerment.
Her alter-ego – 'I never give my name' – who tells the story sees 'relatable' as a character trait in itself. She's a middle-class late-twentysomething woman in a relatively stable, cosseted life, seeking trauma to appear interesting. And she sprays out clichés about how nobody prepares you for adulthood, or how social media just might be a teensy bit toxic, like they are the sayings of Confucius.
The witty script bursts with self-referential gags, with the narrator's Australian boss providing yet another layer of insightful critique by voicing more fundamental problems within the genre, beyond its copycat themes. Is sleeping around a bold statement of sexual liberation or a signal of emotional emptiness? Some storytellers seem to have it both ways.
On paper, One-Woman Show runs a risk of being a one-note spoof, but Kingsman keeps adjusting the angle and piling on new clichés – while ensuring enough is going on in her creation's life to keep you engaged. The satire's cuttingly on-point, but broadly affectionate, and her attention to detail is meticulous. Who would have thought a lighting change might be hack?
Crucially, though, there are heaps of proper jokes – top-level ones at that – that transcend the already exquisite parody. It is brilliantly silly and makes countless salient points about the performing arts industry and the expectations on women within it, both externally and self-inflicted.
The irony is that a show teasing performers who cynically use the same tired old tools to get ahead in the business, will absolutely end up using those same tools to catapult Kingsman several rungs up the ladder of success. Too bloody right, too.
• Liz Kingsman: One-Woman Show is at Soho Theatre in London until October 27.
Review date: 14 Oct 2021
Reviewed by: Steve Bennett
Reviewed at: Soho Theatre