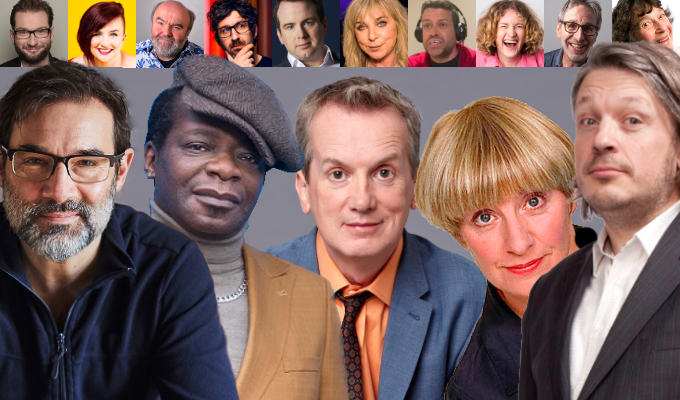 Your guide to the Chortle Comedy Book Festival
The week's best comedy on demand. For more streaming gigs use the search box with 'online' as the region.
Now
PRESS X TO CONTINUE: Comedian Inel Tomlinson hosts this new BBC Sounds podcast about video games with Radio 1 Newsbeat gaming reporter Steffan Powell, with Edinburgh Comedy Award nominee Glenn Moore one of the regular contributors.
Today
TONY LAW - A LOST SHOW: The Canadian comic acknowledges the years lost to alcohol and cocaine with his usual surreal nonsense and chaotic non-sequiturs in this 2018 show, being screened live online from 7.30pm tonight, followed by a Q&A. Tickets are a fiver from Go Faster Stripe
AT HOME WITH BIG HOWARD AND LITTLE HOWARD: The world's first and only human/cartoon double act have created a live-stream version of their show, coming live from Big Howard's house from 5pm tonight. It's free, and you can register here
Sunday November 15
CHORTLE COMEDY BOOK FESTIVAL: Eight days of funny and fascinating book-related events kick off tonight, with a total of 22 sessions from some of Britain's funniest writers. At 5pm, Helen Lederer leads a session on written humour and her Comedy Women in Print award; at 7pm:. Scientist Jonathan Silvertown and comedian Robin Ince investigate the evolutionary and social origins of laughter, based on the former's new book The Comedy Of Error, and at 9pm: Adam Buxton discusses his 1970s memoirs, Ramble Book. I Or you can get access for all 22 events (and you have til December 13 to watch them, should you get Zoom fatigue!) plus six months subscription to all the stand-up specials on Next Up, a bottle of wine and discount on the books at Waterstones for £49. All the details are here
Monday November 16
CHORTLE COMEDY BOOK FESTIVAL: At 10.30am: Frank Skinner is in conversation with comedian Peep Show actress Isy Suttie on How To Enjoy Poetry; at 7pm: The Mash Report's Michael Spicer talks to Viv Groskop about his hit online series The Room Next Door and at 9pm political Matt Forde talks about his new book Politically Homeless. Tickets here
Tuesday November 17
CHORTLE COMEDY BOOK FESTIVAL: At 7pm stand-up and writer Mark Watson talks about his latest novel, Contacts, bout what happens when a man sends a message to all 158 people in his contacts that he plans to end his life; and at 9pm: Grace Campbell - the activist, comedian and daughter of Alastair Campbell - talks to stand-up Sophie Duker about feminism and her relationship with shame. Tickets here
Wednesday November 18
CHORTLE COMEDY BOOK FESTIVAL:At 7pm: Comedian Laura Lexx talks to Emma Kennedy about her book imagining married life with super-sensible Jürgen Klopp and at 9pm, one-liner king and Mock The Week regular Gary Delaney talks to fellow comic Athena Kugblenu about his career and his new joke collection, Pundamentalist. Tickets here
Thursday November 19
CHORTLE COMEDY BOOK FESTIVAL: At 7pm, Victoria Wood's biographer Jasper Rees talks to Viv Groskop about the comedians life and genius of Victoria Wood and at 9pn, Richard Herring, talks to fellow comic and podcaster Rich Wilson on the problems toxic masculinity has for women and men. It is International Men's Day, after all! Tickets here.
TIM MINCHIN - APART TOGETHER: The comic and musician will perform his new album, Apart Together, in its entirety in a one-off concert from Sydney's Trackdown Studios from 7pm UK time. The gig – more music than comedy - features guest musicians, 11 songs and 'whatever pours out of Minchin's brain in between'. The concert will be available online for just 48 hours and will only be accessible to those who buy tickets for £10 here.
THE Mark Thomas COMEDY PRODUCT VINTAGE CUTS: The comedian and his producer Geoff Atkinson look back at the Channel 4 programme in a series of specials. Over seven years, six series and a host of specials, the series challenged politicians and set the agenda on several hot political topics. This retrospective is livestreamed at 7.30pm, and tickets are available here.
Friday November 20
CHORTLE COMEDY BOOK FESTIVAL: At 7pm: Andy Hamilton, panel show regular and writer of Outnumbered, Drop the Dead Donkey, and Old Harry's Game talks about his career and his new novel, Longhand, published as a 300-page handwritten note; and at 9pm: Andrew Hankinson takes a look at the serious business of stand-up at New York's Comedy Cellar in his new book Don't Applaud. Either Laugh Or Don't. Tickets here. The festival continues on Saturday and Sunday.
Published: 17 Nov 2020
What do you think?