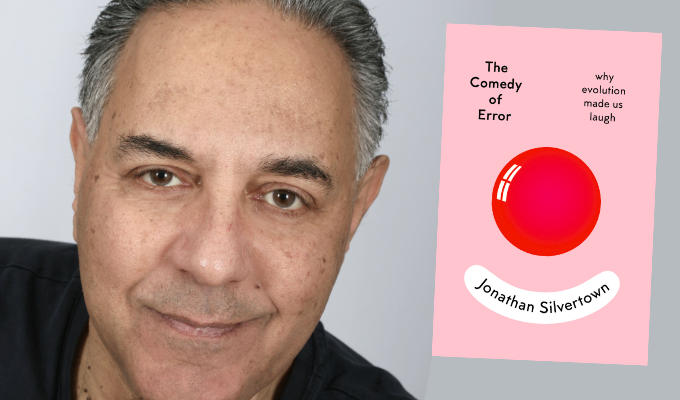 The Comedy Of Error: Why Evolution Made Us Laugh
Funny thing, laughter. Swathes of research has gone into its evolutionary roots, the linguistic reasons why and how comedy works, the social function of shared jokes, whether being amusing is a display of intelligence (yes), whether it can it get you laid (yes), whether it's good for your health (yes, unless you're a comedian) or whether racist and sexist gags ingrain prejudice (yes again, but only if you are that way inclined in the first place).
'From Aristotle onwards (almost) anybody who wants to be taken seriously has written about laughter,' says Jonathan Silvertown, an evolutionary ecologist at Edinburgh University. And in his new book, The Comedy Of Error, he distills countless such dry, academic tomes probing the science of humour into a brisk, amusing and informative read.
Anybody with an interest in the field surely knows a variation of EB White's quote: 'Humour can be dissected, as a frog can, but the thing dies in the process' – though Silvertown puts it more succinctly, fearing that analysing comedy is 'like using a pin to explain how a balloon works'.
Luckily the professor doesn't insist on being taken too seriously, self-effacingly – and self-servingly! – clinging to research that suggests people who crack jokes are clever and sexy, so keeps his writing as light as it is informative.
He covers a lot of ground in a relatively small volume: starting from how all great apes can emit a laugh - a so-called 'play vocalisation'– if tickled; and how Koko, the gorilla who could use sign language, found incongruity amusing.
Academics believe the resolution of cognitive mismatches are the root of all humour. Its evolutionary roots likely to be in the sudden relief that a possible danger was harmless. Jokes based on language are, it's suggested, amusing because of a similar error correction, albeit it in a more benign, intellectual form.
Silvertown also considers laughter's close companion, the smile, which is meant as a more personal signal, bridging the idea of laughter as a way of unifying a group of people and a good sense of humour being a sign of a dependable sexual mate, like a peacock with a flamboyant tail. 'Humour is a demonstration that you have the wits to woo,' the academic concludes.
While covering a lot of academic ground to provide a succinct and fascinating snapshot of a large body of thought into humour, the author maintains a light, playful tone to be easily accessible to the layperson.
Attempting to be funny might, had it been done clumsily, have undermined his authority but with most pages containing an out-and-out joke to illustrate a point, Silvertown pulls of a witty tone without belittling the science (One example of his gags: 'What do you call someone who doesn't believe in evolution? A primate change denier').
All of which makes The Comedy Of Error perfect, easily-readable primer to the state of the research into the fascinating science of laughter.
• The Comedy of Error: Why Evolution Made Us Laugh by Jonathan Silvertown was published yesterday by Scribe, priced £12.99. The professor will be talking to Robin Inceabout the book as part of the Chortle Comedy Book Festival at 7pm on Sunday (details). Order here.
Published: 13 Nov 2020
What do you think?