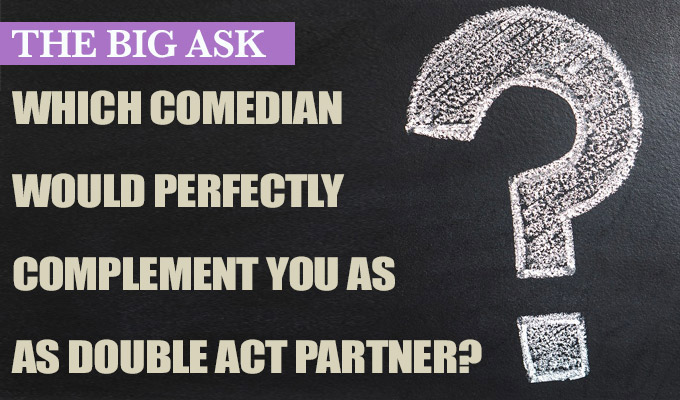 Who would be your perfect double act partner?
Dr. Brown. Have already fisted him on stage a few times. It's a great bit. Natalie Palamides, Nate Pleasance Courtyard, 18:00
Coconut Lady. A West Indian stand up in her 60s that, from what I can gather, mainly makes jokes about coconuts. I think we'd provide great comedic contrast. Lloyd Langford, Lloyd Langford: Why The Big Face?, Banshee Labyrinth Cinema Room, 22:00
Rod Hull. A hugely underrated comedian, an incredible performer. Lee Kyle, Kicking Potatoes Into The Sea, City Cafe, 10:20
Rod Hull's Emu. Like me, he's silent and easily spooked. Plus I never know what to do with my arms onstage. Luke Rollason, Luke Rollason's Planet Earth, Monkey Barrel Comedy Club, 14:30
Chris Tarrant. We'd do a show called 'Lifelines' where we'd do 15 mins on each of the Who Wants to Be a Millionaire lifelines. 'Phone a Friend' would just be us calling our mates. Ian Smith, Craft, Underbelly: Buttercup, 17:15
Roy Chubby Brown, because I'd look sensationally talented and angelic by comparison. Will Dalrymple, Pity Laughs: A Tale Of Two Gays, Just The Tonic @ The Caves, 16:05
Rik Mayall. I bloody loved how silly he was. My dad loved him and we used to watch anything with him in - Bottom, The Young Ones, New Statesman - and he always had us in stitches. You could tell he was as funny in real-life too, because his own personality would often seep through. I'm not sure we'd get much done as a double-act, I suspect he'd keep having me creasing and we'd have to start again! Maisie Adam, Vague, Gilded Balloon, 16:30
Mark Heap. Is he a comedian or a comedy actor? How do you identify, Mark? Lisa Klevemark, Lemons, The Place, 12:30
Alan Bennett. We have the same surname so people would think we were related, he could also interject at key points in my routines and enrich them with real anecdotes from his life. "Scott mentioned having a pet, I remember mam bringing us home a budgie, we called it Peter or was it Dudley? yellow with a forlorn look in its eye, it reminded us of dad during his Jaundice period" I'd love that. Scott Bennett, Leap Year, Just The Tonic At The Mash House, 17:55
I feel like Buster Keaton and I could be brothers. I could be the one that talks. Eli Matthewson, The Year of Magical Fucking, Wee Coo, Underbelly, 21:20
Dudley Moore on piano, me on bass. Although this is unlikely to happen because Im not good enough and Dudley is dead, RIP. Jim Tavare, From Deadpan to Bedpan..., Counting House Ballroom, 16:15
Elf Lyons. We have plans for a naked show. Stay tuned... Damien Warren-Smith, Garry Starr Performs Everything, Underbelly Cowgate, 20:10
I'd like to do a double-act with Bill Hicks in which I'd invite him to calm down a little bit and try to have a more nuanced opinion. David McIver, David McIver Is a Nice Little Man, Opium, 14:30
Tom Fairbairn because we were a double act once and we wrote an intergalactic space odyssey but we had no tech or money for props or audience, and it was half excellent and half terrible. Rob Oldham, Lament, Pleasance Courtyard, 21:30
I recently worked with Count Arthur Strong and we seemed to have a nice chemistry. We are from similar worlds so you might expect that. Otherwise, it would be someone rude and controversial like my old drama school colleague, Jenny Eclair. I think John Shuttleworth would be quite disapproving of her. Mind you, I am as well. As myself (Graham Fellows) I can't envisage being part of a double act - I'm still getting used to doing it on my own. Graham Fellows, Completely out of Character, Maggie's Chamber @ The Free Sisters, 16:30
Ms. Hannigan from the musical Annie, as played by Carol Burnett in the 1982 film version. Carol is the queenliest of queens, and one of the things I know to be true - other then the facts that 1. We all die eventually, and 2. We all must pay our taxes - is that Carol and I are meant to be together. She's the gin to my tonic, the chocolat to my pain au. Sara Barron, Sara Barron: For Worse, The Tron, 15:40
Myself, 2012 version. Maroon converse. Striped jeans. Red jacket. Stubble present, but not thick. Optimistic, but not intolerably so. Matthew Highton, Insufficient Memory, Heroes at Dragonfly, 20:40
Sofie Hagen, We're good pals and I feel we make each other laugh a lot. We share a lot of dark stuff. We're working on a new project and I'm looking forward to sharing it with the world. Alison Spittle, Worrier Princess, Gilded Balloon Teviot, 17:15
Phil Kay. And we already did it, bruv. 2015 forever Russell Hicks, Love Song for the Viciously Ambitious, Laughing Horse @ The Free Sisters, 17:45
I'm very slowly trying to work it out through a process of elimination. You know - try it out, see how it goes. All I know so far is it's definitely not Thom Tuck. John Luke Roberts, All I Wanna Do Is [FX: GUNSHOTS] With a [FX: GUN RELOADING] and [FX: CASH REGISTER] and Perform Some Comedy!, Assembly: Studio Five, 17:30
Sean Lock, I think his dead pan delivery and my outrageous and inappropriate comments would work well together. Aaron Calvert, Declassified, Gilded Balloon at the Museum, 18:00
Gizmo the Gremlin, not an actual comedian, but still pretty funny. Ismo & Gizmo Ismo, Words Apart, Pleasance Dome, 13:45
Tim Key. I would happily hide in that bed he had a dancer jump out of for days. Not for any sexual reasons. I just like building a longing. Helen Duff, How Deep is Your Duff, The Hive, 21:00
I think Bo Burnham. When I pitch my show to people I usually say it's got the vibe of a Flight Of The Conchords or a Bo Burnham show, just so they know that it's not a musical theatre comedy with belting and jazz hands. But I think it would make an interesting double-act. I notice we both have an affinity for dark humour, but contrasting performance styles. I'd also be interested to see what kind of music we'd make together, in this theoretical world. Oh and we're both the same age, which should be the base requirement for any double-act. So Bo, if you're reading this, what do you say? Lets form a double act? We can call it something fun like A&B, or Bonesti, or something cheeky like A2B. I'll even sign a prenup! Anesti Danelis, Songs For A New World Order, Laughing Horse @ The Hanover Tap, 12:00
Frankie Boyle. Light and dark. Although I was once told I reminded someone of Reginald D Hunter. The person who said that clearly doesn't see colour. Or gender. Maybe they'd only ever seen Reg and therefore drew the comparison: 'He made me laugh, you made me laugh, you're the same' Juliette Burton, Butterfly Effect, Gilded Balloon, 16:15
Published: 24 Aug 2018
What do you think?