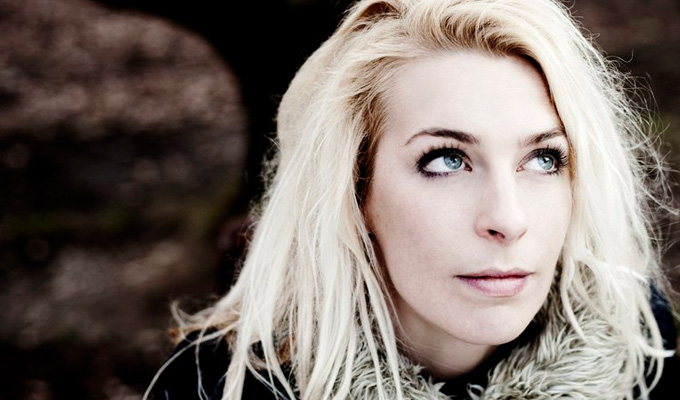 Mock stars
'Perhaps this will be an opportunity to make a female comedian a regular,' Andy Parsons said has he announced his retirement from Mock The Week today.
It would certainly help the show's in-built gender imbalance. With so many male regulars, the programme has managed a ratio of just one female for every nine men over its ten year run.
So who would be the main contenders should producers plump for a female regular? The following are the female comedians who have made five or more appearances on the show, so might be on top of the list.
Katherine Ryan
Number of appearances: 7
First appeared: October 11, 2012
Last appeared: September 10, 2015
Probably the bookies' favourite, but Ryan might have outgrown the show by now. She's just about to start a stint as a team captain on Sky 1's new music quiz Bring The Noise alongside Ricky Wilson, Nicole Scherzinger and Tinie Tempah, and earlier this year replaced Steve Jones as the presenter of Hair on BBC Two. Would she return to Mock The Week permanently?
Zoe Lyons
Number of appearances: 9
First appeared: August 7, 2008
Last appeared: September 24, 2015
With nine appearances, Lyons has been on the show more than any other woman, which has to make her a contender. Although a circuit favourite (nominated for best compere at this yea's Chortle Awards, for instance) she hasn't yet become a breakout star in the same way some Mock The Week regulars have… but a permanent role on the panel would most likely change that.
Holly Walsh
Number of appearances: 7
First appeared: September 3, 2009
Last appeared: October 8, 2015
Walsh has been on TV since soon after she went pro as a comic in 2006, including a stint on CBBC (where she injured herself during the annual Worthing International Birdman festival). She's no stranger to panel shows, having appeared on 8 Out Of 10 Cats, Buzzcocks and You Have Been Watching on TV, and Just A Minute and The News Quiz on Radio 4. She also co-wrote BBC Three's Dead Boss with Sharon Horgan, with whom she also collaborated on a US pilot, Bad Management.
Gina Yashere
Number of appearances: 8
First appeared: Janaury 27, 2006
Last appeared: July 9, 2009
Although she's been on the show more than anyone else except Lyons, Yashere's last appearance was way back in 2009, in the Frankie Boyle era. Since then she's moved to the States where she's forging a career on the comedy circuit there, so she may not be keen to make a return to the UK.
Sara Pascoe
Number of appearances: 6
First appeared: June 19, 2014
Last appeared: September 17, 2015
Although only a recent recruit to the Mock The Week roster; she has quickly become a favourite – appearing three times in each of the last two series. Her dry wit and feminist outlook counters some of the traits of the boys. Could be a likely contender.
Jo Brand
Number of appearances: 6
First appeared: June 12, 2005
Last appeared: September 21, 2006
Almost no chance, despite her making six appearances – which all came in the first three series. In 2009 she wrote: 'I don't do Mock The Week any more and neither do some male stand-ups I know who have tried it once. We just didn't like the prospect of having to bite someone's foot off before they let us say something.' More recent series have been less gladiatorial, but nonetheless Brand hasn't been on the show for almost a decade.
Andi Osho
Number of appearances: 5
First appeared: February 4, 2010
Last appeared: September 6, 2012
The fact she hasn't appeared on the past three series might rule out a more permanent role. She's increasingly returning to her acting roots, too – playing a medical student in three episodes of Holby City, appearing in MTV's Finding Carter as Susan Sherman – as well as writing and producing the short film Brit I Am.
Number of appearances: 6
First appeared: February 8, 2007
Last appeared: September 20, 2012
A long-serving stalwart, Caulfield, too, has not appeared in the past three series. Now based in Edinburgh, she is working on her own projects such as the radio panel show The Good, The Bad And The Ugly, which is recorded at The Stand. Nonetheless she remains an active touring comic, which should keep her instincts sharp should she get the Mock The Week call..
Other contenders
Aisling Be a (named best female TV comic at last year's British Comedy Awards, she's surprisingly never actually been on Mock The Week yet); Ellie Taylor (made her only two appearances this series just ended); Tiff Stevenson (two appearances in 2014 and 2015); Ava Vidal (two appearances in 2011, then one in 2012 and one in 2013); Angela Barnes (2011 BBC New Comedy award-winner, made one appearance last year); or Susan Calman (one appearance last year, but widely known for her contributions to The News Quiz on Radio 4)
Published: 19 Oct 2015
What do you think?