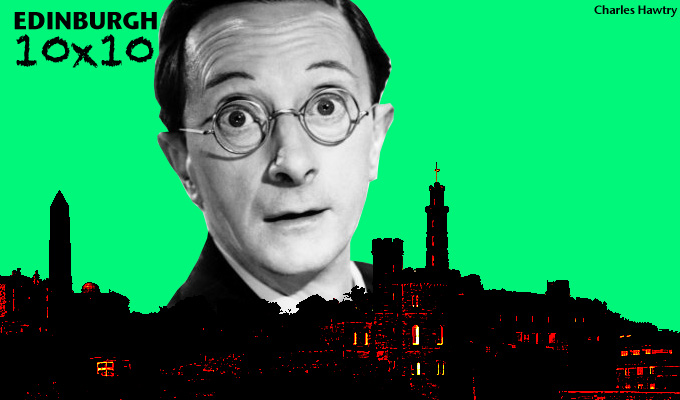 7. Dead Comics' Society
It wouldn't be the Fringe without a poignant drama or two about a comedy great of a bygone era. Here's our guide to some of the comic legends being remembered this Fringe, in whatever form…
1. Charles Hawtry
Carry On star Charles Hawtry was a promiscuous drunk - despite his homosexuality being illegal at the time. In the centenary year of his birth. The one-man show Oh Hello! covers this, as well as his fractious working relationship with Kenneth Williams and the senile mother he doted on. Jamie Rees, who plays Hawtry says: 'I cannot imagine how difficult it must have been for him. There's no doubting he could be an extremely difficult man, especially when he was drunk, but when he was sober and on the top of his game he was funny, intelligent and a very good actor with an infectious personality.' Useless fact: Hawtry also had a peculiar penchant for hoarding brass bedsteads that he believed would one day make his fortune. Assembly Hall 13.40, odd numbered days only.
Alex Lowe, best known for his alter-ego Barry from Watford, has written The Man Called Monkhouse about comedy's most obsessive technician. It's directed by Bob Golding, who previously steered the award-winning Morecambe on the stage, while impressionist Simon Cartwright, who recreated Monkhouse's voice from beyond the grave in a 2007 advert for the Prostate Cancer Research Foundation, is taking the title role. When Chortle revealed the show in March, Golding said: 'Your cynical brain thinks "another play about a late comic". But actually, he had an incredibly interesting life. Not only was he this fabulous comedian and presenter, he collected all this stuff, it was borderline obsessive behaviour.' Assembly Hall, 15:15
3. Tony Hancock
It's already one of the most written-about shows of the Fringe – the recreation of four long-lost Hancock's Half Hour scripts unearthed by Drop The Dead Donkey actor and antiquarian bookseller Neil Person. Kevin McNally plays the Lad Himself, as he did in Radio 4's similar revival of lost scripts. There are two different shows on alternate days: The Winter Holiday and New Year Resolutions form Show A; Prime Minister Hancock and The Three Sons are show B. The Assmebly Rooms, 16:15
4. Buster Keaton
Guitarist and composer Graeme Stephen has written a new score to Buster Keaton's classic 1924 silent comedy The Navigator. The Jazz Bar, 13:00, August 17 to 21 only
5. The Dad's Army cast
The classic sitcom is currently being remade as a movie now almost all the original cast have passed away. Ian Lavender is the notable exception, and he returns to Edinburgh with a second show in which he relays tales of his time on the sitcom: Don't Tell Him Pike: Part 2. More Tales from the Not So Stupid Boy… The Assembly Rooms, 18:30
Bill Hicks has been the subject of tribute shows at the Edinburgh Fringe before. This one, from actor Mike Fish, is based largely on the biography Agent of Evolution by Kevin Booth and framed as a typical Bill Hicks stand-up gig, ruminating on a variety of topics including his childhood, his family, his love of pornography, his alcoholism, drug use, stories of gigs gone sour, the loneliness of touring, relationships with women, and his own declining health under pancreatic cancer. Just The Tonic at the Caves, 20:45
The memory of the great wit, who died in February 2006, is kept alive with one of the regular benefit concerts in her name in aid of Target Ovarian Cancer, the disease that claimed her. Jo Brand, Phill Jupitus, Mark Thomas, Susan Calman, Bridget Christie and Arthur Smith are among those taking part in the Loving Linda Smith concert. The Assembly Rooms, 21:15, August 19 only
Hardee's legacy, on the other hand, is kept alive by the oddballs perfuming across this great festival. And with the 'increasingly prestigious' (it says here) Malcolm Hardee Awards, which are handed out at an anarchic event overseen by his ghostwriter John Fleming and Scotsman critic Kate Copstick at Laughing Horse @ The Counting House at 23:00 on August 28.
9. Laurel & Hardy
Jeffrey Holland from Hi-de-Hi returns with his one-man show set as Stan Laurel visits the bedroom of a dying Oliver Hardy to reminisce about their greatest days. Pleasance Courtyard, 12:35
10. Bob Blackman
Bob Blackman's Tray is a show by 'the funniest men in Newcastle-under-Lyme', named in honour of this guy.

How can you not love that? Laughing Horse @ The Free Sisters, 13:30, August 24 to 30 only
Published: 28 Jul 2015
What do you think?