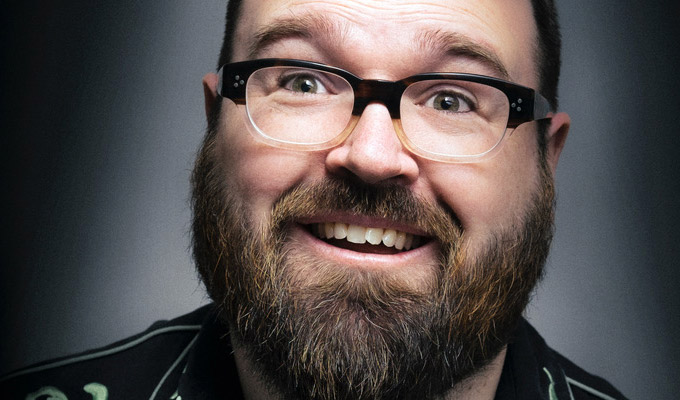 Jarred Christmas
Named best compere at the 2010 Chortle Awards, at the third time of being nominated.
Read More
A killer cast!
A host of British comedy talent have made a comic horror-thriller movie set to have its world festival premiere this week.
Paul Dood's Deadly Lunch Break stars Tom Meeten as a charity shop worker who vows revenge when his chances of winning a national talent competition are ruined. He then embarks on a murder spree to slay all five people who have wronged him during his lunch hour.
Katherine Parkinson, Kris Marshall, Alice Lowe, Pippa Haywood, Steve Oram, Mandeep Dhillon, June Watson, Jarred Christmas, Johnny Vegas, Steve Brody, Kevin Bishop, Neil Edmond and Lloyd Griffith all have roles.
Directed and co-written by Nick Gillespie, the film's first draft was written by screenwriter Matthew White, and finally shot in the autumn of 2019.
In an interview with trade website Get Reel Movies yesterday, Gillespie said: ' t was definitely one of those passion projects we always came back to until we finally found a way to get it funded and bring Paul Dood to life, mostly thanks to the wonderfully talented Tom Meeten. It was really quite something seeing Tom Meeten bring Paul Dood to life after so many years of imagining and talking about the character.'
Paul Dood's Deadly Lunch Break will debut on Wednesday at SXSW, the multi-arts festival usually held in Austin, Texas but this year shifted online. However you need a full festival pass, priced at around £285, to be able to watch it.
Producers Belstone Pictures have signed a distribution deal with Concourse Media to sell the film around the world, Variety reports today.
Concourse chief executive Matthew Shreder told the trade paper: 'Paul Dood is a genre-smashing romp that fuses comedy, horror and thriller elements in a hilarious revenge tale. We are very excited to be representing such a distinct film that we think will find a very devoted audience.'
Read More
Published: 15 Mar 2021
Eddie Murphy: DeliriousI first saw this when I was…
16/10/2013
Stand-up Jarred Christmas caused Big Brother contestant…
6/09/2010
Filming has begun on a new BBC Two sitcom set in an…
11/06/2009
The nominees have been announced for this year's…
5/02/2007
Entrants to the BBC New Comedy Award had to…
6/09/2006
The full line-up for this summer's Montreal comedy…
15/05/2006
Chortle's hunt for the best student comic in…
16/01/2005
The full line-up has been announced for this year's…
12/01/2003