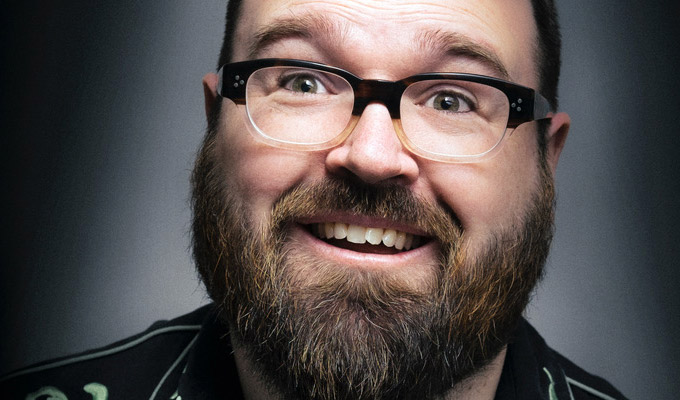 Jarred Christmas
Named best compere at the 2010 Chortle Awards, at the third time of being nominated.
Read More
Jarred Christmas: Hotfoot Mojo
Note: This review is from 2015
For Jarred Christmas, it is the work of mere moments to transform a studio theatre half-full of uncertain midweek punters into an energised, up-for-it crowd. Sure, it takes a blast of Eric Prydz, some deft dance moves for a chubby guy and his secret weapon, the high five, but the ebullient, generously bearded New Zealander spreads joy in microseconds.
He banters, teasingly but non-aggressively, with the front row. 'I'm just dicking about with you buddy,' he reassures one smiling target. If dicking around were a martial art, Christmas would be Bruce Lee, taking on dozens of opponents at a time.
A childish sense of humour's never left him. He still gets a giggle from telling us the name of the Japanese exchange student who stayed with him in high school: Nobasumi. The only Norwegian word he knows means 'vagina', and his silly solution to the Arab-Israeli conflict is unlikely to be adopted by the United Nations.
Christmas is well aware of his own ridiculousness… he smashes an opening routine about aggressive Monopoly tactics boasting 'I'm changing lives here people!' as he passionately shares tips on the best colour properties to buy. Then boom! He's into a coruscating routine on that red-hop topic – how months of the year are named.
His only fear is that becoming a dad, and all the responsibilities and hassle that involves, might have cost him his playfulness. True some of the stories of tedious middle-class dinner parties and buying sensible cars don't have quite the same joie de vivre of his most trivial routines, but they remain bright and funny.
Still if current life provides no inspiration, he can always look back to his childhood at the much-mocked Shirley Boys High, when he vividly evokes tales of him acting the weirdo on the cricket field, just because it seemed to make sense to his 15-year-old mind.
Christmas senses a mid-gig dip, and tells the audience 'they've put the brakes on' – and indeed there is a sense of the spin slowly draining from his flywheel of flippancy given that no human can sustain his initial levels of enthusiasm. Pointing it out doesn't help, but these things are relative, and by remaining upbeat, the moment passes – until Christmas ends the show with just as much boyish, buoyant charm that opened it.
Read More
Published: 22 May 2015
Loop pedals seem to be comedians' new favourite…
19/08/2014
Possibly the first silent compere, The Boy With Tape…
17/12/2013
The Bounty in Cock Marsh, Buckinghamshire, is not…
3/07/2012
Omid Djalili is off on tour for the first time in…
7/09/2011
The Leicester Comedy Festival normally pick a familiar…
16/01/2011
Enthusiastic Jarred Christmas can light up a room,…
19/08/2010
The two most fundamental requirements of a comedy…
18/06/2010
Jarred Christmas played a blinder tonight, unafraid…
17/01/2010
The world of comedy can be an insular place. Acts hailed…
1/01/2009
Three-man improv outfit The Bruce Collective have got…
1/01/2009
Jarred Christmas is a big chump… at least that's…
1/04/2008
Jarred Christmas always wanted to be a superhero –…
7/10/2007
What with Toby Hadoke's Moths Ate My Dr Who Scarf,…
1/01/2006
They like to practise a sort of geographical apartheid…
1/01/2006