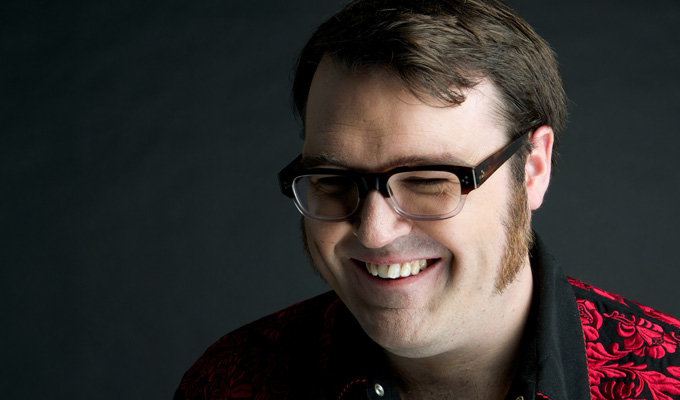 Jarred Christmas – Original Review
Note: This review is from 2008
Thankfully, however, he's also pretty entertaining at retelling these daft anecdotes. The glee and unselfconscious abandon with which he blunders into embarrassing situations such as riding an emu bareback makes him an innately genial comedian with whom you are happy to spend time. And the delivery manages to be assured and upbeat, without undermining his underdog status.
The thick-rimmed comedy specs, dumb grin and geek chic hairstyle all help the well-cultivated image, too. He just looks the part of the comic stooge, ripe for humiliation, yet vulnerable and likeable enough to ensure your sympathies always lie with him.
In a set based around playful anecdotes, laughs come from his indignity at his self-inflicted plight and a general spirit of easy self-deprecation. Jokes and sharp observations aren't really his thing, so they take a distant second to his personality. He's certainly more impressive as a congenial presence than a writer. Perfect credentials, then, for a compere; a role he often takes.
But this young Kiwi's stand-up sets are certainly entertaining as well – even though you're more likely to remember the man than the material.
Review date: 1 Apr 2008
Reviewed by: Steve Bennett
Jarred Christmas is a big chump… at least that's what his stand-up would have you believe. He's a man with a clumsy, puppyish enthusiasm that gets him into scrapes which inevitably expose him as the dopey fool he is – not that he will ever learn his lesson.
Recent Reviews
What do you think?