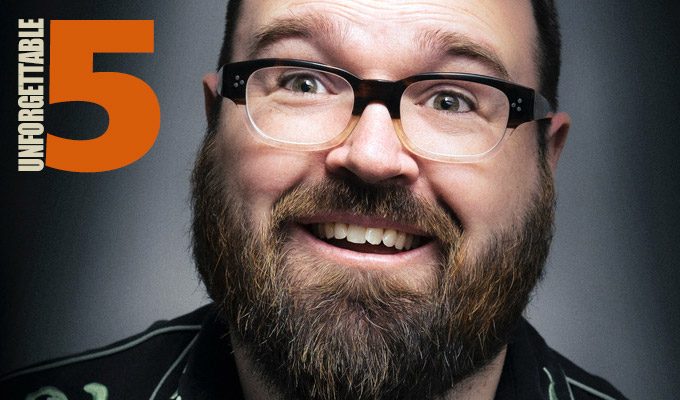 'This was scarier than the time I went drinking with Johnny Vegas'
Strangest audience member
A dog. In 1999 I got a gig in a small town in New Zealand called Westport. Took me six hours to get there and upon arrival I find out that the audience is three men and a dog.
The venue owner told me if I wanted my $100 (1999 exchange rate, roughly £30) I had to do the show. No stage, no microphone, the owner pulled his ute (4-wheel drive utility truck) up to the main window and chucked it on high beam. That was my stage lights.
At one point the dog stood up, did one of those exaggerated dog stretches that yoga has stolen, yawns and sits back down. Everybody turned to watch the dog. It was at that point I knew I had lost the room.
Worst hourney home from a gig
Myself, Alexis Dubus (Pre Marcel Lucont) and Dave Haddingham were driving home from Bath to London. Dave's car starts losing power, we end up crawling along the M4 at about 15 mph, with just a hint of headlights and his foot was flat down on the accelerator.
The plan was that Dave would drop us off at Reading services where Alexis had parked his car. We limp into Reading services, Alexis' car is on the other side of the motorway, Dave's car is dead, I have an 8am flight to Canada, it's now 3am and I haven't packed.
Out of sheer desperation, Alexis and I run across the motorway (don't do it, scariest thing I've done in my life and I have been drinking with Johnny Vegas), we jump a fence and just have some long grass to walk through. Easy.
We then fall in a ditch filled with water. I got home at 5am, packed and got to the airport for my flight, only to discover it has been delayed by three hours.
Best food at a gig
Sydney Opera House, Just for Laughs. I managed to wrangle myself onto four shows in the main house. It was such a joy to play such an iconic venue. Backstage before the first show, Rich Fulcher and I were told we could order anything from the Opera House restaurant. We went for the Wagyu steak priced at about $120 (2013 exchange rate, roughly £60) we giggled like kids at the excitement of doing the gig and being fed the best steak.
Turned out the waiter got it wrong and we were only meant to have food from the café. Thankfully the manager enjoyed the show so much she didn't make us pay for it. Best feeling in the world is gigging to 3,000 people with a belly full of illicit steak, and getting away with both.
Best heckle
I was on stage at a kids' stand-up gig in Wellington NZ. At one point I asked the audience if they had any questions for me. One kid asked 'Why are you so fat?'
The first thought that entered my head was an old line about cookies and banging his mum, but you have to play to the room. So I replied: 'Because I ate everything my parents told me to, including broccoli.' Not amazing, but it got a laugh, and pissed off a couple of parents.
Another kid pipes up with: 'Why are you here?' and I replied honestly… "I really need the $80 (2014 exchange rate, roughly £42.50) because it's cash and I want to buy some new sneakers.'
That kid then replied with "Yeah the ones you have on are ugly". Massive laugh.
They weren't ugly, they were mauve and lemon peel limited addition Adidas Superstars. But I knew he had won that exchange, and I let him have the applause, because it's probably the only time in his little shit of a life that he will get that reaction…
Most exhilarating gig
The comedians' boxing in Blythe. Wow.
Firstly the atmosphere was amazing. 800 people there to watch brilliant comedians doing below average boxing for a great cause. Raising money for a sick child.
I fought Barry Castagnola. We are good mates, so we met up beforehand to chat about what we should do. The idea was to go hard out boxing for two rounds, then have a dance off in the third.
Barry had been training. I was full of confidence because I boxed for five years as a teenager.
On the night two things struck me… first, the audience actually wanted boxing, no dicking around, they wanted boxing. So the third round dance off was a no go.
As I stepped into the ring, I realised I hadn't thrown a punch or taken a punch since my last boxing lesson, 20 years ago, and the only fitness training I had recently was performing in panto, which you never saw as part of a Rocky training musical montage.
We went for it. We had a laugh and it was exhausting and amazing. I was gassed out after a minute. Barry won by one point, but I opened up his nose, so who is the real winner? The kid that we raised all that money for that's who… (and me right??).
• Jarred Christmas: Remarkably Average is at Gilded Balloon Teviot at 20:00
Published: 4 Aug 2018
What do you think?