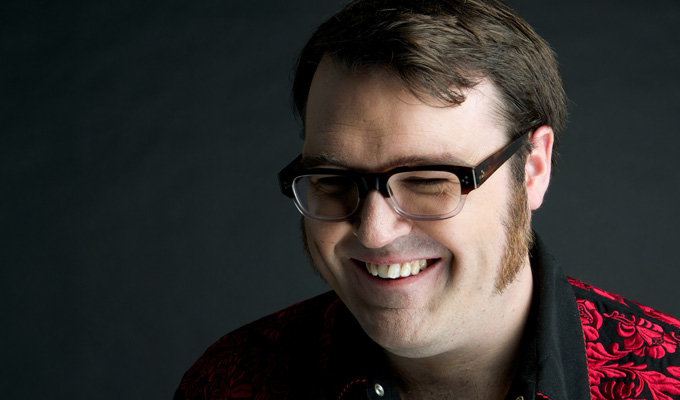 They taught me you can do what you like – as long as it's funny
Eddie Murphy: Delirious
I first saw this when I was about 14 I think. My brother showed it to me and I lost my mind. I didn't quite grasp that it was stand-up. I thought it was a one man movie. I had never seen stand-up before this. I had seen Billy Connolly on Michael Parkinson and stuff like that. But a guy being solidly funny by himself. That was new to me. Sure some of Delirious is very dated and wrong, but this is one of the funniest stand-up shows ever. This bit has always been a favourite.
Whose Line Is It Anyway
I first encountered improv/Theatresports when I was 12. My brother had done some at his school and one school holiday he taught me and my nana. We had a whole day playing improv games the three of us. My nana laughed so much she wet her pants a bit. That could have mostly been incontinence but it was the first time I saw someone piss themselves laughing.
We only played that one day, but I wanted to do it EVERY DAY. When I got to High School at 13, Theatresports was an after school option – an improvisation game where you compete in teams and act a scene based on the audience's suggestions - you then played other schools in competitions. I did Theatresports all the way through High School and was then selected to join an improv group called The Court Jesters who had shows at the Court Theatre every Friday night. That was my goal in life, to be a court jester. We actually made a living out of improv - Whose Line Is It Anyway was my bible and Ryan Styles was my Jesus. Colin Mockery, Greg Proops, Clive Anderson, Josie Lawerence, Steve Frost. LEGENDS.
The American version is amazing as well. Whose Line was the last of the brave improv shows on TV. These days producers don't trust the improvisers, so everything is a bit planned which takes the magic of improv away. The danger of improv is what makes it great. You have to be able to fail and on TV you can't fail. So you get 'Fauxprov'. I heard that they filmed Whose Line for 3 hrs to get that 23 minutes of awesome. But it was ALL improvised.
There are so many full episodes online; this is just the first one that came up.
Eddie Izzard: Dress to Kill
Year 2000. Melbourne. I went to Melbourne Comedy Festival for 10 days and stayed at a backpackers' hostel. I was in a dorm with some English dudes who told me to buy Eddie Izzard. I bought a VHS of Dress To Kill.
The backpackers had a cinema room, sat maybe 30 people. Word spread that we were watching Dress To Kill. The room was packed as I watched Izzard for the first time. It finished and there were more people outside wanting to watch. I watched it three times in a row with different people each time. That night I fell asleep still giggling.
Year 2000. Melbourne. Again I had saved up a lot of money to see as many shows as possible. My first night I saw Adam Hills, Adam Bloom, Boothby Graffoe, Johnny Vegas, The Mighty Boosh. I was a 19-year-old Kiwi boy who had been doing stand-up for a year, all I had seen up to that point was dudes telling jokes.
That night blew my world apart. So much invention and originality. Every show was unique. There was no restrictions, no rules, no conventions. I learnt that night you can do whatever the fuck you want to on stage as long as it's funny.
All of these guys have stuff on the internet but NOTHING beats seeing them live.
Ace Ventura Pet Detective
I have not laughed so hard at a film ever. So much of this and Ace Ventura 2 have stuck with me. I still park my car and say "Like a glove"
h=3nOxdKcqC_I
The Last Boy Scout
You want one liners and zingers. Shane Black packs them all in here. Who better to lay them down than Bruce Willis and Damon Wayans?
• Jarred Christmas is currently on tour with his show SNAFU. Dates.
Published: 16 Oct 2013
What do you think?