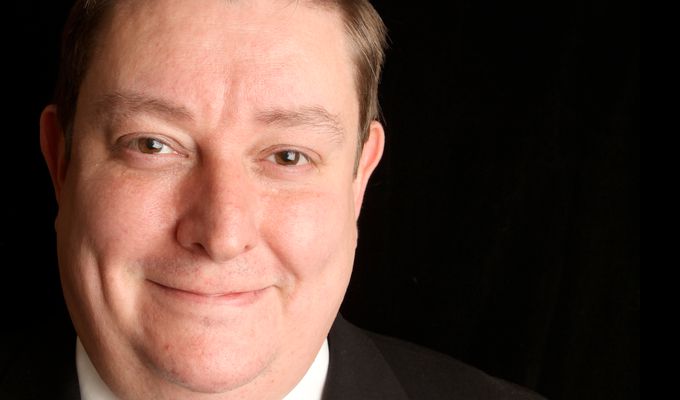 John Moloney
I want to make a Live At The Apollo with comics over 50
John Moloney is shooting a stand-up series for comics over-50 in response to TV's bias towards young comedians.
With the working title Dead At The Apollo, the show will be filmed at a theatre in January to record eight episodes featuring a total of 24 comedians.
The veteran comic then plans to shop it around prospective broadcasters and challenge them to broadcast it – or tell him why it's not funny enough to air.
Reflecting on television's skew towards youth, Moloney, 52, told Richard Herring on his Leicester Square Theatre Podcast that when he saw the listings for Live at the Apollo, he thought they were 'excellent comics… but all rather on the young side'.
The last comic over 50 to appear on Live at the Apollo was 56-year-old Stewart Francis in 2015. Before that, it was 63-year-old Rich Hall in January 2014, and none of the names lined up for the forthcoming 13th series are in their sixth decade.
Moloney first floated the idea alternative show for veteran club headliners overlooked by television commissioners on Facebook last year. He said he was enthused by the response, as 'loads of comics came back to me saying this is a great idea, make it happen'.
'There are probably 30 or 40 headliners, people who've been headlining massive clubs for a quarter of a century who I think just deserve the break.
Citing Pierre Hollins, Paul Thorne, Mary Bourke and Ninia Benjamin as examples of the acts that will feature, he said: '[They are] just fantastic and I just think they need an airing'.
Moloney explained that all performers and crew members will be over 50 and there is a moratorium on material about age, 'because I don't want 24 comics going "oh, my back!"'
Each act is paying £1,000 towards the production costs, though some who can't afford it are being subsidised by other comics and an anonymous famous comic has also pledged £5,000.
Selling the series will be done on spec. 'Rather than make a pilot and go, "can we have some more?", we're actually going to make eight of them and just take it to the television companies and say, "here's the finished product, here are 24 headliners. And if you don't want it on your channel, why not?"
'Because that would kind of worry me really. "Because they're not funny"? What, these people who have been doing it for a quarter of a century, who can walk into a very indifferent room where they're not well known, where in football terms they're one-nil down, and within 20 minutes they're winning five-one? Then they go on to another gig and do the same, then they go to another gig that night and do the same. These are incredible people.'
Later in the interview, he also confirmed that The John Moloney Show would be returning to Radio 4 for a third series.
And the 'fierce Corbynite' defended his friend Jim Davidson, suggesting that their political differences were 'one of the reasons we get on'.
He said: 'Of course there have been stories about Jim over the years. But there are stories that don't come out about Jim.
'For example, there was an Asian woman, a police officer, she was killed outside Luton a few years ago and her husband had a nervous breakdown and he was going to lose his home. So Jim put on a benefit … and paid off the guy's mortgage.
'Now, that's not good news for the papers. The papers don't want to say that Jim Davidson has raised money for an Asian family, that doesn't suit their narrative. And yet he did.'
– by Jay Richardson
Read More
Published: 17 Nov 2017
Pasty-makers Ginsters could find themselves in trouble…
12/05/2009
Billy Connolly, Eddie Izzard, Frank Skinner and Jimmy…
2/05/2007
Stewart Lee, John Moloney, Ian Moore and Gordon Southern…
13/06/2006
Little Britain star Matt Lucas us to make a rare live…
18/09/2003
Actress Claire Sweeney and rock keyboardist Rick Wakeman…
4/02/2003
You know you've witnessed a good show when Eddie Izzard…
20/01/2003
Sixteen comics have brought the second London Comedy…
27/05/2002
Bill Bailey has joined the line-up of the fundraising…
9/05/2002
Past Shows
Agent
We do not currently hold contact details for John Moloney's agent. If you are a comic or agent wanting your details to appear on Chortle, click here.