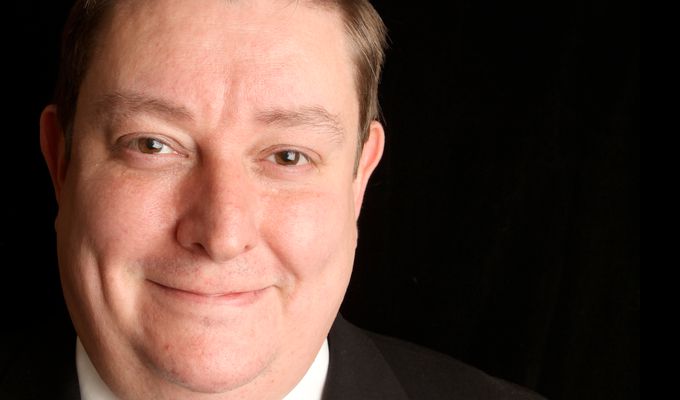 John Moloney
The Boy With Tape On His Face: Cornucopia
Note: This review is from 2013
Possibly the first silent compere, The Boy With Tape On His Face let his eclectic acts do the talking at this festive West End spectacular which, in the true spirit of Christmas gluttony, was stuffed with a ridiculous number of treats. More than 30, depending on how you count them.
Variety was key, with a bill that seemed like Le Clique on fast forward. It saw coke-snorting ballerinas (Cabaret Rouge); a woman dressed as a bumblebee tap-dancing (Josephine Shaker); sword-swallowing (The Tom Show); a man (Mike Wood) catapulting a cabbage across the stage to catch it on his spiked helmet; and even plate-spinning, a dying art but still capable of providing thrills and spills, as performed by TapeFace himself.
It was apt that one of the guests was Paul Daniels, not just because his card tricks fitted perfectly into the cabaret vibe, nor that he was the man whose magic set inspired our compere and curator to get into performance in the first place – but because the last time we saw spesh acts like this on mainstream telly, outside of Britain's Got Talent, was on his 1980s Saturday-night show.
Talking of TV, that was the presentational device of the evening: a sort of live channel-hopping with each performer doing two or three minutes allegedly from a broadcast. While our host has tape on his face, but he has videotape on his mind, with the acts interspersed with crackling footage of old broadcasts.
Because of the variety ethos, stand-ups probably had the toughest ride of the night, further hampered by the jazz music piped behind their sets, inevitably with an entirely different rhythm to the comedian's beat. It wasn't immediately apparent it wasn't part of the act – opener Dan Nightingale suffered most from the audience figuring out this was a distraction they had to learn to filter out, not an enhancement.
Those who fared best had an air of the variety hall about them anyway, including Marcel Lucont's arrogant French shtick and Phil Ellis's monkey business with a pop-up tent, way more slapstick than Al Murray's use of the same prop. Other hits were Stuart Goldsmith who was somehow spared the incidental music for his amusingly laboured metaphor about 'plenty more fish in the sea', and Gordon Southern's dumb take on the former Soviet republics.
The audience were largely baffled by closer Terry Alderton, resplendent in Elvis-style white jumpsuit which, in the words of MailOnline caption writers lusting over young women 'left little to the imagination'. He tried various approaches to his material, most of which fell on deaf ears – a fact that didn't go unnoticed by the voices in his head, which he shared with the room.
Earlier, Imran Yusuf's exaggerated oratorial delivery only left room for one decent punchline, though he was allowed back later for his dinosaur impression. Markus Birdman had a couple of real zingers mixed in with more pedestrian observations on what men and women are like (yes, ALL of them); Jarred Christmas's punchy, energetic jokes fitted the pace; and John Moloney got a couple of his sublime punchlines out, although this high-speed show was never going to suit his languid pace.
Lively quintet The Noise Next Door were a stand-out; their improvised boy-band ballad to the drunken nurse they picked out funny and expertly performed. Chris Cox and Morgan and West provided some sideshow magic, Mat Ricardo some classy juggling; and Gein's Family Gift Shop – a name new to me – demonstrated enough skills in their single sketch to warrant further investigation.
There were, really, too many to mention. In shows like this (and indeed Chortle's own Fast Fringe), the whole is greater than the components, and there are bound to be acts you'd like to see more of – and acts you could have done without.
Here some of the presentational devices could do with refining – the channel-hopping thing didn't really add, and the backing music definitely took away –  but as a speedy, eclectic and entertaining showcase, Cornucopia hit the spot.
Read More
Published: 17 Dec 2013
Some hae jokes and cannot tell 'em,Some cannot joke…
26/01/2011
Dressed in a black suit and black tie, John Moloney…
22/08/2010
The bill boasted Jack Dee, Jimmy Carr, Paul Merton,…
1/01/2009
Frank Skinner has chosen Montreal for his first major…
18/07/2007
Like the rising of the sun, the passing of the seasons…
26/05/2002
Moloney's methodical approach and self-deprecating…
1/01/2001
Billed as three shows in one, this is a disappointingly…
1/01/2000
Past Shows
Agent
We do not currently hold contact details for John Moloney's agent. If you are a comic or agent wanting your details to appear on Chortle, click here.