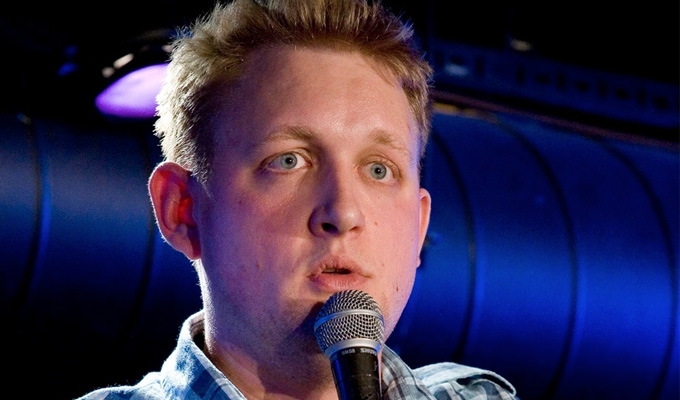 Howard Read
Double Trouble with Holt and Talbot
Note: This review is from 2018
If not the backbone of comedy, double acts are at least a major limb… yet they are somewhat out of fashion, despite the enduring appeal of Ant & Dec.
Well, hot on the heels of Inside No 9's poignant celebration of the comic duo comes a new monthly night dedicated to partnerships. Double Trouble, at 2Northdown, is promoted by Christian Talbot and Rosie Holt, who compere with a shared affability.
After some unconvincing back-and-forth over their billing in the act's name, something of an old standby for double acts, their first sketch proper is a timely take on gender inequality - although being very much an on-trend topic makes its premise a little predictable, even if it's nicely executed.
It must be a compulsion for comics to want to subvert a premise no sooner than they've set it up, since the same issue dogged Adam Larter's advertising-based night earlier in the week. Here the double-act night was kicked off by a solo performer, Louise Reay.
Ostensibly, she was performing both parts of a duo, which is a promising idea, but in fact her largely improvised set comprised a baffling dialogue between characters that had little sense of purpose and no sense of direction. 'I don't know where I'm going with this,' she confessed at one point, and it was hard to disagree. Laughs were not forthcoming.
No better prepared were Joz Norris and Ali Brice as Crosby Not Stills Not Nash And Young – but they did bring a joyous sense of absurdity to the room, much of it down to Brice's phenomenal fake moustache as David Crosby. Mocking a 1970s folk-rock supergroup is not exactly one for the kids, as an appeal for the audience to shout out their hits proved, but the pair coasted a long way on silly affability until running out of steam for the last few minutes. Just think what they could do with a script!
There was a lot more polish in the second third, courtesy of two female double-acts – which allowed Holt & Talbot (I think I've got this the right way around) to return to their ironic take on sexism.
Georgia Hurt and Laura Anderson, professionally known just by their surnames, thoroughly own the stage, stamping their authority on the gig with their high-energy banter, sometimes getting testy with each other as they discuss external relationships, but never so pointed they undermine their essential likability. Their performance is perhaps a little too loud, and seems like overcompensation in moments when the hit-and-miss script has its lulls. An emoji sketch, for instance, seems trite. But they have charisma, a good comic dynamic and some decently funny lines.
Sian & Zoe were a more unalloyed joy, full of impish verve. The pair, who describe themselves as 'hipster badger' and 'angry candy floss', based on their hair dyes, are unashamedly stupid, with dumb gags ranging from quick sketches lasting just seconds extended riff confusing of the word 'nonce' – which does sound a lot more innocent than its actual meaning. Compelling work from the lively and silly Mses Docksey and Tomalin.
Loose Brie – aka Martin Willis and Phil Lindsey, the latter channelling Ricky Gervais a bit too strongly – are bold performers, too, starting their set from the audience but with an air of passive-aggressive menace. Some of their writing is deliberately odd, though their cornerstone routine is a bitter argument about coffee which ground out a lot of old-school – and pretty contrived – puns. It's a slightly more difficult watch than it need be, but the slightly theatrical duo are following their own path.
Finally, Howard Read, whose double act is usually with a six-year-old cartoon sidekick, began instead with some banter with the 21-year-old version of himself, who invented time travel (again via the medium of computer-aided animation) to visit 2018 to see how his career was going. The answer may be 'quite well' as the second half of his set was work in progress towards a high-profile TV appearance with Little Howard. Not every potential gag landed, but at his best Read can deliver an acidic line through the mouthpiece of his cute alter-ego, which he frequently demonstrated tonight.
• Double Trouble continues on the fourth Thursday of every month, the next being on February 22.
Read More
Published: 19 Jan 2018
The first comedian to play the London Hippodrome was…
19/01/2017
Securing Jasper Carrott to host Leicester's comedy…
12/01/2014
Ever since Howard Read's first solo show at this…
9/08/2013
What are the chances? The very same afternoon I have…
18/08/2011
This is, remarkably, the first dedicated children's…
1/08/2007
When he's not performing with his animated sidekick,…
1/01/2007
From modest beginnings, Robin Ince's Book Club has…
18/12/2006
Description A gothic candlelit show…
1/01/2006
This is the comedy equivalent of Mike Yarwood going:…
1/01/2005
With animated six-year-old 'standing-up'…
1/01/2005
Creating the wonderful animated six-year-old Little…
1/01/2004
This may well be overanalysing what is essentially…
1/01/2003
Howard Read has created a big, bouncy, larger-than-life…
1/01/2002
Read's inspired daftness and misfit persona make for…
1/10/2001
Past Shows
Agent
We do not currently hold contact details for Howard Read's agent. If you are a comic or agent wanting your details to appear on Chortle, click here.